I took a trip to my local Apple Store 'Chapelfield, Norwich' to have some repair work done. How was it?
I have been battling with appalling battery life on my iPhone 5 for a while. It was draining very quickly and would randomly drop 5% without doing anything and would also shut off between 20% and 30% and then claim it needed charging.
So whilst near my local Apple Store – the Chapelfield Shopping Centre, Norwich, UK –  yesterday I decided to pop in and enquire. I was greeted by a friendly guy in a blue top who took my details and booked me in and told me to come back in 90 minutes. I latched on to a free wifi network while I was waiting to back up my photos to Photo Stream and ran an iCloud backup.
My previous visit in 2012 was a pre-booked appointment, whereas this one was a walk-in one. When I came back, I was guided towards the Genius Bar and sat and waited to be seen. I felt quite privileged sitting there on a stool.
A friendly 'genius' by the name of Pippa came over, I explained my battery issues, and out came her iPad with diagnostic tools. She linked the two devices together. A few minutes later, it confirmed my battery was only pulling 75% original capacity and had been charged 520 times – it was in the amber area and needed to be replaced.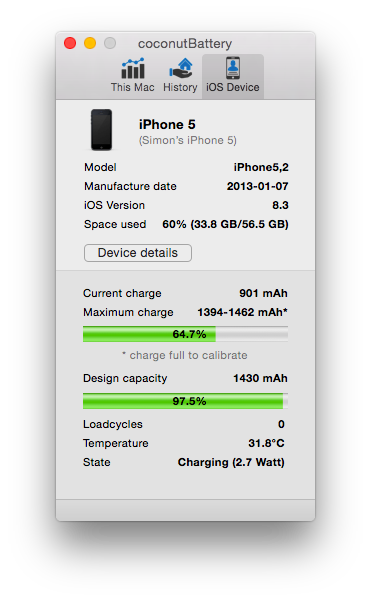 Apple did run a free battery replacement program for some iPhone 5 models – which they extended recently – however mine didn't fall under this, so it was going to cost me a pretty high price of £59. After a few minutes, I decided to go for it. After all, a phone that can't last above half-a-day with minimal use is useless.
The genius took my phone, checked it over, booked it in, and sent me away for an hour. On my return, it was done. I paid and was off within a few minutes, happy with my newly mended phone.
I noticed an instant improvement in battery life, so I am a very happy iPhone user. When I returned home, I checked it out using the new Coconut Battery tool (which I wrote about here), and it registered 97.5% capacity and 0 charge cycles.
People knock Apple Stores, claiming they are pretentious fanboy magnets, but the staff are friendly and knowledgable, and both repairs I have had done have been great.
---
Follow Simon Royal on Twitter or send him an Email.
Like what you have read? Send Simon a donation via Tip Jar.
---
keywords: #applestore #iphonerepair #techspectrum #simonroyal
short link: http://goo.gl/n7vX8a
searchwords: localapplestore, iphonerepair