With Apple on an annual development cycle for Mac OS X, it's interesting to see what patterns develop between the official launch of one version and the launch of the next version. Today we look at Yosemite's first year.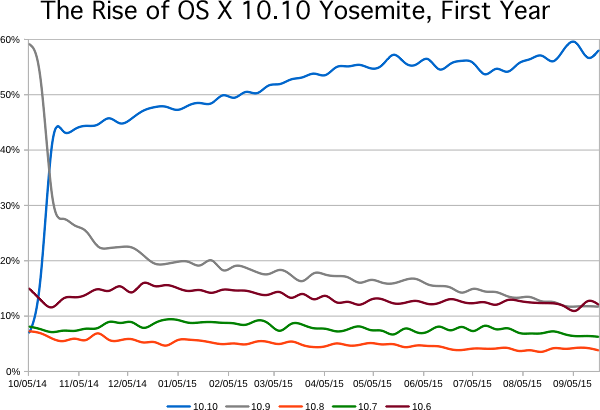 Our data comes from Low End Mac site statistics, which is not representative of what you'd see on general interest websites. If anything, our numbers skew toward older hardware and older versions of OS X. That said, trends for each version of OS X should be similar, although the proportion of each version may be different elsewhere.
Our chart begins with the first calendar week in which OS X 10.10 Yosemite was available. That week it represented 6.9% of visitors to lowendmac.com using Intel-based Macs. OS X 10.9 Mavericks was still riding high at 59.1%, and OS X 10.6 Snow Leopard held a solid third place at 15.0%. OS X 10.7 Lion held the fourth spot with 8.1%, and OS X 10.8 Mountain Lion was in fifth place at 7.3%. OS X 10.4 and 10.5 are both below the 2.0% mark and ignored here.
Yosemite passed the 40% mark two weeks after release, reached 45% in late November 2014, and first broke the 50% mark in mid February 2015. It peaked at 59% in September 2015, and OS X 10.11 El Capitan was released on the last day of September, marking the end of the time period we're examining.
Growth of Yosemite comes from two sources: Mac users upgrading to the new operating system and people buying new Macs that ship with Yosemite installed.
Mavericks took the biggest hit from the release of Yosemite, dropping below the 30% mark by the end of October 2014. My mid December, it was below 20%, and by the end of June 2015, it had fallen below 15%. During September 2015, it hit its low point of 11.7% just before the release of El Capitan.
Snow Leopard holds a special place, as it was the last version of OS X to run PowerPC software, so people with Microsoft Office 2004, AppleWorks, old versions of Photoshop, etc. can't go beyond Snow Leopard without leaving those old apps behind – and in the case of AppleWorks, there is no full replacement.
Snow Leopard numbers fluctuate quite a bit from week to week, hitting 16% in mid December 2014. Its low point of 11% came in early September 2015.
OS X Lion was the first version of OS X for Intel Macs that didn't support the early Core Duo models, and it was also the last version for Core 2 Duo Macs that don't include Nvidia graphics, so for that range of Macs, Lion or Snow Leopard vie as the best option depending on how much memory is installed and whether you need to use PowerPC software.
Lion held pretty steady through March 2015, fluctuating between 7.1% and 9.4%. By mid May 2015, it was below 7%, and it was in the 6.3-6.4% range in September 2015. All told, it's done surprisingly well.
Mountain Lion was the last commercial version of OS X. With Mavericks, Apple made new versions free. Mountain Lion began the year at 7.3% and fell to 6.9% the next week – a number it never passed again in our site stats. By November, it was averaging around 6%, and in December 2014, around 5.3%. The last time it was above 5% was early May 2015, and it has fallen as low as 3.5%.
At then end of one year, Yosemite was the top dog at 58%, and good old Snow Leopard held second place at 12.1%. Mavericks was just a bit behind at 11.7%. Lion held fourth place at 6.3%, and the preview release of OS X 10.11 El Capitan was already up to the 4.4% mark – ahead of Mountain Lion, which was now 6th place with 3.8%.
Overview
This is really a pretty typical pattern. A new version of OS X arrives, and within weeks it become the most popular version, mostly at the expense of the version is just displaced as the latest, greatest version of OS X to date.
There will be a place of OS X 10.6 Snow Leopard for some time to come, as many of us still have a few old apps we don't want to give up. I'm writing this on a Mid 2007 Mac mini running Snow Leopard so I can use AppleWorks and, when I need it, Office 2004.
OS X 10.7 Lion will likewise have its users, most of whom have Macs that can't run anything more recent. Lion is as far as they can go on those Macs.
I suspect OS X 10.8 Mountain Lion will continue its decline into obscurity, especially since every Mac that supports Mountain Lion also supports Mavericks, Yosemite, and El Capitan. This will probably join OS X 10.4 Tiger and 10.5 Leopard below the 2% mark within the next year or two.
Because OS X 10.9 Mavericks is compatible with some Intel-only software that Yosemite and El Capitan are not – Photoshop Elements 6 is one example from my own software library (I have Mavericks and El Capitan on a Late 2008 Aluminum MacBook with 4 GB RAM, and I use Mavericks regularly but El Cap only to become familiar with it) – I think it will hang in there similarly to Lion. It also seems happier on a 4 GB Mac than later versions of OS X.
We've already seen how OS X 10.10 Yosemite is being displaced by OS X 10.11 El Capitan, which is already over 40% among Intel Mac users visiting Low End Mac, while Yosemite is down to around 25%. I am guessing that Yosemite is also destined for obscurity, along with Mountain Lion, Tiger, and Leopard – versions of OS X that will remain in use by an ever smaller, less significant proportion of the installed base.
And in a year, we'll see who El Capitan fares when OS X 10.12 comes to market.
Keywords: #osxyosemite
Short link: http://goo.gl/4LwGOP
searchword: yosemiteyearone