Smart Watches are the latest buzz in the tech world. I check out the Pebble.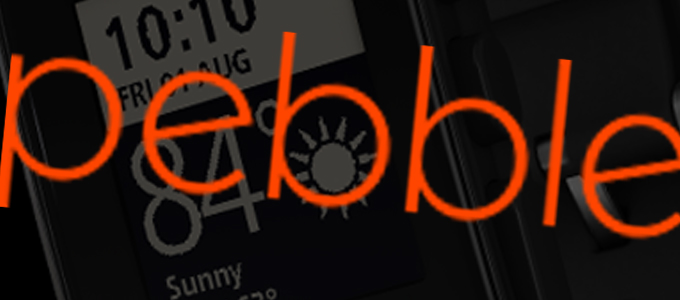 While the recent launch of the Apple Watch is still fresh and some people are still awaiting delivery of their new toy, we shouldn't forget that smart watches have been around for a long time.
The 1980s saw Seiko and Casio take the watch to a new level featuring calculators, contact storage, and computer links. The 1990s saw Timex and Samsung join the ranks offering wireless data transfer and TV remote controls. The 2000s brought Bluetooth integration and flash storage. The 2010s saw the wave of modern smart watches. Apple, Samsung, Motorola, LG and Sony all offer great smartphones, as well as newcomer Pebble.
All of these modern devices are companions to smart phones, requiring pairing to a phone before using them. They act as notification devices and can interact with some of the features of the phones – depending on which handset and which watch you have.
Let's take a look at the Pebble – the smart watch with a difference. Launched in 2012 on Kickstarter, it is designed to be minimalist yet stylish, blending seamlessly into you life.
Specs
While all other smart watches go all out for features, you will see that the Pebble is not like the others. The first thing you notice is that it has a 1-bit 144 x 168 pixel mono LCD 'e-Paper' screen – and it doesn't have a touchscreen.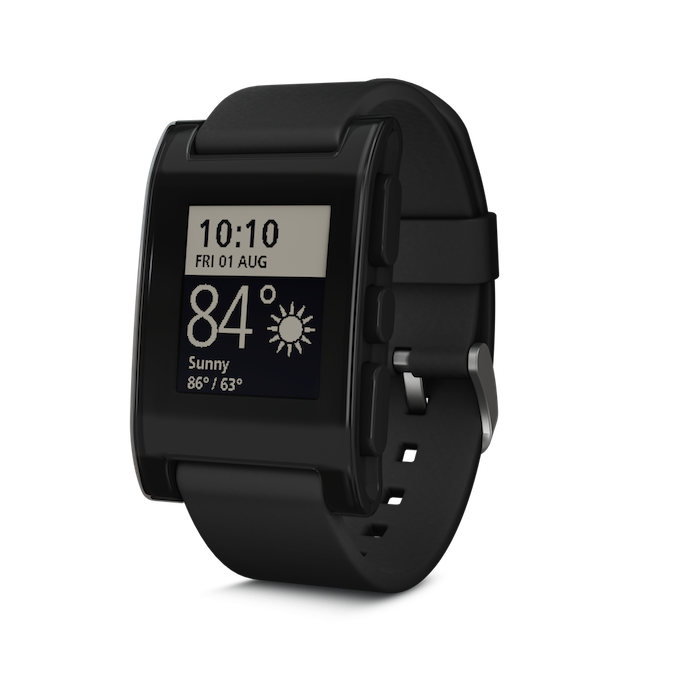 It has a Cortex M3 ARMv7-M CPU running at a maximum of 120Mhz and a tiny 128 KB RAM and 800 KB of user space – capable of holding eight apps on the device. These meagre specs are topped with Bluetooth 2.1 and 4.0LE, 3 axis accelerometer, magnetometer, ambient light sensor, and vibration motor. However, it doesn't feature a microphone or speaker.
The battery is only a 130 mAh, but don't let this fool you. Because of its low-end screen specs, this gives the Pebble a very impressive 5-to-7 days between charges. It is charged via a propriety charge socket on the left side of the Pebble. It is magnetic, similar to the MagSafe connectors on MacBooks.
Build Quality
I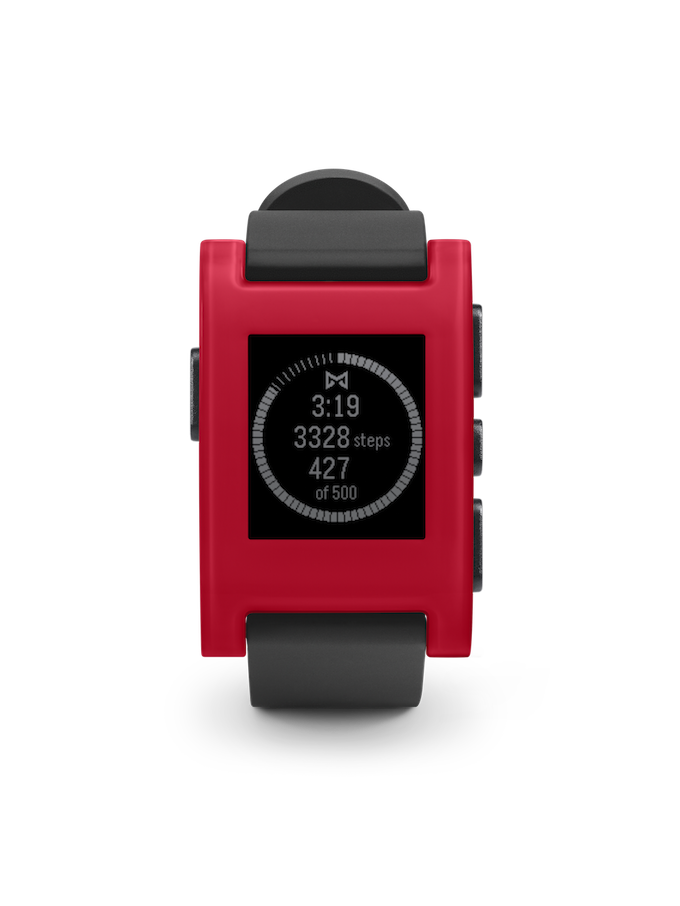 ts plastic body – available in jet black, grey, arctic white, orange, and cherry red – gives it a lightweight feel and is only 38 g. Even on my small wrists, the 52 x 36 x 11.5 mm body doesn't feel big at all. There is a metal version called the Pebble Steel, which is slightly smaller at 46 x 34 x 10.5mm but weighs 56g and has a Gorilla Glass front instead of plastic
Despite the Pebble being a plastic device, its build quality seems extremely high. Nothing feels cheap: The body and buttons don't creak and feel very sturdy when pressed.
System
The Pebble runs the PebbleOS, which is a customised FreeRTOS kernel. The OS is a simple menu-driven system controlled by four buttons. The button on the left side is the back button, the top and bottom buttons on the right side act as up and down navigation, with the centre button acting as the select button.
It can also use long presses for additional functions within the menu and apps.
The Pebble has a small menu by default. You can control the music playing on your phone – skipping tracks and adjusting volume. You can scroll through all past notifications that you haven't deleted. It has Alarms – these are not your phone alarms; these are directly on your Pebble. The lack of sound means it only vibrates when it goes off.
Then you have Watchfaces, which allows you to pick which one you want, although this can be done from the homescreen by pressing up and down.
Then there is the Settings menu that allows you to control Bluetooth, Notifications, Activity if you have any fitness apps installed as well as shutting down and factory reset options.
When it was originally launched, support for iOS was way behind Android in terms of notifications. It featured simple text and call notifications, and third party apps needed to support Pebble specifically for it to work.
However with the launch of iOS 7, this all changed. Now any notification that displays on the iPhone screen will appear on the Pebble.
Setting Up
The Pebble is connected to your iPhone or Android device via Bluetooth. When you first switch on your Pebble, it will ask you to install the app on your phone. This is how your Pebble is controlled. Once downloaded from your app store, you can run though the pairing and set-up.
Please ensure you pair via the app and not on your device itself. Initially I could only get phone call notifications to come through, but after setting it up correctly, I got systemwide notifications working.
That's it. It is very simple, and now your phone and Pebble are linked.
Phone Battery Life
I have been using this with my iPhone 5. I was a little concerned about having bluetooth on all the time and how it would affect its battery life. However because it uses Bluetooth 4.0 it uses a low energy. I can honestly say I have noticed no difference in battery usage on my iPhone.
Adding Apps
In the phone app, you control what is installed to your Pebble. You can download apps from the App Store and put them in your 'locker' – then you can choose which of these go across to your watch. As the watch can only hold eight apps, this is a great way of keeping the apps you want close at hand without having to find them in the store.
How Does It Feel
Once you get your head around that it isn't a fully fledged jack-of-all-trades smartwatch like the others proclaim, you start to realise its benefits. It is a primarily a notification device allowing you to read incoming messages notifications without removing your phone from your pocket. You could also put your phone on silent and still get notifications straight to your wrist. The light vibrate from the watch is a great discrete way of being told what is going on.
It allows you to answers calls using your Pebble – although it would be nice if you could turn on speakerphone too, so you can answer and speak without touching the phone, an idea I submitted to Pebble.
With the aid of third party apps, you can even extend control to just about anything on your phone.
You can even get some basic games on it too. I have Asteroids, a Tetris clone, and even an OutRun style racing game.
Price
An AppleWatch will set you back £299 for the base model. A Samsung Galaxy Gear S costs £299. The Sony Smartwatch costs £189 and the Motorola Moto 360 £179.
A Pebble can be bought for £99 – or a lot less if you buy a used one – that is quite a big difference, plus it works with an iPhone 4s and Android 2.3 upwards, where as some of the above smartwatches only work with certain Android phones.
Pebble Time
Due for release in July 2015, Pebble have announced the Pebble's successor, the Pebble Time. It has the same premise as the Pebble, but this time it has a colour e-Paper LED backlight display, compass, and much anticipated microphone. Despite the new features, it still promises 7 day battery life – with the Pebble Time Steel promising 10 days battery life.
The original Pebble will continue to be sold at an even more impressive price.
Conclusion
I am loving my Pebble right now. One of the best features is being able to see who is calling me and decline it without taking my phone out – and if I am I wearing my earphones at the time, I can talk too.
The Pebble comes at the smartwatch idea from a different angle. It attempts to be a notification companion that can last a week rather than a do-everything-device that barely lasts a day.
It is a brilliant piece of kit that looks good on the wrist without looking too geeky. Go on, give it a go, it will change the way you use your phone.
---
Follow Simon Royal on Twitter or send him an Email.
Like what you have read? Send Simon a donation via Tip Jar.
---
keywords: #pebble #smartwatch #techspectrum #simonroyal
short link: http://goo.gl/grj8mD
searchwords: pebblewatch