I have had my Pebble for a few weeks now, and I reflect on some of its best features.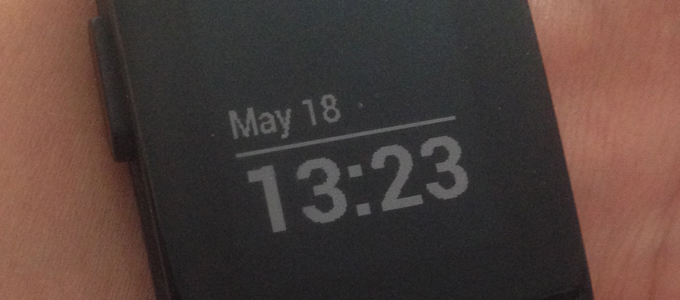 A few weeks back, I reviewed the original Pebble smart watch. After using it for a while, I now take what it's killer features for me are and why I love it so much.
Screen
The screen might not be the fanciest, but its mono e-Paper display means you can see it in any light, and unlike most other smart watches, the display is always on, meaning you can glance at it like a regular watch. The only time it isn't visible (even though technically it is still on) is when it is dark, but a simple shake will illuminate it for a few seconds without having to touch it.
Watch
It might sound daft, but it is great to have a watch again. I have spent a few years without one, relying on my phone to tell me the time, and the best thing about a smart watch is that the screen is customisable. I haven't gone for a fancy face; I use the built-in Simplicity, as it shows the time clearly but also has the date on screen. I also like the Text Watch face.
Dismiss Notifications
The Pebble's primary smart function is as a notification delivery device. When a notification comes through, it displays on both the iPhone screen and the Pebble screen. A very neat feature is that when you dismiss each notification from your watch, it removes it from the phone screen too.
This means you can go all day without reaching for your phone, but without getting to the end of the evening and then having to re-dismiss the day's pop-ups from your phone.
Phone in Your Pocket
I love the fact that I can view notifications as well as reject calls without removing my phone from my pocket. I don't always want to get my phone out, especially if it is raining, late at night, or in a crowded place. I can discreetly deal with my notifications without people noticing.
Do Not Disturb
Just like iOS, the Pebble has a Do Not Disturb option. You can set a time where notifications come in but no screen action or vibration – excellent for when you are asleep. They still come in and can be accessed in the menu if you need to.
Alarm
Having a watch with an alarm is nothing new, but usually it is an audible one. However, the Pebble has no speaker on it, so alarms are via vibration.
It might not sound like much, but if you don't have your phone in your pocket or you are in a noisy environment, a gentle vibrate on your arm is fantastic alternative.
Pebble Battery
I didn't want yet another device I have to remember to charge daily, so having a watch that only needs to be charged once a week is great – and to top it off, it only takes an hour to fully charge.
Phone Battery
Having a device paired to your iPhone via Bluetooth was an initial concern of mine. However, not picking up your phone to every notification and simply reading and dismissing them from your watch has actually saved battery life.
It must be because you don't light the screen up every five minutes.
Conclusion
I absolutely love my Pebble. I love its simplicity. I highly recommend one. I didn't think it would make such a difference to my day.
---
Follow Simon Royal on Twitter or send him an Email.
Like what you have read? Send Simon a donation via Tip Jar.
---
keywords: #pebble #smartwatch #techspectrum #simonroyal
short link: http://goo.gl/F0xdPn
searchwords: pebblewatch