On May 16, 2006, Apple introduced the consumer MacBook, the 13.3″ replacement for the old 12″ and 14″ iBooks. The first MacBooks had a wider 1280 x 800 display (vs. 1024 x 768 for G4 iBooks) and used Intel's Core Duo processors. The biggest differences between the consumer MacBook and the MacBook Pro are the MacBook's polycarbonate body and lack of a FireWire port.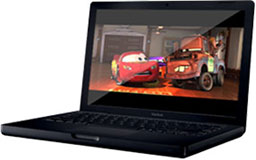 The consumer MacBook was an immediate hit, and Apple continued to offer these polycarbonate notebooks until July 2011, when the last one was discontinued in favor of the 11.6″ and 13.3″ MacBook Air.
Although the regular MacBook has been discontinued (the only model of Apple's Intel era discontinued to date), its legacy lives on in the 13.3″ MacBook Pro.
The Original (May 2006)
Measuring 12.78″ x 8.92″ x 1.08″ and weighing 5.2 lb., its widescreen display meant it was wider and a bit heavier than the 12″ iBook G4 it replaced (11.3″ x 9.06″ x 1.35″, 4.9 lb.) yet thinner and not as deep. The size and weight of the polycarbonate MacBook would remain pretty much identical through the model's entire run.
The first generation MacBooks ran at 1.83 GHz and 2.0 GHz speeds with prices starting at $1,099. They support up to 2 GB of system memory, and because the Core Duo processor does not operate in 64-bit mode, they are unable to run Mac OS X 10.7 Lion or later. The integrated Intel GMA 950 graphics are adequate for regular use but not up to supporting 3D gaming at high frame rates.
It's hard to imagine today, but the entry-level 1.83 GHz and white 2.0 GHz MacBooks shipped with just 512 MB of memory, which was barely adequate to run Mac OS X 10.4.6 Tiger, the version of OS X that originally shipped with this model. The top-end black 2.0 GHz model shipped with 1 GB of memory, which made it a much better performer.
These can be great field computers for those using who don't need to run OS X 10.7 Lion, especially if you upgrade memory to the 2 GB maximum. They are very good OS X 10.6 Snow Leopard machines.
Core 2 Duo (Nov. 2006)
Six months later, Apple move the MacBook to Intel's newer Core 2 Duo processor, which is approximately 7% more powerful and does support 64-bit operation, making it the first consumer MacBook able to run OS X 10.7 Lion. Other than the Core 2 Duo CPU, prices and configurations were identical to the Core Duo model.
An additional benefit of the Core 2 Duo processor is that these Macs can support up to 3 GB of memory, which is a real plus with OS X 10.6 Snow Leopard and later. For Lion, you should definitely upgrade to maximum system memory.
Speed Bump (May 2007)
Six months after that, Apple increased CPU speeds to 2.0 GHz and 2.16 GHz and made 1 GB of memory standard across the board. Everything else remained the same.
Santa Rosa (Oct. 2007)
The MacBook received a significant upgrade under the hood with the Late 2007 model. They used Intel's Santa Rosa chipset, running the CPU at 2.0 and 2.2 GHz on an 800 MHz system bus, up from 667 MHz on earlier MacBooks, and they support up to 6 GB of memory, which further unleashes them. These were the first MacBooks to ship with OS X 10.5 Leopard, and their integrated Intel X3100 graphics was a big step forward from the GMA 950 used in previous MacBooks.
Penryn (Feb. 2008)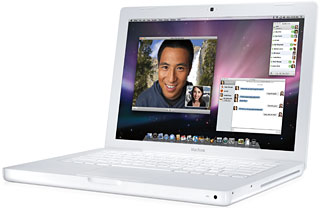 The next generation MacBook was another small speed bump. The entry-level MacBook went from 2.0 to 2.1 GHz, and the faster model from 2.2 to 2.4 GHz, which is the highest clock speed of any MacBook.
Except for the faster processors, these are almost identical to the October 2007 revision – and prices were the same $1,099, $1,299, and $1,499 as the original MacBook and each subsequent model.
This was the last MacBook model available in black.
MacBook White (Oct. 2008)
In Late 2008, Apple simplified the polycarbonate MacBook line by paring it down to a single 2.1 GHz model – and trimming the retail price to $999. This model is virtually identical to the entry-level 2.1 GHz Early 2008 model.
Aluminum Unibody (Oct. 2008)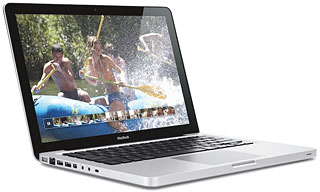 Apple took a different direction in Late 2008 by releasing a unibody MacBook crafted from aluminum, the same technology used in the MacBook Air and the Late 2008 MacBook Pro. The aluminum unibody construction made this model a bit smaller, a bit more solid, and a half-pound lighter.
This was the first MacBook to use a dedicated graphics processor. The Nvidia GeForce 9400M was a big step forward, but the Aluminum MacBook was also a premium model – $1,299 for the 2.0 GHz model and $1,599 for 2.4 GHz. This was the first MacBook with a 1066 MHz system bus and is the oldest MacBook to support OS X 10.8 Mountain Lion, 10.9 Mavericks, and 10.10 Yosemite. It was the first MacBook to support 8 GB of RAM.
Apple basically took this design and added FireWire to create the 13.3″ MacBook Pro in June 2009.
MacBook White (Jan. 2009)
The regular MacBook took a big step forward in the graphics department with the Early 2009 model, which includes a dedicated Nvidia GeForce 9400M graphics processor, yet at the same time trimming clock speed back to 2.0 GHz. Apple increased the system bus from 800 MHz to 1066 MHz, which also improves performance, and it has the same 6 GB memory ceiling as all models since Late 2007.
If you're at all into 3D gaming, this is the oldest MacBook that will satisfy you, and it's the oldest white MacBook that is supported by OS X 10.8 through 10.10.
MacBook White (May 2009)
Yet another incremental speed bump, this 2.13 GHz model (twice as fast as the 1066 MHz system bus) is just a bit faster than the Late 2008 model – but with the added advantage of a real graphics processor.
MacBook White (Oct. 2009)
The Late 2009 MacBook bumped CPU speed to 2.26 GHz and raised the memory ceiling to 8 GB. This was the first MacBook to ship with OS X 10.6 Snow Leopard.
GeForce 320M (June 2010)
The last of the polycarbonate MacBooks moved to Nvidia GeForce 320M graphics and brought back the MacBook's highest clock speed – 2.4 GHz. The Mid 2010 MacBook offers the best graphics performance of the entire MacBook series. Coupled with the highest clock speed, this is the ultimate MacBook in terms of performance.
The MacBook Legacy
Until Apple introduced the 11.6″ MacBook Air, the consumer MacBook was the most affordable Mac notebook, and it always provided good value for the price. It lacked the ExpressCard, FireWire, and SD Card slots found in most MacBook Pro models, but the typical low-end user was satisfied with its USB 2.0 connectivity.
The polycarbonate case had its share of teething problems, especially with cracks developing, but Apple improved it over time. The models with Nvidia graphics have a unibody design and should make great machines for gaming, watching HD video, and use with an external monitor or 1080p TV set.

If you use legacy software from the PowerPC era, you'll probably want to run Mac OS X 10.6 Snow Leopard, which is fully optimized for Intel processors and includes the Rosetta software that lets you use those legacy apps. I would want 2 GB of memory as a minimum with Snow Leopard, which runs on all MacBooks.
Only the first generation of MacBooks – those with Core Duo CPUs – is unable to run OS X 10.7 Lion, so you have a lot of options there. Again, having enough memory is going to be the key to good performance, and you'll probably find 3-4 GB does the job.
If you plan on running OS X 10.8 Mountain Lion or later on a MacBook, look at the models with Nvidia graphics. Although you can run with 2 GB of RAM, 4 GB of memory (or more) is going to be a minimum for decent performance.
You can pick up a nice used MacBook from a dealer starting at under $200, so if you're looking for a low-cost portable Mac for use in the field, this is the way to go.
Keywords: #macbook
Short link: http://goo.gl/XsHaU9
searchword: macbookhistory