As technology marches forward, old tech gets left behind. Some of us have been using Macs since the 1980s and have experienced a lot of it, but the 1998 introduction of the iMac probably takes the cake for offending the most – and the 12″ MacBook may take second place.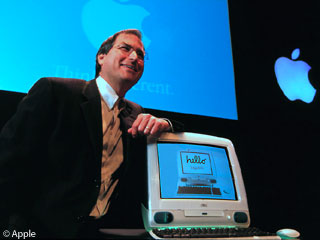 In May 1998, Steve Jobs took the stage to introduce a new kind of Mac that wouldn't be available until August. The iMac looked different. It lacked all those wires we were used to. There wasn't even a built-in floppy drive. And it had a new kind of port called USB.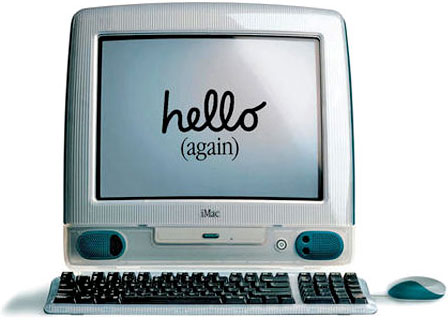 What hurt the most was that in order to push the industry to adopt USB, Apple eliminated almost every port Mac users were familiar with. No more ADB for our beloved mice and keyboards. No more SCSI for external hard drives, scanners, and disc burners. No more Mac serial ports for modems, printers, and AppleTalk networking.

As with the 12″ MacBook unveiled earlier this week, every expansion port from the past had been replaced by a new kind of port. At that time is was USB 1.1, and with the mouse connected to the keyboard and the keyboard plugged into the iMac, there was only a single free expansion port. Just one.
For manufacturers, it meant that you needed to have USB on your next generation printer, scanner, mouse, keyboard, webcam, or whatever if you wanted a piece of the iMac market. USB adapters for legacy peripherals were announced so those old ADB, SCSI, and RS-422 serial devices could interface with the new iMac.
Most of all, with just a single free USB port, there would be a wide open market for USB hubs once the iMac shipped in August 1998.
But USB Wasn't New
In reality, the Universal Serial Bus had been in development since 1994, when Compaq, DEC, IBM, Intel, Microsoft, NEC, and Nortel had come together to develop a new port to replace the wide range of ports found on contemporary PCs: parallel, serial, SCSI, and others. The first USB chipset arrived in 1995, although Windows didn't gain reliable USB support until Windows 98 arrived in June 1998 – two months ahead of the first iMac shipments.
The USB 1.0 specification supports two transfer rates:
Low Speed, 1.5 Mbps
Full Speed, 12 Mbps
Low Speed USB is perfect for mice and keyboards, which don't need high speed throughput. Full Speed USB was intended for printers, scanners, webcams, hard drives, and disc burners.
There were PCs with USB 1.0 on their logic boards. There were USB 1.0 cards for PCs. There were third-party USB drivers you could use with Windows 95, although they were often flakey. Yet USB peripherals did not become popular, because all PCs still had the old familiar parallel and serial ports.
Apple forced the industry's hand by only offering USB on the iMac, something the PC industry wouldn't be ready to do for a long, long time.
Perfect Timing
The USB 1.1 specification was finalized in September 1998, but Apple, now a member of the USB group, implemented the not-quite-finalized USB 1.1 in the iMac.
More than that, the world had three months between the iMac's announcement and it arriving in stores on August 15, 1998. During that time, the press discussed Apple's radical new machine, Mac users debated "what was Apple thinking?", and iMac websites popped up on the fledgling World Wide Web.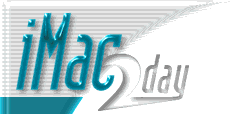 The iMac went on to become the most popular computer model on the market from its first day on sale and continued to hold that spot until Apple split the iMac into a range of models instead of just one in October 1999.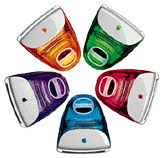 And as the iMac sold, so did USB peripherals. In fact, a lot of manufacturers went out of their way to launch printers, scanners, floppy drives, mice, keyboards, and more to match the original iMac's Bondi blue color – and the five fruit flavors that came the following year.
USB Has Many Ports
Over the years, USB has changed. At first there was the familiar Type A USB port on computers, but even at the start there was a second USB port (Type B) found on most printers, scanners, hubs – and many hard drives.

After this came miniUSB and microUSB connectors, and USB 3.0 introduced a modified version of the Type A connector with an extra bank of contacts to facilitate simultaneously sending and receiving data when it arrived in November 2008. (The original USB spec switched between those two modes. USB 3.1, released in January 2013, doubles bandwidth.)
Today we have USB 1.1, USB 2.0, USB 3.0, and USB 3.1. Here are the additional speeds:
High Speed, USB 2.0 and later, 480 Mbps
SuperSpeed, USB 3.0 and later, 5 Gbps
SuperSpeed+, USB 3.1, 10 Gbps
USB-C: Simplifying Everything Again
With so many ports and protocols, USB had evolved into every bit as much a mess as the competing serial and parallel ports found on PCs that led to the development of USB.
Apple showed a better way with its Thunderbolt connection, introduced in early 2011. In addition to being seriously fast with 10 Gbps bandwidth, it introduced a reversible connector. You no longer had to worry about plugging the cable in the wrong way, whether on your Mac, your iDevice, or any Thunderbolt peripheral. Thunderbolt 2 doubled bandwidth when it was introduced in Mid 2013, and someday Thunderbolt 3 will double that.

The new USB Type C port, introduced to work with USB 3.1, uses the same connection on all devices, and like Apple's Thunderbolt, the port is reversible, so you can't plug it in the wrong way. On top of that, it can deliver more power than USB 3.0 and earlier. Power is always delivered at 5V.
USB 1.0-2.0, 500 mA maximum current
USB 3.0, 900 mA maximum
USB 3.0 Type C, 1.5 A maximum requires, 3 A optional
Since the introduction of the MacBook Air, Apple has often provided up to 700 mA on one USB 2.0 port to power its external USB SuperDrive.
But There's Only One Port!
What it all boils down to in the end is that the new 12″ MacBook has just a single USB Type C port – exactly as many free USB ports as the iMac had in 1998. As it was with the iMac then, so it will be with the MacBook now: USB-C adapters and hubs will appear quickly, followed soon by USB-C devices.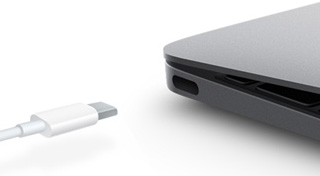 Why? Because USB-C is an industry standard, unlike MagSafe or Thunderbolt or Lightning. Anyone can sign up to use the spec, and Belkin has already announced USB-C devices.
Get a small USB-C hub that also includes Type A ports, and you can plug in your charger and a mouse and a thumb drive, covering most of your needs.
Yes, you have to carry an extra device, but aren't you already doing that when you take along the power adapter, a mouse, a thumb drive, a video adapter, and external hard drive or SuperDrive, and so on?
Apple has already announced its USB-C VGA Multiport Adapter, which provides one USB-C port, on Type A USB port, and VGA video output for US$79. The USB-C Digital AV MultiPort Adapter does the same thing, but with HDMI instead of VGA – and at the same price.
On the cheap end, there's a USB-C to USB Adapter at just US$19. All it gives you is a single Type A USB port, but that's enough to connect a thumb drive, a mouse, a hard drive, or a hub.
Belkin has unveiled its USB-C collection, which includes USB-C to Micro B, to Micro USB, to Mini B, to Type A, and to Type B cables, with prices ranging from US$19.99 to 29.99. There's also a US$29.99 USB-C to USB Type A adapter.
Google has adopted USB-C for its newest Chromebooks, and it has announced a $13 USB-C to Type A adapter, as well as a $13 USB-C to USB Type A cable. For video output, Google has a $40 HDMI adapter and a $40 DisplayPort cable.
No USB-C hubs yet, but they can't be far behind. They may yet reach market before the 12″ MacBook ships.
Conclusion
No, a single new port as the MacBook's only expansion option isn't ideal. In fact, it's downright rude. Having at least one Type A port would be so much better – but how do you fit that into a notebook computer that's barely a half-inch thick?
And that's part of the reason Apple chose to use USB-C to replace traditional USB ports as well as its Thunderbolt port. Simplify, simplify, simplify.
Maybe Apple carried things too far by not providing two USB-C ports. It certainly would be preferable to have two ports so you could use one to charge and one for peripherals. Maybe that's what we'll see when USB-C makes it to the rest of Apple's notebook line later this year.
Until then, USB-C is an inconvenience, but it is also a huge step forward in giving us a small, high speed port that provides lots of power and can't be plugged in backwards.
This kind of progress will hurt for a little while, but in a few years we'll look back and wonder why we made such a fuss over the new port. (As for the number of ports, it can only get better.)
Keywords: #usbc
Short link: http://goo.gl/ENtw7h
searchwords: usbc