Umax acquired the Macintosh clone operation and SuperMac name from Radius, going on to become one of the more innovative clone makers. Their corporate goal was to make quality Mac OS computers at prices that would give PCs a run for their money, something I believe they succeeded at.

From the entry level C500 to the professional single- and dual-processor S900 and S910, Umax offered a comprehensive range of Mac clones. They also introduced the first PowerPC model with an inline Level 2 cache, the CacheDoubler.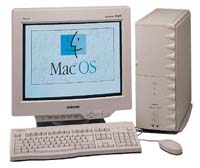 Umax started at the top in May 1996 with the 6-slot S900, which was the only Mac ever designed to accept a second CPU card to turn it into a dual-processor machine rather than using an entire dual-CPU card. In July 1996 came the slightly less expandable J700 in a standard desktop case – less expansion slots and no second CPU slot.
Umax completed the SuperMac line with the consumer-oriented C500 desktop and C600 minitower in August 1996, which were also the first Macs to use a ZIF-type socket for the CPU, making upgrades simple.
Click here for information on SuperMac video cards.
SuperMac Models
Other SuperMac Pages
Related Articles
Apple Squeezes Mac Clones Out of the Market, Dan Knight, Mac Musings, 2007.08.30. Apple started to license the Mac in 1994, the first clones arrived in 1995, and they quickly cut into Apple's profitable high-end market.
Installing OS X on a SuperMac S900, Bill Rose, Unofficial SuperMac Support Site, 2002.01.29. The trials and tribulations of installing Mac OS X on an unsupported SuperMac.
SuperMac, Seagate, and USB, Charles W Moore, Miscellaneous Ramblings, 2000.11.13. Hard drive nightmares, but a new USB card installs like a dream.
Umax suggests updating the J700 and S900 to version 2.0.2 of the Licensing Extension if you're using Mac OS 8 or 8.1.
RAM Charger from Jump Development ($40) lets you get the most out of your RAM – especially helpful on Macs with 8 MB or less. By launching applications using the minimum amount of memory they need, RAM Charger lets you run more programs. It also works well with RAM Doubler. You can even download a demo.
Hard Drive Warning
The version of FWB Hard Disk Toolkit that shipped with most SuperMacs is not compatible with Mac OS 8 or later.
If you have a J700 or S900 and wish to use Mac OS 8.0 or 8.1, you must use version HDT 2.0.6 or later* on the internal hard drive, available on the Umax software updates page (sorry, dead link). Be sure to install the new drivers on your hard drive before you run the OS 8 installer. Also, you must be sure that you do not update the driver on your hard drive during OS 8 installation. Using an older version of FWB HDT or the Apple driver on the SCSI drive that came with the SuperMac may so botch the hard drive structure that you will need to reformat it and reinstall everything. (As always, you should do a full backup before installing new drivers or updating your operating system.)
If you have a Umax C500 or C600, you should use the version of Drive Setup that ships with the System 8.0 or 8.1 disk, or the one that comes as part of the Mac OS 8.5.1 update. This is part of the normal system installation or update.
* If you are upgrading to Mac OS 8.5.1 or later, your hard drive is probably supported by the version of Drive Setup that comes with the installer. If Drive Setup 1.6.2 or later will work with your hard drive, use it. (And a big thanks to Apple for adding compatibility to over 90% of the drives on the market.)
keywords: #supermac