Having used an iMac with a 24″ screen (1920 x 1200) for years, I started to have more travel days, so a MacBook was needed. AppleWorks 6 is necessary to open older documents every now and then. It requires Rosetta and Mac OS X 10.6 Snow Leopard from 2009.
At Low End Mac, there has been discussion about legitimate reasons to stick with Snow Leopard (SL), and an excellent table showing Snow Leopard compatible models.
Extra screen space makes work and leisure more comfortable. Using a high resolution monitor becomes a habit very easily if one does any graphical work. Also, using a Mac laptop as your primary computer dictates dealing with USB hubs.
With these necessities, I purchased a used Early 2011  15″ MacBook Pro (MBP). The glossy screen with 1440 x 900 pixels has enough screen space for mobile work, but it turns out the the colours are not as good as the iMac – even after a couple of calibrations in System Preferences. A graphic with linear colour gradient can show the screen is actually 18-bit, as there appears visible banding along the gradient.
That's what laptop screens are. An external monitor is preferable. This MBP support 2560 x 1600 on a second monitor. The possibilities are either DisplayPort or an Apple Thunderbolt monitor.
Retina Display, meaning the viewer cannot discern adjacent pixels at normal viewing distance, is a pleasure for reading or graphics. High pixel density is not essential but nice. In the meaning of refined, too. MBP screen has a pixel density of 110 pixels per inch, which is fine for Mac OS X graphics defaults.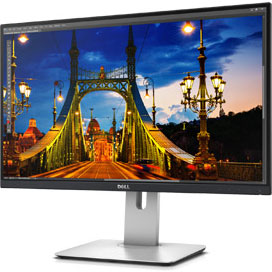 The 25″ Dell UltraSharp U2515H has a 2560 x 1440 IPS LED backlit panel. Pixel density is 117.49 ppi and works well with Mac OS X non-retina graphics with font sizes 12 or 14 and browser zoom 120%. Pixel density is nowhere near Retina but enjoyable when reading or retouching photos. The difference in ppi across the two screens does not bother me. Colour accuracy and an antiglare surface are welcome.
There are many other monitors available. I chose U2515H for being near the maximum resolution supported and having five USB 3.0 ports. I have no other connection to Dell.
This monitor solved my cord mess. U2515H supports HDMI and DisplayPort. It came with a Mini DisplayPort-to-DisplayPort cable compatible with the MBP. DisplayPort carries audio. Although the monitor has no speakers, it has an audio out minijack. That is connected to audio equipment. The monitor attaches to the computer with USB 3.0 cable (included). One of five USB ports is taken by the Logitech Nano Wireless Adapter for my mouse. Another connects to a USB keyboard, and a third to a MIDI keyboard.
My backup disk uses FireWire. That makes 3 cords and Magsafe power on one side of the notebook. An ethernet cable is also in use, but wireless is as fast in the local setting.
Thunderbolt docks exist, which could make it easier to come and go with Thunberbolt MacBooks.
A word for Snow Leopard users: Docks do not support anything else but DisplayPort while using Mac OS X 10.6. The version requirements of some are listed at MacInTouch.
The cables stay put and tidy on the desk. When at home, the MBP sits on a riser stand. Its screen shows extended desktop and time and date by Big Clock software (free). The usefullness of this MBP improved a lot.
A very important person said she'll work on my desk with her MacBook Air when I am traveling.
Keywords: #externaldisplay #macbookpro
Short link: http://goo.gl/LmvbOm
searchword: externaldisplay