The big news this morning was that Firefox was suddenly blocking all Flash content by default. Flash is frequently used for streaming video, ads, and interactive media on the Web, where it is heavily used for video games on Android devices. (Flash is not supported on Apple's iOS.)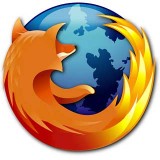 Exactly why did Firefox unceremoniously dump Flash after supporting it for so many years? Because it's not safe.
Facebook security chief Alex Stamos has called for the eradication of the programming language that is now being used to secretly install malware on people's computers. With three major vulnerabilities found in the past week, Mozilla – the organization behind Firefox – decided that enough was enough. Until Adobe can release a secure version of Flash, Firefox will continue to block the platform.
How Big Is Firefox?
Firefox is based on Netscape Navigator, the first browser many of us used back in the late 1990s. Microsoft devastated Netscape on Windows by making Internet Explorer (IE) the browser installed by default, and in its technology agreement with Apple, Microsoft got the Mac OS to adopt Internet Explorer and drop Netscape in 1997. This made IE dominant on both major platforms.
By 2002, Netscape had dropped into insignificance on the Web, as shown in this chart from Wikipedia.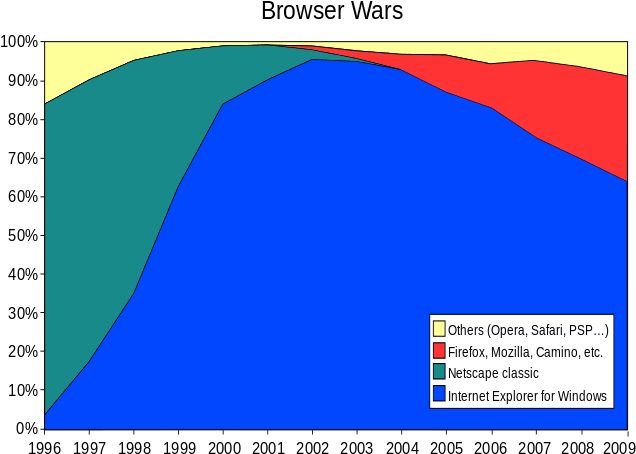 Netscape dug in, rebranded itself as Mozilla, and came back with Firefox, which slowly displaced Netscape as the #2 browser.
In 2003, Apple released its own browser, making Safari the default for Mac OS X 10.3 and later. In the Linux world, neither IE nor Safari have been available, and Firefox has been one of the leading browsers on the platform.
To further complicate things, Apple released Safari for Windows XP SP 2 in 2007, finally discontinuing it in 2012. Safari never got much traction on Windows. Safari is also the default browser on iOS.
According to StatCounter, Firefox remained the #2 browser in use well into 2011, but by the start of 2012, a newer contender passed its share – and a few months later displaced IE as the most used browser. As of June 2015, Firefox is estimated to have 10.72% user share, IE 12.88%, and Safari – on both Macs and iOS devices – 13.39%.
In short, Firefox dropping Flash support impacts maybe one out of nine browser users.
The Upstart
Google decided to enter the world of browsers and released a beta of Chrome in September 2008 and a stable version that December. By the end of 2011, it had passed Firefox to become the second-most-used browser – and a few months later, is took the #1 spot from Internet Explorer. According to StatCounter, Chrome and its Android counterpart account for 50.25% usage share.
Chrome comes with Adobe Flash Player preinstalled, and every time you launch Chrome, it checks for updates and installs them automatically, so you will always have the latest version of Chrome and Flash that your system supports. (Firefox also offers free updates to its browser, but Flash is a separate update you have to obtain through Adobe.)
Because Flash is contained within the Chrome app, it is somewhat more secure than the freestanding version available from Adobe, although it's hard to know just how much more secure it actually is.
It's pretty interesting that Chrome, Safari (on Macs), and Internet Explorer have not blocked Flash by default, although there are ways to disable it for the security conscious.
Update: Although it didn't get the same widespread coverage as Firefox, later in the day Chrome also began blocking Flash by default. Details on removing or disabling Flash on all platforms available in this article.
What's Going On?
Yes, Flash is a security threat. Yes, it is possible to disable it on every browser. Yes, everything Flash does can be done by other tools, including HTML5.
In fact, Apple's Steve Jobs said as much in April 2010, explaining that iOS didn't support Flash because it was no necessary for viewing video or using "any kind of web content."
Mozilla blocking Flash doesn't impact a lot of people, but it does make an important point. Flash is not only unnecessary, it's dangerous. Maybe this is the warning that will finally get website developers to abandon it and users to disable it on their computers.
Further Reading
Keywords: #flash #mozilla #firefox
Short link: http://goo.gl/G3xJZN
searchword: firefoxdropsflash