Just over a year ago, Apple introduced a whole new model under the MacBook name – barely a half-inch thick and just a touch over two pounds. The Early 2016 model takes the next step forward with Intel Core m3, m5, and m7 processors and Intel HD Graphics 515.
Also new for 2016 is rose gold in addition to the silver, gold, and space gray of the 2015 model.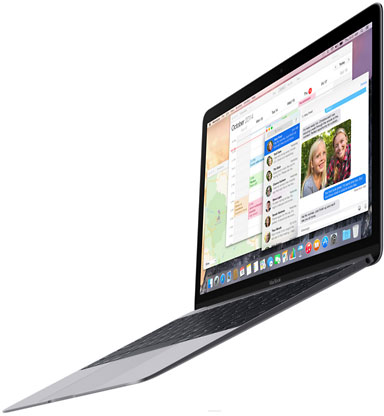 The 12″ MacBook has a 2304 x 1440 pixel Retina Display, which also scales to 1440 x 900 (same as the 13″ MacBook Air and the traditional 15″ MacBook Pro), 1280 x 800 (the same as the original MacBooks and the early 13″ MacBook Pro), and 1024 x 640. The display has 50% more pixels than a 1080p HD TV.
The CPU is  Intel's newest mobile processor, known as Core m3, m5 and m7, each with a 4 MB L3 cache. The entry-level model has a 1.1 GHz Core m3 with Turbo Boost to 2.2 GHz, and the next step up has a 1.2 GHz Core m5 with Turbo Boost to 2.7 GHz. At the top is a 1.3 GHz Core m7 CPU capable of reaching 3.1 GHz using Turbo Boost, which is the only build-to-order option available.
As with last year's model, 8 GB of system memory is standard, as is PCIe flash storage.
The entire package weighs just a bit over 2 pounds (a bit under 1 kg) with an 11.04″ x 7.74″ (28.05 x 19.65 cm) footprint. At its thickest spot, it's a tiny bit over 1/2″ (1.31 cm) thick. The screen itself is less than 1 mm thick.
USB-C
The MacBook's most controversial feature remains its single USB-C port. This is its only expansion bus – one single small USB-C port. It's perfect for slim devices such as phones, tablets, and laptops.
The problem is that the same port is used to charge the MacBook, and you can't  attach a traditional USB device (mouse, printer, thumb drive, etc.) without aUSB-C to USB Adapter, which Apple will gladly sell you for $19. Apple also offers a Digital AV Multiport Adapter and a VGA Multiport Adapter.
Closed Lid Mode: All Intel 'Books support "lid closed" (or clamshell) mode, which leaves the built-in display off and dedicates all video RAM to an external display. To used closed lid mode, your 'Book must be plugged into the AC adapter and connected to an external display and a USB or Bluetooth mouse and keyboard (you might also want to consider external speakers). Power up your 'Book until the desktop appears on the external display and then close the lid. Your 'Book will go to sleep, but you can wake it by moving the mouse or using the keyboard. The built-in display will remain off, and the external monitor will become your only display. The MacBook is designed to run safely in closed lid mode, but if yours runs hot (perhaps due to overclocking or high ambient temperatures), you may want to open the lid when in closed lid mode: The screen will remain off and the computer will more readily vent heat from the CPU.
To resume use of the internal display, you need to disconnect the external display, put the computer to sleep, and then open the lid. This will wake up your 'Book and restore use of the built-in display.
Details
introduced 2016.04.19 at US$1,299 (1.1 GHz m3, 8 GB RAM, 256 GB SSD) and US$1,599 (1.2 GHz m5, 8 GB RAM, 512 GB SSD), 1.3 GHz m7 available as a build-to-order option
Mac OS
requires Mac OS X 10.11 El Capitan or later
CPU: 1.1 GHz Intel m3 (2.2 GHz Turbo Boost), 1.2 GHz m5 (2.7 GHz Turbo Boost), and optional 1.3 GHz m7 (3.1 GHz Turbo Boost)
Bus: 1600 MHz
Performance, Geekbench 3:

32-bit single core:
32-bit multicore:
64-bit single-core:
64-bit multicore:

RAM: 8 GB
Level 2 cache:
Level 3 cache: 4 MB shared by both cores
Graphics: Intel HD Graphics 515, supports extended desktop.
VRAM: uses up to xx GB of system memory
Video out: via USB-C or USB-C VGA or HDMI video adapter (to 3840 x 2160 resolution)
display: 12″ glossy 2304 x 1440 226 ppi color active matrix

supports 1440 x 900, 1280 x 800, and 1024 x 640 pixels at 16:10 aspect ratio
allows mirroring to external display and extended desktop mode

Hard drive: 256/512 GB solid state drive standard
SSD: PCIe
SuperDrive: optional external drive
Expansion
Thunderbolt: none
USB: 1 USB-C port
FireWire: none
Ethernet: optional USB-to-ethernet adapter
WiFi: 802.11ac AirPort Extreme built in
Modem: No longer offered by Apple
Bluetooth: BT 4.0 built in
ExpressCard/34 slots: none
SD Card slot: none
expansions bays: none
IR port: none
webcam: 480p FaceTime camera
audio: headphone output via minjack
Power
battery: 41.4 Watt-hour, 10 hours of wireless productivity, 11 hours of iTunes movie playback
AC adapter: 29W USB-C power adapter
Physical
size: 7.74 x 11.04 x 0.14-0.52″ (280.5 x 196.5 x 3.5-13.1 mm)
Weight: 2.03 pounds (0.92 kg)
Part no.: not yet known
Online Resources
Keywords: #12inchmacbookearly2016
Short link: http://goo.gl/joaI7c
searchword: 12inchmacbookearly2016