With the release of the first PalmPilots on March 10, 1996, Palm finally addressed issues it had been dealing with by making software for other people's hardware since 1992 (see Part 1). For the first time, Palm had its own hardware and software, and the Palm brand became synonymous with PDA (Personal Digital Assistant).
The First Generation: Palm OS 1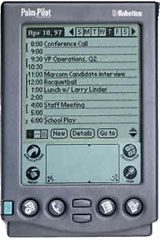 The PalmPilot was specifically designed to fit the hand and fit in a pants pocket, making it something users were more likely to have with them at all times.
The first two models were the Pilot 1000, which included 128 KB of system memory, and the Pilot 5000 with 512 KB, both built around the Motorola 68328 DragonBall CPU, a low power, 16 MHz cousin of the 32-bit 68000 CPU found in early Macs. The 68328 is essentially a one-chip computer, and in the PalmPilot it supports up to 12 MB of system memory and 4 MB of ROM, although the original devices only allowed up to 1 MB.
These devices ran Palm OS 1.0 and had a 160 x 160 pixel screen plus a Graffiti area for stylus-based text input.
Palm Computing was sued by the Pilot Pen Company for trademark infringement of the Pilot brand. After losing in court, Palm changed the product name from Palm Pilot to PalmPilot, a single word, and later simplified it to Palm.
Early Palm OS devices only had one way to communicate with other hardware, the long-established RS-232 serial protocol.
The Second Generation: Palm OS 2
The PalmPilot Personal and PalmPilot Professional arrived on March 10, 1997. They shipped with Palm OS 2.0 and were the first Palm devices with backlit displays. The Personal had 512 KB of built-in memory; the Professional, 1 MB.
Available accessories included a dock/cradle, a 14.4 kbps modem, and a memory upgrade that added infrared communication between devices. This would become a popular feature, allowing PDAs to spurt information directly from one to the other with no wires.
The Third Generation: Palm OS 3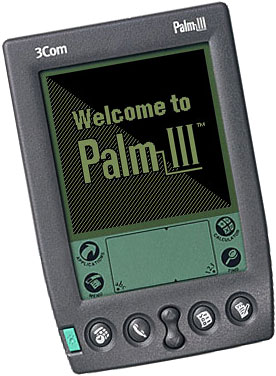 A year later, in March 1988, the Palm III arrived with built-in infrared (IrDA) communication. The third generation model shipped with Palm OS 3.0 and a 4-shade LCD touchscreen. The III included 2 MB of memory.
Notice how the bottom of the Palm III has been restyled with just a bit of a curve after the far more curvy bottom of previous devices.
Palm OS 3 was the first version to be licensed to other device makers, starting with Symbol and Handspring in 1998, although Handspring wouldn't deliver its first device until September 1999. We'll take a closer look at Handspring in Part 3.
The Palm IIIx, released in 1999, improved upon the III with 4 MB of memory and a more efficient version of Motorola's CPU, known as the DragonBall EZ. This made it faster than previous Palms. The IIIx had an internal expansion slot to accommodate upgrades and enhancements. The IIIx shipped with Palm OS 3.1, in many ways a bug fix version of Palm OS 3.0, and it included an upgradeable Flash ROM for system updates.
The Palm IIIe was a lower cost version of the IIIx that shipped later in 1999 and did not include Flash ROM, giving it no OS upgrade path. It was the only Palm device not to include Flash ROM. It also had the DragonBall EZ processor but only 2 MB of memory.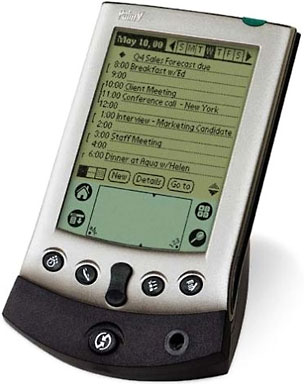 The Palm V was released in February 1999 using the improved DragonBall EZ CPU, 2 MB of memory, and a 16-shade touchscreen display. It was encased in an anodized aluminum body and was the first Palm device with a rechargeable battery. It also shipped with Palm OS 3.1.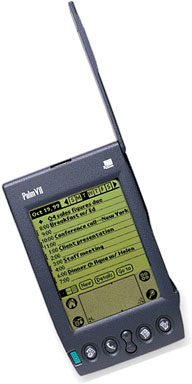 The Palm VII was the first Palm device with an antenna for wireless communication. Wireless service was provided by Mobitex at $14.95 per month. It had 2 MB of memory and shipped with Palm OS 3.2
Palm took a big step forward in memory capacity with the Palm Vx, the first Palm to ship with 8 MB of memory. Introduced in October 1999, it was also the first Palm device to run faster than 16 MHz; it had a 20 MHz DragonBall EZ CPU. It was the first model to ship with Palm OS 3.3.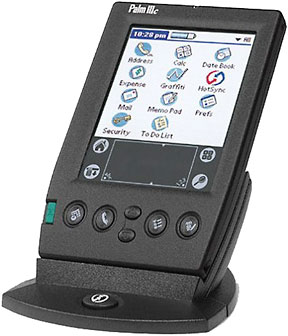 In February 2000, the Palm IIIc shipped as the first color PDA made by Palm. It supported 8-bit color (256 colors).
Palm Stands on Its Own
In the personal computing world, there were two business models. Some companies, notably Apple and Commodore, designed their own hardware and developed their own operating systems. Others, especially the CP/M computers of the 8-bit era and IBM PC compatible computers, had hardware makers license an operating system from another company.
Palm Computing had originally been responsible for the whole widget, hardware and software, but it began licensing its operating system in 1998 with Palm OS 3.
Palm had been a subsidiary of USRobotics and then 3Com, after is acquired USR. On March 1, 2000, Palm Inc. became an independent, publicly traded company.
The Fourth Generation: Palm OS 4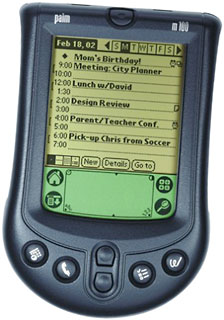 The entry-level Palm m100 series launched in August 2000 with the m100, complete with 2 MB of memory and a 16 MHz DragonBall EZ processor. The m105 is exactly the same except that it has 8 MB of memory.
The m125 unleashed the 33 MHz DragonBall VZ CPU. It had 8 MB of memory, an SD card slot, and shipped with Palm OS 4.0. The m130 shipped with Palm OS 4.1 and adds 16-bit color to the features of the m125.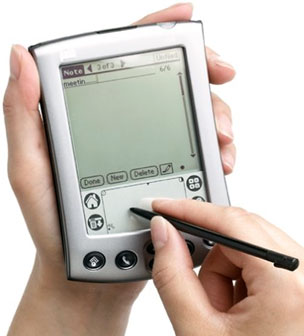 The Palm m500 series arrived on March 6, 2001, just days after Palm Inc. had been spun off of 3Com. These were among the first Palm devices with SD memory card slots, and they initially shipped with Palm OS 4.0.
The Palm m500 was built around a 33 MHz DragonBall VZ processor, 8 MB of memory, and a 4-bit, 16-shade 160 x 160 pixel grayscale touchscreen. The m505 was the first Palm Inc. PDA with a 16-bit color display, supporting over 65,000 colors – a big improvement from the 256 color palette of the 8-bit color of the Palm IIIc.
A year later, on March 4, 2002, the Palm m515 arrived as an improved version of the m500. Palm OS 4.1 was standard, memory was doubled to 16 MB, and the backlighting was improved.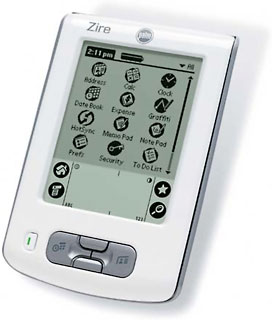 The white Palm Zire arrived in the 2002 holiday quarter as Palm's new economy model. To cut costs, it had a monochrome display (no grayscale) and no backlighting. It used a 16 MHz DragonBall EZ processor, just like most earlier Palms, and had 2 MB of built-in memory. It shipped with Palm OS 4.1 and had no SD card slot.
Licensing the Palm OS
In January 2002, Palm Inc. set up PalmSource as a wholly owned subsidiary to develop and license the Palm OS. However, Palm had been licensing the Palm OS since 1998.
Palm Licensees by Date of First Palm OS Device
This list only lists the first Palm OS device(s) from a licensee. Not all licensees actually released product. (Data from PalmEvolution.com.)
March 23, 1998, Symbol SPT1500
Sept. 14, 1999, Handspring Visor
Oct. 14, 1999, Qualcomm pdQ, first cellphone with Palm OS
Oct. 19, 1999, TRGpro, first Palm OS device with Compact Flash support
July 13, 2000, Sony Clié S300 and S500C
Nov. 27, 2000, Kyocera QCP-6035 smartphone
March 22, 2001, Samsung SPH-i300
Sept. 17, 2001, HS Visor Neo and Pro
Oct, 18, 2001, Acer S10
June 17, 2002, Alphasmart Dana
Jan. 8, 2003, Garmin iQue 3600
July 15, 2003, GSL Xplore G18
Sept. 17, 2003, TapWave Zodiac 1 and 2
Dec. 8, 2003, Lenovo P100 and P300
Sept. 28, 2004, Qool QDA-700
Jan. 6, 2005, Fossil WristPDA TX2008
March 10, 2005, ITM Technology hagenuk SmartPhone S200
Sept. 26, 2005, XPRO P368
A House Divided
Handspring was founded by several members of Palm Computing in June 1998 and was the second Palm OS licensee to ship product – and probably the most successful.
If you're a Palm user, consider joining our Palm OS Users group on Facebook.
We'll cover the Handspring story in Part 3.
Index to A History of Palm
If you're a Palm user, please consider joining our new Palm OS Users group on Facebook to share your knowledge and provide user-to-user support.
Keywords: #palmos #palmpilot #palmpda
Short link: http://goo.gl/YXqKjd