Handspring had been founded by several members of Palm Computing in June 1998 and was the second Palm OS licensee to ship product – and probably the most successful (see Part 3). In 2003, Palm Inc. merged with Handspring in a mutual agreement by both companies. This marks a new chapter in the story of Palm and the Palm OS.
Palm acquired Handspring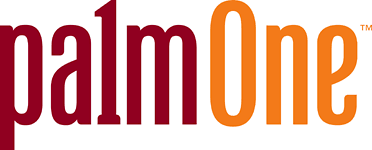 in a stock swap that was announced on June 4, 2003, initially calling the merged entity Palm Solutions before settling on the palmOne name in October 2003.
On October 23, 2003, PalmSource became an independent company that in turn licensed the Palm OS to palmOne.This may have been the beginning of the end for Palm, as it had just created the kind of division between hardware and software it had dealt with on the GRiDpad and the Zoomer (see Part 1). Dealing with one company making hardware and another making software was what convinced Palm it need to make the whole widget. (See Palm: I'm Ready to Wallow Now by Thom Holwerda on osNews for more on this and other issues.)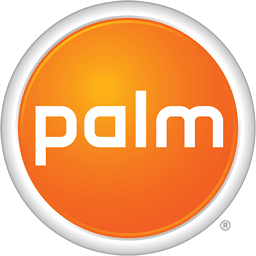 In May 2005, palmOne bought out PalmSource's share of the Palm trademark, and in June 2005, palmOne renamed itself Palm, Inc.
The Fifth Generation
With the fifth generation of Palm hardware and the Palm OS, Palm abandoned the Motorola DragonBall processors it had used from the beginning in favor of newer, more powerful ARM CPUs – the same family of CPUs that had powered Apple's Newton and that powers most smartphones and tablets today.
All Palm Tungsten devices have 16-bit color displays capable of displaying 65,000 colors, an SD Card slot, and Graffiti 2. The first to ship (in November 2002) was the Tungsten T, a replacement for the 500 series and the first Palm device to ship with Palm OS 5. It was also the first Palm branded device with a 320 x 320 pixel display, which brought a whole new level of clarity to the screen, much as the Retina Display did for the iPhone 4 in 2010. It also introduced Bluetooth to the Palm family.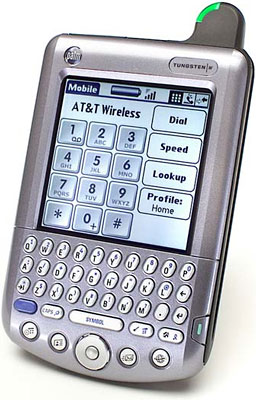 The only smartphone in the Tungsten family, the Tungsten W, arrived in February 2003. Although part of the Tungsten line, it was in reality a 4th generation Palm device. It shipped with Palm OS 4.1.1, a low power 33 MHz DragonBall CPU to improve battery life, 16 MB of memory, and a 320 x 320 screen. It also has a thumbboard, the kind of keyboard BlackBerry has been famous for.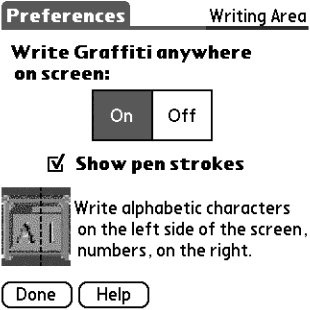 The dedicated scratchpad area for Graffiti input on previous Palm devices is gone. Instead, you can do Graffiti input using the entire display. In a GCN review of the Tungsten W, Thomas R. Temin states, "For users who insist on Graffiti, you still can tap in a scratchpad. Personally, I can input data using Graffiti faster than via the tiny keyboard."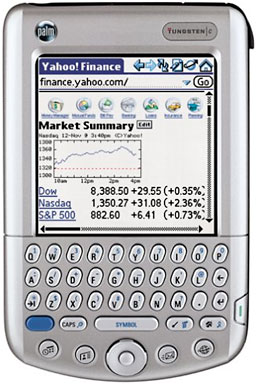 The Tungsten C, which rolled out in April 2003, was Palm's first PDA with built-in support for 802.11b WiFi. Although it looks like a Tungsten W without an antenna, it is a true 5th generation device with Palm OS 5.2.1, a 400 MHz PXA255 ARM CPU, 64 MB of memory, a thumbboard, and an SD Card slot.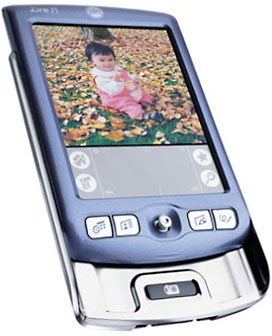 Also part of the April 2003 roll out, the Zire 71 was Palm's first attempt to build a camera into its PDA. The Zire 71 had a 320 x 320 pixel 16-bit color display, a 144 MHz ARM CPU, Palm OS 5.2.1, and a VGA 640 x 480 pixel (0.3 megapixels) camera.
In July 2003, Palm rolled out the Tungsten T2, a minor update to the Tungsten T with 32 MB of memory, a better screen, Palm OS 5.2.1, and Graffiti 2.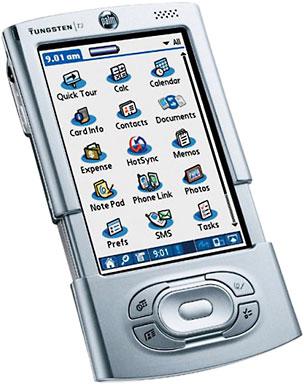 The T2 was replaced by the Tungsten T3 in October 2003, which was the first Palm branded PDA with a 480 x 320 display. It included 64 MB of memory and a 400 MHz Intel PXA261 CPU, part of Intel's Xscale line of ARM processors.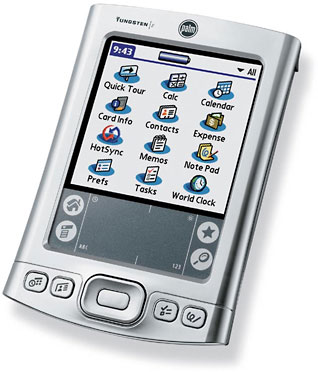 Also released in October 2003, the Tungsten E was powered by a 126 MHz ARM processor and 32 MB of memory. It had the traditional 320 x 320 display with a Griffiti area below it. At $199, it was the least expensive member of the Tungsten family.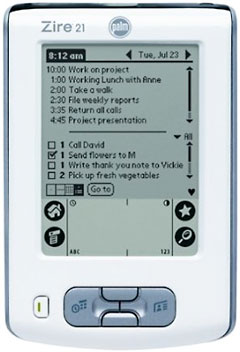 In the holiday quarter of 2003, Palm introduced the US$99  Zire 21, which moved its entry-level PDA from DragonBall to a 126 MHz ARM CPU and Palm OS 5.2.1. Its biggest drawback was probably its lack of an SD Card slot.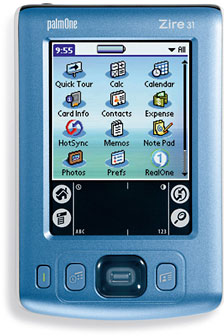 The first low-end color Zire arrived on April 28, 2004. The Zire 31 brought a 16-bit color display to Palm's entry-level line, and it was the first Zire with an SD Card slot (1 GB maximum). It's powered by a 200 MHz Xscale ship, has 16 MB of memory, and shipped with Palm OS 5.2.8.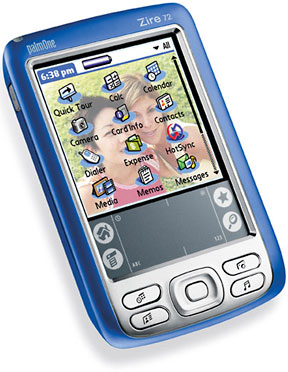 The Zire 72 also arrived in April 2004, replacing the Zire 71. Some considered it a step forward, other a step back. It has a 312 MHz Xscale CPU, 32 MB of memory, Bluetooth 1.1, and a higher resolution 1.2 megapixel camera – 1280 x 960 instead of 640 x 480. It can also shoot QVGA video at 320 x 240 pixels. The biggest complaint about the 72 was that the camera was no longer covered when not in use, as it was on the Zire 71.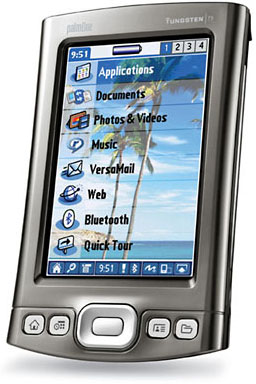 The Tungsten T5 shipped in October 2004 powered by a 416 MHz Xscale CPU. It had a 640 x 480 pixel screen and a whopping 256 MB of memory, the most to date in a Palm branded device.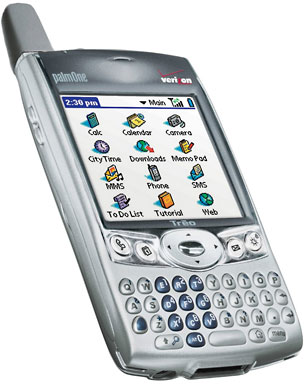 After the Palm-Handspring merger, Treo became a Palm brand, and the Treo 650 was the first Treo smartphone with the Palm name when it arrived in November 2004. The Treo 650 had a 312 MHz Xscale processor, 32 MB of memory, a 320 x 320 16-bit display, and came with Palm OS 5.4.
The Tungsten E2 arrived on April 13, 2005 as a replacement for the Tungsten E. It runs a 200 MHz Intel Xscale processor, has 32 MB of memory, and shipped with Palm OS 5.4.7 Garnet.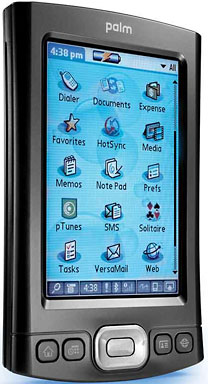 Palm retired the Tungsten brand with the introduction of the Palm TX in October 2005. The TX has the same 480 x 320 pixel display as the Tungsten T series, a 312 MHz Xscale CPU, 802.11b WiFi, 128 MB of flash memory, and 32 MB of system memory. It can use SD Cards up to 2 GB, and supports 4 GB card if they are formatted as FAT32 using a supplied driver.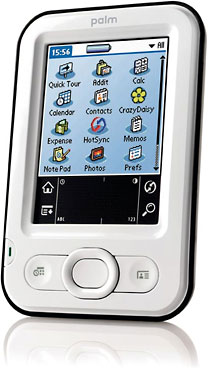 Also part of the October 2005 release was the Palm Z22, a replacement for the Zire Z21. Powered by a 200 MHz ARM CPU, the Z22 had 32 MB of internal memory, a 12-bit color display capable of showing 4096 colors, and Palm OS 5.4.9. It was the first Palm device with a color screen to retail below US$100.
The Palm TX and Z22 were the last Palm PDAs. From here on out, Palm was going to focus on smartphones alone.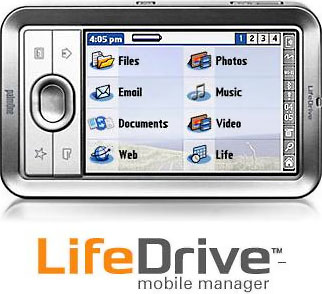 Palm had a rather different device up its sleeve, a hard drive-based mobile data storage unit running the Palm OS. They called it LifeDrive, and it could store up to 4 GB of data on its slow microdrive – almost as much as the original iPod introduced in October 2001.
LifeDrive was the first Palm product to support both Bluetooth and WiFi. LifeDrive never took off, in no small part because of its high price, and it was discontinued at the end of January 2007.
The 2006 Treos
Windows on a Palm? Say What!
The division of Palm into separate hardware and software companies led to one of the strangest things in smartphone history – the Treo 700w. It was a Palm that ran Windows Mobile 5.0 instead of Palm OS. It began shipping in January 2006. It also had a new style keyboard that would be used on all future Treo, and it had a lower resolution screen than Palm OS Treos – 240 x 240 pixels instead of the standard 320 x 320.
The 700w was a Verizon exclusive.
The new keyboard was next used on the Treo 700p, launched in May 2006, the first Treo with high speed cellular data. It also used Palm OS, which should go without saying. However, no WiFi support, an issue that had always plagued Palm OS smartphones. It had the same 312 MHz Xscale CPU that Palm loved on its high-end devices, along with Palm OS 5.4.9 and 128 MB of storage (only 60 MB available to the user).
A More Affordable Treo
The Treo 680 was introduced in November 2006 as a less expensive Treo smartphone, and it was available in four different colors when you ordered the unlocked version directly from Palm. But if you bought your Treo 680 from Cingular, your only choice was graphite.
The Treo 680 was powered by a 312 MHz Xscale chip, had 32 MB of system memory, 64 MB of flash memory, a VGA camera, Bluetooth 1.2, and shipped with Palm OS 5.4.9. It was the first Treo with no antenna sticking out of its body. The 680 was thinner and lighter than previous Treos.
In September 2006, Palm updated the 700w to become the Treo 700wx. It's pretty much the same as the 700w, but it was available from any carrier, not just Verizon.
The Treo 750 arrived in January 2007, pretty much a Treo 680 bereft of the Palm OS. Yes, this was another Windows-based Treo. The 750 used a 300 MHz Samsung ARM CPU.
Palm introduced the last Treo, the Treo 755, in May 2007 as the first CDMA Treo without an external antenna. It looks just like all the 2006 Treos.
Palm Centro, the Last Palm OS Smartphone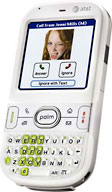 All good things come to an end, and for the Palm OS, the end of the line was the compact Palm Centro smartphone. It was essentially an even smaller, more affordable Treo, complete with that new keyboard. It shipped in October 2007 and took the industry by storm at US$99 with a two-year carrier contract.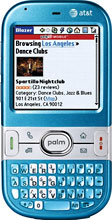 This was four month after the original iPhone went on sale at US$599, and smartphone makers were all wondering what the future held. Palm waded right into the fray with is tiny, light 4.2 oz. Centro, and it was a smashing success. Centro salves averaged over 30,000 per week during Palm's Dec. 2007 to Feb. 2008 quarter.
Unfortunately, it was not enough to stem the flood of red ink. Palm had record unit sales over the quarter but reported a net loss of $31.5 million.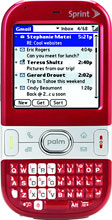 Because of it's attractive, affordable price, the Palm Centro became the first smartphone for a lot of people. Over 70% migrated from standard mobile phones to the Centro. Negatively, this meant less people were interested in buying Palm PDAs, and by late 2008 the Palm PDAs were vanishing from store shelves.
Then again, Centro sales continued to be strong well into 2009, but my mid-year they were gone.
---
I have a soft spot for the Palm Centro. My first Palm was a black-and-white Zire 21, and my second was the Zire 31 with its color display. The third and fourth were a pair of Centros picked up on eBay for under $30 apiece. One was a Verizon phone, which I activated to replace my non-smart phone – but without a data plan. The other was a Sprint phone. I primarily wanted them as smaller, more pocketable PDAs, and their small 320 x 320 pixel display was the sharpest thing I'd seen until the iPhone 4 arrived with its Retina Display.
The Beginning of the End
There were some issues with Treo and Centro smartphones. They never did support 802.11 WiFi. For online use, you either used your carrier's data plan or you figured out how to create a Bluetooth Personal Area Network (PAN) – something I've never been able to do on either Macs or my Linux machine.
The original Palm OS was a very minimalistic, streamlined affair, and it only included two options for sending and receiving data other than via cellular data. The first was the serial port, and even the 2007 Centro didn't have USB. The second possible data path was Bluetooth. There were some third-party WiFi SD cards, but Palm never had WiFi on any of its smartphones.
Palm had been working for years to develop Palm OS 6, but it never got there. Palm ended up acquiring BeOS and used that as the basis of its next generation operating system, which launched with a whole new smartphone in May 1999 – but that's a story for the next chapter.
If you're a Palm user, consider joining our Palm OS Users group on Facebook.
Index to A History of Palm
If you're a Palm user, please consider joining our new Palm OS Users group on Facebook to share your knowledge and provide user-to-user support.
Keywords: #palmpilot #palmos #palmtreo #palmcentro
Short link: http://goo.gl/uo2eKY