This page provides information about modifying the motherboard in your Quadra, Performa, or LC 630 series computer. Such modifications are not authorized by Apple. Any modifications you perform on your Mac may damage it. Modifications are done at your own risk.
The Quadra 630 (a.k.a. LC 630; Performa 630, 635, 636, 637, and 638) motherboard is the same as the Performa 631 and Performa 640 motherboard – except in the number of RAM slots. The Quadra 630 board has one RAM slot, while the Performa 631 and 640 and the DOS Compatible models have two.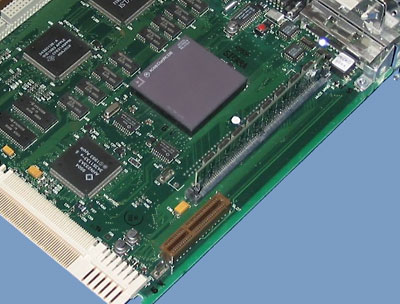 The Quadra/Performa/LC 630 logic board does have solder pads for an extra RAM slot. If you can get your hands on a 72-pin RAM socket and solder it to the solder pads, you will have two functional RAM slots. This will bring the maximum RAM up to 52 MB from 36 MB. (Just like the 631 and 640, the second RAM slot cannot accept a double-sided SIMM or a SIMM larger than 16 MB.)
See Memory Upgrades: Quadra and LC 630 DOS Compatible, Performa 631 and 640 for more information on RAM upgrade options.
If you're wondering where to get a 72-pin RAM socket, try an old cheap PC motherboard.
Keywords: #quadra630 #maclc630 #performa630
Short link: http://goo.gl/nd1BGu