Feature phone or dumb phone? Apple Phone or iPod Phone? The chances of Apple producing either is slim, but it has opened up a great topic for debate.
Dan Knight recently countered my iPod Phone article with an article pointing towards a more feature-laden basic Apple Phone, entitled revisioning the low-end smartphone. Personally, I think this could be a dangerous area for Apple to dip its toes into.
Android and even Windows Phone have cornered the market in budget smartphones, ones with social media capabilities but lacking on the quality materials and high resolution screen technology. These can be picked up for under $100. An Apple version would still command a high price tag with little to draw people in except a shiny Apple logo on it.
My take on the 'cheap' phone was more down the music-only route – an iPod and a phone, and that is it. The one thing I love about my iPhone is the fact it is a huge music player, but in comparison to a dedicated music player the battery just doesn't hold up. There are still people out there who don't want the expense or social media harassment of a smartphone or having to charge it every day, but they like to have a decent portable music player. Adding basic phone capabilities could be a smart move.
Processor
Adding in a processor similar to that of the iPhone 4, as Dan suggested, would impact on battery life and for my meagre functions would be overkill. A low powered processor similar to that in a Nokia 222 or iPod 5th generation would give optimum battery life.
Apps
I don't think cramming in apps, FaceTime, iMessage, Maps, YouTube, or the ability to post to Facebook or Twitter would be viable, as it would require a decent high speed data connection. After all, it is social media and apps that kill our beloved smartphone batteries.
Keyboard
On the subject of a keyboard, most modern feature and dumb phones don't generally have a qwerty keyboard, so I still stand by my original idea of an old fashioned T9 keypad. No data connection and no social media limits the need for a keyboard. It would be purely for text message or searching through music.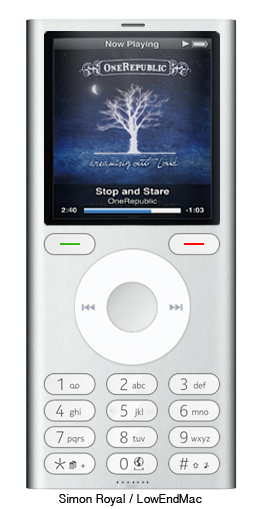 The scroll wheel would give faster access through a contact list, photos, and a music playlist. After all, it was good enough for the iPod range for well over a decade.
Size
I would agree with Dan about the size limit. Adding in 4 GB or 8 GB (possibly 16 GB at a maximum) would be more than enough, as putting in 32 GB could impact on the iPhone market – although we had 160 GB iPods from September 2007 through September 2014.
Price
At the $250 suggested price tag that Dan suggested, I think it would flop – even with his additional features. This would need to be a $100 phone for it to compete with other budget phones, with the emphasis on it being a music player – and to appeal to those not wanting an iPhone. After all, for $250 you can grab a very capable older iPhone.
Just Music
No apps. No social media. No software updates. No QWERTY keyboard. This would be a music player with a phone attached.
Do you know a music lover who would embrace the idea of quality music phone. You can say it has been done before. Sony Ericsson produced the music centric W880 in 2007 – capable of taking a 4 GB card, and Nokia produced the 5200 – capable of taking a 2 GB card or even the Nokia N91 with its built in 4 GB or 8 GB storage in 2005.
However, none of these had that Apple spin on it. Apple might not have invented the MP3 player or the smartphone, but they reinvented them and took the market by storm. They could do the same with the budget phone market.
Conclusion
Low-end smartphone, feature phone, or basic music player phone – it is highly unlikely that any of these will ever come to market, but it was fun thinking about it.
---
Follow Simon Royal on Twitter or send him an Email.
Like what you have read? Send Simon a donation via Tip Jar.
---
Keywords: #apple #ipod #phone #ipodphone #applephone #music #techspectrum #simonroyal
Short link: http://goo.gl/mJErnK
searchwords: ipodphone