In the era of the Sony Walkman™, it was inevitable someone would create a WalkMac. That's what Chuck Colby called his portable when it was introduced in 1987.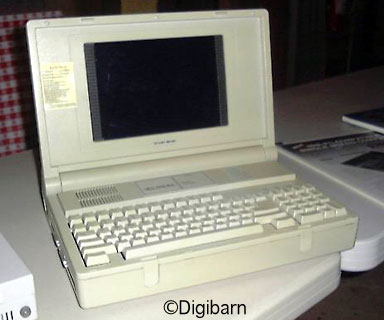 The Colby WalkMac was the first portable, battery-powered Mac. It was available in two configurations: SE ($4,498) and SE/30 ($6,798). Battery life was about three hours.
For business users, it was possible to remove the backlight from the WalkMac's display and place it on an overhead projector for use in presentations.
Colby also made an aluminum Tempest version with a removable hard drive for government use.
When Sony threatened to sue Colby because the WalkMac name was so similar to Walkman, Colby renamed the device the Colby SE30. The Colby SE30 was discontinued in 1991.
Chuck Colby also created the first tablet Mac, the Colby Classmate™, in 1991.
Much of the information below is from a MacZone ad in the November 1989 issue of MacUser.
Details, WalkMac SE
introduced at $6,800 in 1987
requires System 4.1 to 7.5.5
CPU: 8 MHz 68000
performance: 1.0 (relative to SE)
ROM: 256 KB
RAM: 1, expandable 4 MB using pairs of 256 KB or 1 MB 150ns 30-pin SIMMs (will not work with two-chip 1 MB SIMMs)
configurations included dual-floppy or one floppy plus 20, 40 or 80 MB hard drive
9″ backlit b&w LCD screen, 512 x 342 pixels
ADB: 2 ports for keyboard and mouse
serial: 2 DIN-8 RS-422 ports on back of computer
hard drive: 20 or 40 MB
DB-25 SCSI connector on back of computer, maximum throughput of 5,248 kbps
floppy: 800 KB double sided
floppy connector on back of computer
size (HxWxD): unknown
weight: 16 lb.
Gestalt ID: unknown
addressing: 24-bit only
single SE PDS slot
Details, WalkMac SE-30
introduced at $5,600; discontinued
requires system 6.0.3 to 7.5.5
CPU: 16 MHz 68030
FPU: 16 MHz 68882
performance: 3.2, relative to SE
ROM: 256 KB
RAM: 1 or 2 MB standard, expandable to 128 MB using two 4-SIMM banks of 120ns 30-pin memory, compatible with 256 KB, 1 MB, 4 MB, and 16 MB SIMMs (although Apple does not certify it with 16 MB SIMMs)
configurations included dual-floppy or one floppy plus 20, 40 or 80 MB hard drive
9″ backlit b&w LCD screen, 512 x 342 pixels
ADB: 2 ports for keyboard and mouse
serial: 2 DIN-8 RS-422 ports on back of computer
hard drive: 20 or 40 MB
DB-25 SCSI connector on back of computer, maximum throughput of 5,248 kbps
floppy: 1.4 MB double sided
floppy connector on back of computer
size (HxWxD): unknown
weight: 16 lb.
Gestalt ID: unknown
addressing: 24-bit or 32-bit (requires enabler)
single SE/30 PDS slot
Further Reading
Keywords: #walkmac #colbywalkmac #colbyse30
Short link: http://goo.gl/7IO9HI