Thanks to Richard Savary for sending information about the Dynamac. Mentioned in Byte (May 1988), the jet black Dynamac EL weighs 18 pounds, uses an 8 MHz 68000 CPU, has an 800K floppy, and shipped with 1 MB RAM (expandable to 2.5 MB or 4 MB). It was essentially a portable Mac Plus.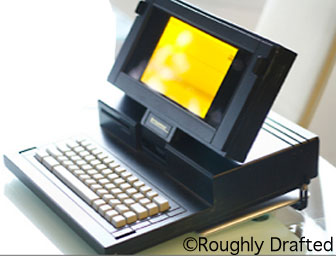 The electroluminescent (EL) screen supports 640 x 400 pixels. 20 MB and 40 MB hard drives were available, as was a 1200 bps modem. You had to use a mouse – there was no built-in trackball.
The EL version replaced the metal case of the 24 pound original with "Cycolac" plastic, shaving six pounds of weight.
There was also a version of the Dynamac produced for a short time in 1988 based on SE/30 architecture. The Dynamac SE/30 included a custom video board that could run a 640 x 480 monitor at 256 color and Apple's Two-Page Display (21″ grayscale) in 2-bit mode.
Details, Dynamac
introduced 1987.02 at $7,000; discontinued 1988.12
requires System 3.2 to 7.5.5
CPU: 8 MHz 68000 CPU
performance: same as Mac Plus
ROM: 128 KB
RAM: 1 MB, expandable to 4 MB using pairs of 256 KB or 1 MB 150ns 30-pin SIMMs (memory upgrade requires clipping one or two resistors – details online at mia.net; cannot use two-chip 1 MB SIMMs)
9″ b&w LCD, 640 x 400 pixels
last Mac with keyboard attached via coiled telephone-like cable
DB-9 mouse port
two miniDIN-8 serial ports
DB-25 SCSI connector on back of computer, slow implementation limited to 2,104 kbps
hard drive: 20 or 40 MB
floppy: 800 KB double sided
floppy connector on back of computer
size (HxWxD): unknown
weight: 24 lb.
PRAM battery: 4.5V #523
Gestalt ID: 4
addressing: 24-bit only
Differences, Dynamac EL
introduced 1988:04 at $6,000; discontinued 1988.12
weight: 18 lb.
Further Reading
Keywords: #dynamac #dynamacel
Short link: http://goo.gl/SGZKwk