Powerful computing doesn't come much cheaper than with a ChromeBook. I take a look at Acer C720 from 2013.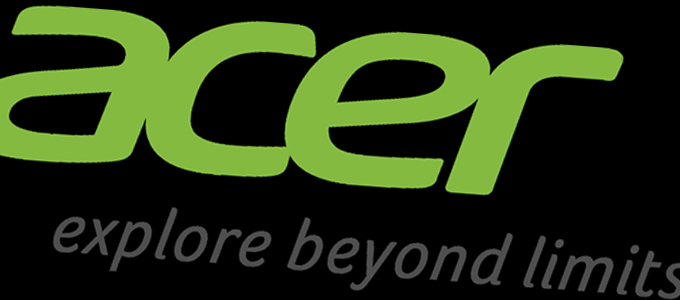 I have been bitten by the ChromeBook bug. A few months back I picked one up for my son as a first computer and our whole household has been fighting over it ever since. So when it came to looking at replacing decade old chunky laptops, ChromeBook were an option.
We are fully aware of their strengths and limitations. We wanted our kids to be able to browse the web quickly, play online flash games, access their homework sites and use Google Docs for office work. We didn't want them to install games and software, as this invariably causes issues and slow downs.
We did look at cheap Windows alternatives such as the HP Stream, but the performance and reliability are terrible – and quite frankly I have had enough of sorting out Windows machines.
So after weeks of looking and researching I settled on the Acer C720. Reviews claimed on its launch in 2013 it was seriously powerful and incredibly fast. My experience of the budget Samsung Series 3 ChromeBook knows what amazing performance can be had from such little hardware and the Acer C720 features a much improved processor, a Haswell based Intel Celeron.
Specs
The Acer C720 is an 11.6" laptop. It features an Intel Celeron 2955U processor at 1.4Ghz, 2GB RAM DDR3 RAM and 16GB internal storage. It also features a/b/g/n wifi, bluetooth 4.0, an HD webcam, USB 3, USB 2 and HDMI.
Design & Build
When you think of a £250 laptop when new, you expect something cheap. However, the C720 is a well built and solid feeling plastic laptop. It is matte grey all over with the exception of the screen bezel which has a shiny black feel.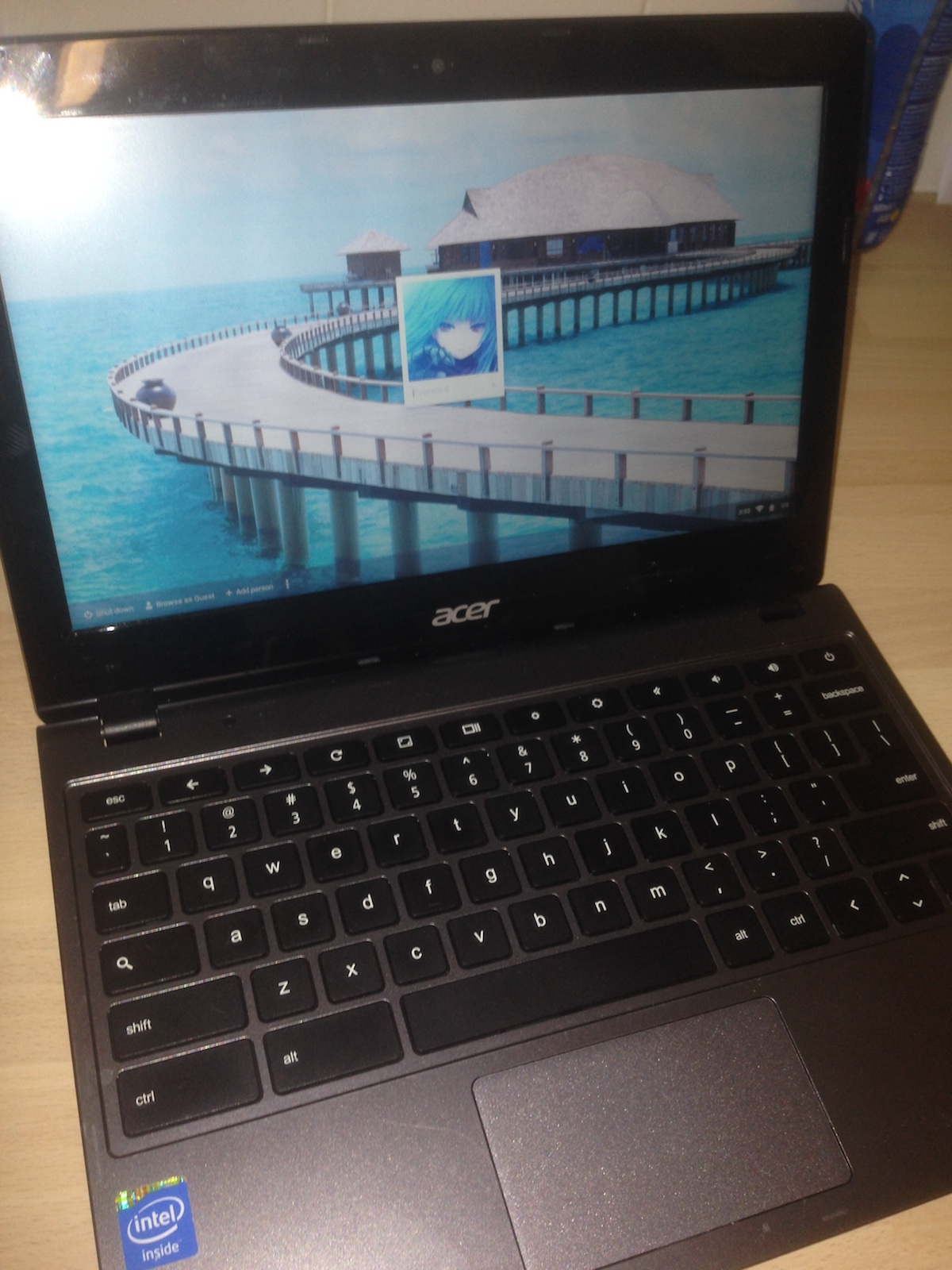 It looks like a regular laptop and has a great design. It feels solid and has a good weight to it. There is nothing worse than a super light laptop that cannot support the screen weight or keeps tipping. The smallness of it makes it easy to use on both a desk and your lap.
Performance
I am already aware of how little hardware is needed to run ChromeOS well. Our Samsung Series 3 runs amazingly, but the Acer C720 packs in Intel Celeron 'Haswell' based processor offering extreme speed and low power usage.
This tiny inexpensive laptop is the fastest thing I have ever used. It puts my MacBook Air – which cost at least three times the price – to shame. Where the Samsung was good for light use, I didn't feel any compromise when I put this Acer under strain – running multiple tabs and heavy sites didn't phase this little machine at all.
I checked out my regular haunts – such as FaceBook, Twitter, YouTube, LowEndMac, Apple and GSM Arena – and my kids flash heavy game sites – Kizi and Friv – and it coped with everything.
You soon forget this is a Celeron based machine with 2GB of RAM. All other OSes would struggle under only 2GB of RAM, but ChromeOS runs amazing with it.
Keyboard
A keyboard can make or break a laptop. If its not easy to use it hinders the whole use of the laptop. This Acer is easy to type on and didn't feel cheap at all. The keys bounced well and I could easily speed type on it. Of course it lacks the keyboard back light of more expensive machines, but you do expect corners to be cut somewhere.
If you haven't used a ChromeBook before then getting used the key layout might take a little while. Regular function keys are replaced with system and browser controls – such as volume, brightness and navigation – the caps lock is replaced with a search button – but can be reverted via settings – and all keys are in lower case.
TrackPad
Another killer input feature is the trackpad, bad navigation could put a user off any laptop within seconds. This tiny laptop has a large easy to use trackpad. Multi finger and gestures work well and I had no issues with the trackpad at all, it responded to everything I did on it.
Screen
The 11.6" 1366/768 resolution is crisp, bright and well lit. Budget laptops do tend to scrimp on the screen quality, but this Acer has a fantastic screen.
Audio
My MacBook Air I am saddened to say has poor audio output – its sound quality is good, but the volume is below par. The Acer however has incredible volume and very decent bass for a tiny laptop – booming out YouTube videos very comfortably even at high volumes.
Battery
The low power Haswell chip in this Acer has a serious knock on effect for battery improvement. Acer estimate 9 hours of battery which is pretty much an all day experience, and even at three years old the battery is holding up close to its original estimate.
OS
I am not going to go in to the OS too much. If you are reading this or have an interest in ChromeBook then you should already know that ChromeOS is a cut down primarily browser based OS aimed at the online world. This Acer handles the OS and everything you throw at it at lightning speed. You will not be disappointed with performance.
Conclusion
ChromeBooks are a niche market, but more people are suited to them they think. For a no frills, no maintenance, no malware laptop these little beauties are amazing. The Acer C720 – despite being older – is an amazing performing laptop for such little money.
No where else would you get such premium power out of a laptop that costs about £70 used.
For further info, check out my YouTube review.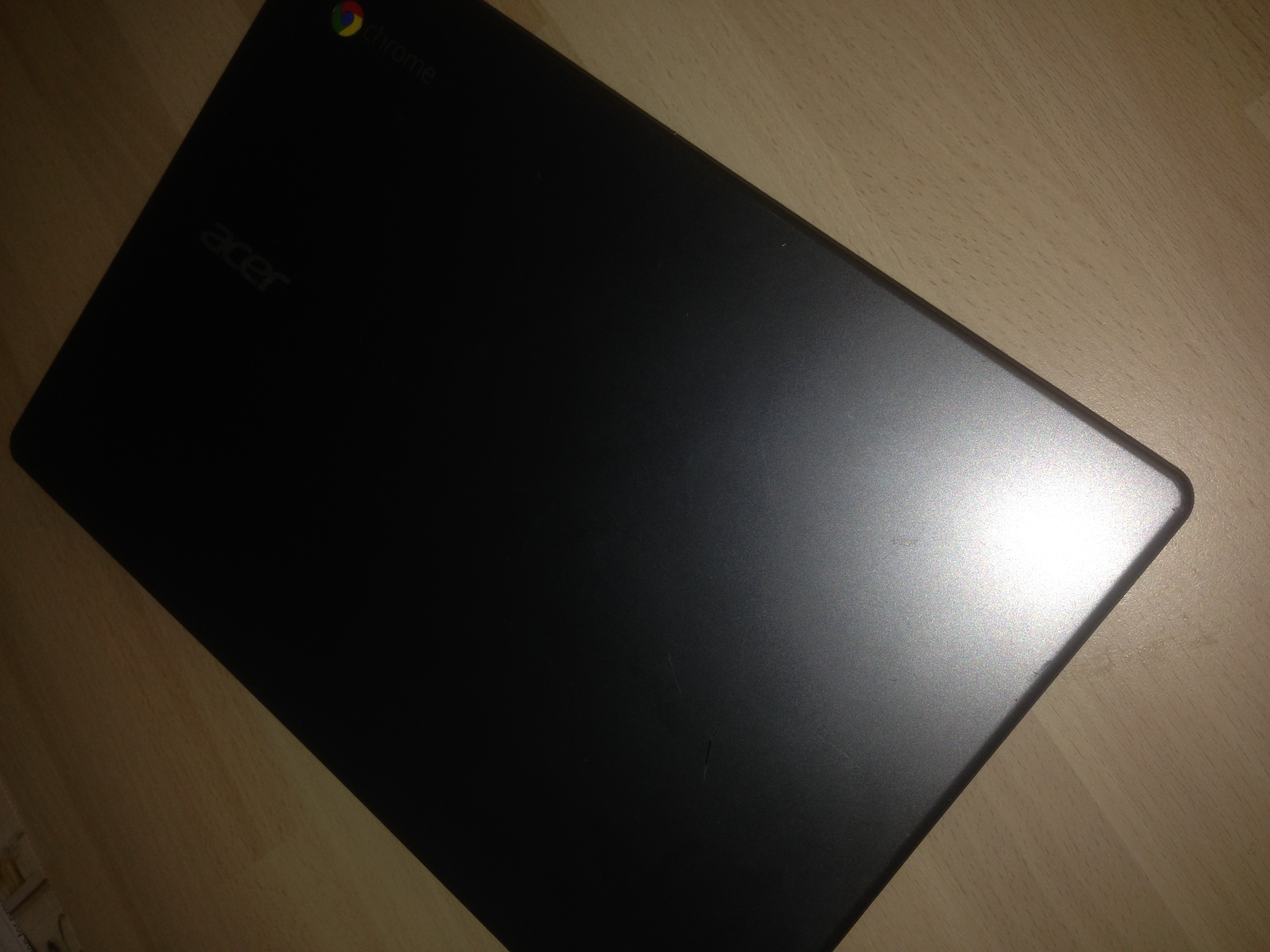 ---
Follow Simon Royal on Twitter or send him an Email.
Like what you have read? Send Simon a donation via Tip Jar.
---
keywords: #acer #chromebook #chromeos #lightweight #fast #C720 #techspectrum #simonroyal
short link: http://goo.gl/eL3vJB
searchword: acer-chromebook