This could be the rarest Mac compatible ever made. Outside of a few prototypes, only about 100 McMobiles were ever made.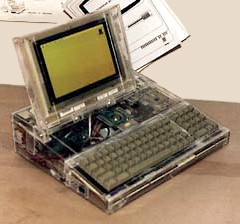 The first prototype (pictured here) used Mac Plus parts in a Plexiglas case to produce a 15 pound laptop with 15-30 minutes of battery power – that's a bit lighter than the Mac Portable and about half the weight of the Mac Plus that the parts came from. The second prototype was a bit smaller, and the third was smaller yet.
Yukio Tezuka, the designer of the McMobile, eventually raised enough money from investors to contract for 100 McMobile cases. Unfortunately, by the time the case manufacturer delivered, Apple had already unveiled the Macintosh Portable. Despite this setback, Tezuka managed to sell his entire inventory.
Details
assembled 1986-88
requires System 3.2 to 7.5.5
CPU: 8 MHz 68000 CPU
performance: same as Mac Plus
ROM: 128 KB
RAM: 1 MB, expandable to 4 MB using pairs of 256 KB or 1 MB 150ns 30-pin SIMMs (memory upgrade requires clipping one or two resistors – details online at mia.net; cannot use two-chip 1 MB SIMMs)
b&w LCD screen, 512 x 342 pixels?
last Mac with mouse attached via DB-9 connector
two miniDIN-8 serial ports
DB-25 SCSI connector on back of computer, slow implementation limited to 2,104 kbps
floppy: 800 KB double sided
floppy connector on back of computer
size (HxWxD): 4.0 x 13.0 x 9.75″
weight: 15 lb.
PRAM battery: 4.5V #523
Gestalt ID: 4
addressing: 24-bit only
More details on the McMobile on the MacSensei site (links are from archive.org).
Keywords: #mcmobile #macclone
Short link: http://goo.gl/p8NUOx