Keeping in contact with people has never been so instant, but with so many services available, it can be hard to remember who uses what method.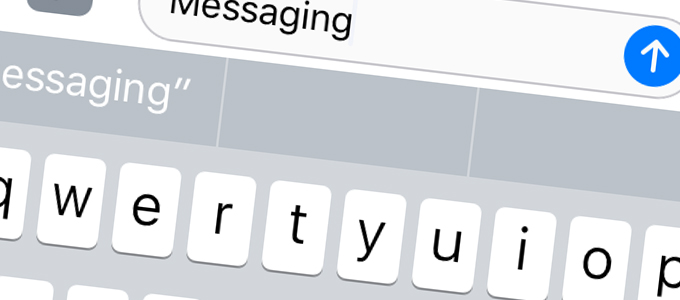 We live in a world of instant contact. You can send messages worldwide and receive a reply in seconds. Gone are the days when your only options were a postcard or a letter – everything is now right there to hand with just a click or a swipe.
However, it isn't always so easy. With some many modern methods of contact you might not be able to speak to everyone without juggling apps and services. I take a brief look at what options are available.
Email
mobile platform: all – desktop platform: all
my rating: 6/10 – brilliant for its purpose, but not an instant messaging service
Email is the king of online messaging. I was in two minds whether to put email at the top or bottom of this list. I decided on the top, as it is has been around the longest and is still a main method today.
It really hasn't changed much since the 1970s, when it was first introduced based on ARPANET. A simple protocol to send digital messages back and forth to designated addresses.
More like traditional postal mail rather than more recent instant messaging, email allows users to send 'mail' to people and include attachments such as pictures and files.
The improvements in data speeds have allowed emails with larger attachments to be sent, and since the internet revolution of the 1990s, services have become better and essentially free. While instant messaging has taken the place of the majority of online communication, email is still a strong medium that has been adopted by many companies using it for communications, verification purposes as well promotions.
Short Messaging Service (SMS)
mobile platform: all – desktop platform: macOS/OS X
my rating: 7/10 – easy and fantastic.
The original mobile messaging service, Short Messaging Service, is the most widely compatible service available on all mobile handsets, and it became a standard method of communicating long before social media took hold. It doesn't require a smartphone – even the most basic of phones can handle text messages. The first commercial SMS was sent in December 1992 stating Merry Christmas.
A simple and quick way of sending up to 160 characters, initially expensive and on a per-message basis, fast forward around 15 years, and most mobile phone contracts offer unlimited texts, meaning you can send as many as you like.
It is even possible to send and receive text messages on your computer, provided the correct software is installed and usually requires pairing with your phone or mobile provider.
Multimedia Messaging Service (MMS)
mobile platform: all – desktop platform: macOS/OS X
my rating: 3/10 – expensive and unreliable
Multimedia Messaging Service is an extension of the SMS service, adding the ability to send and receive pictures and video on regular handsets. MMS has always been fairly unreliable in my opinion, requiring a compatible handset and your device enabled to receive MMS – otherwise a link to a web service is usually sent. MMS is still very expensive and is usually charged on a 'per message' basis.
An extension of SMS means it is also possible to send and receive multimedia messages on your computer, provided the correct software is installed and usually requires pairing with your phone or mobile provider.
iMessage
mobile platform: iOS – desktop platform: macOS/OS X
my rating: 6/10 – brilliant and easy to use, but Apple only
An Apple extension of SMS, iMessage was made available from iOS 5 in 2011. It uses the same messaging client as regular SMS. iMessage uses data to transfer messages, which means you can message worldwide without incurring huge charges, and because it uses data, you can send text, pictures, and videos. You are charged on a per MB basis, or free if you have inclusive mobile data or are using WiFi.
Interestingly, the device knows what device you are sending to – even if you haven't messaged the recipient before. If a device you are sending to is another iOS device, then the message goes blue and the message is sent via data; however, all other devices will be green and sent as regular SMS/MMS and sent via cellular and incur the relevant charges.
In 2012, Apple released the client for OS X 10.8 Mountain Lion, allowing iMessages to be sent from either your iOS device or your Mac. In 2014, Apple allowed a Mac running OS X 10.10 Yosemite linked to a compatible iOS device to send and receive regular SMS from your Mac too.
WhatsApp
mobile platform: iOS, Android, Windows Phone – desktop platform: all via WhatsApp Web
my rating: 8/10 – fantastic cross mobile platform multi media sharing
In an attempt to offer the benefits of SMS, BBM, iMessage, and Google Hangouts across all mobile platforms, 2009 saw the launch of WhatsApp.
Another data-based messaging service capable of sending multimedia, it was a great way to communicate no matter what mobile platform you were using. Additional functions of WhatsApp calling over a data connection was also added, making it a direct multiplatform competitor to Apple's FaceTime and iMessage.
WhatsApp is the only non-free service I use. Your first 12 months are free; however it is 99¢ a year after that. In February 2014, Facebook purchased WhatsApp.
BlackBerry Messenger (BBM)
mobile platform: BlackBerry, iOS, Android – desktop platform: none
my rating: 3/10 – great for BlackBerry users, not keen on the PIN
Developed by RIM and originally exclusively for BlackBerry users, BlackBerry Messenger (or BBM) was introduced in 2005 and is a forerunner to services such as iMessage and WhatsApp in that it is a data-connected messaging service that allows text as well as pictures and video to be sent to other BlackBerry devices. It was also one of the first services to introduce delivery and read reports, also showing when the other person is typing – something also adopted by iMessage and WhatsApp.
Sending messages requires obtaining a person's eight character numeric BlackBerry PIN rather than the usual method of a person's email or mobile number.
With the rise of Android and iOS devices, BlackBerry started to fall from grace, and BBM became less popular. In 2013, RIM released a BBM client for iOS and Android in an attempt to offer multiplatform messaging.
Facebook Messenger
mobile platform: iOS, Android, BlackBerry, Windows Phone – desktop platform: all via web
my rating: 8/10 – brilliant cross platform messenger as long as you use Facebook
The behemoth social media giant that is Facebook also has a messaging service. Originally a Chat option for mobile Facebook, it became a separate app in 2011, and recently the chat side was removed from the main mobile app.
Facebook also released a Lite app for lower-end devices and those only on 2G networks.
Facebook Messenger is one of the most widely used messaging systems because of its is total cross-platform compatibility. All desktop operating systems and the majority of mobile devices can access it, meaning you can talk on your laptop and go out and continue on your phone – you can message people on it who only use a computer and not a smartphone or vice-versa.
It also has a group chat option that harks back to chatroom days and allows groups of people to converse – for example, all of the admins who monitor the Low End Mac Facebook groups can talk and discuss in one place.
Google Hangouts
mobile platform: iOS, Android – desktop platform: all
my rating: 5/10 – great if you are in Google ecosystem
Google Hangouts (formerly Google Talk) is an instant messaging and video calling service owned by Google and linked into the Google+ social media site rivalling what Facebook and Skype has to offer.
Hangouts is particularly popular with Android users, who are heavily linked into the Google ecosystem.
Google do keep changing their products, bringing in new ones and merging old ones.
ICQ
mobile platform: iOS, Android, Windows Phone, Symbian – desktop platform: macOS/OS X, Windows, Linux
my rating: 4/10 – once great, but requires a number
One of my earliest messaging experiences was using ICQ in the late 1990s. Users were assigned a number, not a name, and other than chatting, users could send and receive files too. This was a huge bonus in the early days on home internet and dial-up services, making it very easy to share files. The likes of MSN took over and pushed ICQ aside. Later on the likes of Skype and Facebook Messenger pushed it further down the list.
Putting this list together, I actually had to go and check if the service was still active. It is still a very popular choice with a huge user base.
Yahoo Messenger
mobile platform: iOS, Android – desktop platform: macOS/OS X, Windows, Linux, SunOS, Solaris
my rating: 3/10 – a once simple messenger, but a bug ridden service
Yahoo Messenger is another long standing participant in the instant messaging world.
Released in 1998 – originally called Yahoo Pager – it is another once well used service pushed aside by newer players such as Facebook, Apple, and even Google. Accounts are created using your Yahoo ID, part of your yahoo email.
Yahoo Chat gave the ability to create and participate in Yahoo chat rooms, but this was removed in 2005, and in 2012 they were shut down altogether.
AOL Instant Messenger (AIM)
mobile platform: iOS, Android, BlackBerry, Windows Mobile – desktop platform: macOS/OS X, Windows
my rating: 2/10 – once great
Another main player in messaging in the 1990s was AOL Instant Messenger, now called AIM. Yet another casualty of the social media age, AIM no longer has the hold it once did.
Live Messenger
mobile platform: iOS, BlackBerry, Windows Phone, Symbian – desktop platform: macOS/OS X, Windows, XBox 360
my rating: 4/10 – big player in bringing messaging to youths
Windows Live Messenger, originally called MSN Messenger, is a now discontinued service that was very popular in the early 2000s. It merged with Skype in 2013 after Microsoft purchased them in 2011.
While no longer available, it was a big influence on the messaging scene and a forerunner to today's popular choices. It was very popular with teens in the pre-smartphone era, allowing them to communicate online.
Skype
mobile platform: iOS, Android, BlackBerry, watchOS, Nokia X, Symbian – desktop platform: macOS/OS X, Windows, Linux
my rating: 4/10 – great video conference software, chat less used
Launched in 2003, Skype was known for its video conferencing software, which computer to computer was offered for free. It also offered chat services similar to other messaging clients, also allowed for instant messaging.
It was initially bought by eBay in 2005 and then bought by Microsoft in 2011. The rise of other services from Facebook and Apple and a recent decision by Microsoft to cut off older devices has seen a drop in the popularity of Skype.
Internet Relay Chat (IRC)
mobile platform: all – desktop platform: all
my rating: 3/10 – brilliant fun in pre-social media days
One of the oldest forms of socialising online is with Internet Relay Chat (IRC). Created in the late 1980s, it extended on the Bulletin Board System (BBS) prior to it. IRC offered text-based 'rooms' that others joined and were moderated by 'ops'. The birth of the chatroom and the media picking up only on the dangers pushed the popularity of IRC even more.
Public rooms, private rooms, one-on-one messaging, and file sharing was also available. It is from IRC that a lot of modern shortened 'text message speak' is derived with the likes of lol, roflmao, and brb being prime examples.
Others
Writing this article, it soon became apparent just how many ways there are to chat online or on your mobile device. For this article I tried to concentrate on direct methods and well known software. I am sure there are many more I have missed that either had a big influence or are still current, but it is impossible to include every one.
While I included Facebook Messenger in the list, I decided to omit main social media sites – hence the reason the likes of Facebook, Twitter, Google+, SnapChat, or Tumblr were not included, as they are more social, feed and group based.
Confusing
As you can see, messaging in the 21st century is a minefield. Daily I face a barrage of messages, and I wish my iPhone had one unified message app.
I have friends who only use WhatsApp, iOS buddies who use iMessage, Android friends who have neither so use SMS, and people I only know on Facebook, so I have to use Messenger. I do have a few contacts that are still email only. Then there are people, like me, who use multiple services, and those same people will sometimes SMS me and sometimes WhatsApp me.
Luckily I have cut down on others. I don't use Skype or ICQ anymore, and I refuse to get into Google Hangouts just because its another method of communicating.
The world is awash with different messaging clients and protocols. First world problems.
Some software developers have tried to overcome with with multiservice messaging clients such as Pidgin and Adium, allowing the likes of Facebook, Google, AOL, and ICQ all to be controlled from one app – but not all message services are compatible, and these generally tend to be for computers and not smartphones.
Whatever you use, I am sure this will alienate someone you know.
---
Follow Simon Royal on Twitter or send him an Email.
Like what you have read? Send Simon a donation via Tip Jar.
---
Keywords: #messaging #messenger #skype #facebook #google #icq #aol #irc #email #whatsapp #blackberry #yahoo #techspectrum #simonroyal
Short link: http://goo.gl/dkGfCK
searchwords: messaging