Perhaps the best known early portable Mac clone came from Outbound systems. It was announced in August 1989, just weeks before Apple unveiled the Macintosh Portable.

The Outbound Portable Plus uses the same 68000 CPU as the Plus and SE, but runs it nearly twice as fast at 15 MHz. It has a unique built-in pointing device, the Isopoint Trackbar, that rolls to scroll up and down – and moves sideways to scroll right and left. The Trackbar is part of the detachable keyboard. The Outbound requires ROMs transplanted from a Mac Plus or SE.
To use your desktop computer, you can attach the Outbound to your Mac, giving it access to the pulled ROMs. To attach a SCSI device, you had to buy a $95 adapter.
Still, at $3,995 with a 20 MB hard drive and a 10 pound weight, it was an attractive alternative even after Apple's $6,500 Mac Portable shipped.
Apple and Outbound came to an agreement in 1990 where Apple purchased the technology from Outbound, which in turn licensed the technology from Apple so it could continue to produce it portable computers.
This gave Mac users an authorized alternative to the 16 lb. Mac Portable until the PowerBook line launched in October 1991.
In December 1991, Outbound released a modular notebook computer. This model uses faster CPUs (from 20 MHz 68000 to 40 MHz 68030), supports 2-4 MB of RAM, has a backlit display, supports 20-120 MB IDE hard drives, works with high density floppy diskettes, and runs off a standard camcorder battery.
Details, Outbound Laptop
introduced August 1989; discontinued
requires System 3.2 to 7.5.5 (Plus ROM) or 4.1 to 7.5.5 (SE ROM)
CPU: 15 MHz 68HC000 CPU
performance: about double that of a Plus or SE
ROM: 128 KB (Plus ROM) or 256 KB (SE ROM)
RAM: 1 MB, expandable to 4 MB using pairs of 256 KB or 1 MB 150ns 30-pin SIMMs
9″ b&w screen, 640 x 400 pixels
keyboard communicates via infrared
two miniDIN-8 serial ports
SCSI: DB-25 connector on back of computer
floppy: 1.4 MB double sided
hard drive: 40 MB drive optional
silicon drive (1-16 MB) optional, holds data 10-25 days
size (HxWxD): 7.8″ x 12.3″ x 3.6″
weight: 9.3 lb., including battery
PRAM battery: unknown
battery: 3 hour charge
Gestalt ID: unknown
addressing: 24-bit only
Details, Outbound Notebook (also sold as RealTech Travler)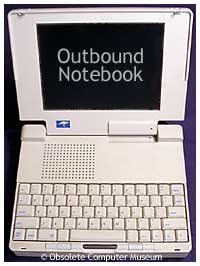 Although available with fast 68030 CPUs, the use of Mac Plus and SE ROMs limited to Outbound Laptop to 4 MB of memory.
introduced 1991.12.01; discontinued 1992.12.08
requires System 4.1 to 7.5.5 (SE ROM) or 6.0.7 to 7.5.5 (Classic ROM)
CPU: 20 HMz 68000; 20, 25, 33, or 40 MHz 68030
FPU: 68882, optional
performance: about double that of a Plus or SE
ROM: 128 KB (Plus ROM) or 256 KB (SE ROM)
RAM: 2 or 4 MB, expandable to 4 MB using pairs of 256 KB or 1 MB 150ns 30-pin SIMMs
10″ supertwist b&w display, 640 x 400 pixels
keyboard communicates via infrared
two miniDIN-8 serial ports
SCSI: DB-25 connector on back of computer
floppy: 1.4 MB double sided
hard drive: 40, 80, or 120 MB IDE
silicon drive (1-16 MB) optional, holds data 10-25 days
size (HxWxD): 2.1″ x 11.0″ x 8.5″
weight: 6.25 lb., including battery
PRAM battery: unknown
battery: 2-3 hour charge
Gestalt ID: unknown
addressing: 24-bit only
Online Sources
Keywords: #outboundlaptop #outboundnotebook #outboundsystems #macclone #isopoint #isopointtrackbar
Short link: http://goo.gl/ROx1uL