I take a look at Chrome OS and the 11" Samsung ChromeBook Series 3 XE303C12 from 2013.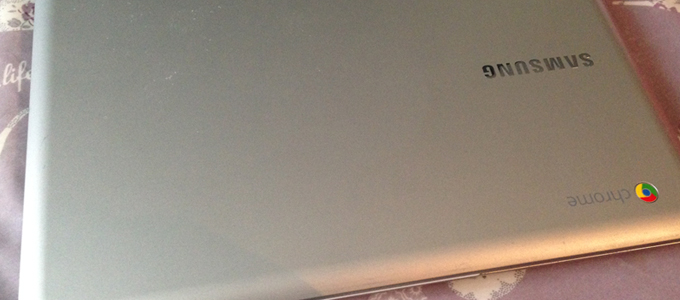 ChromeBooks have been around for quite some time. The original Cr-48 machine aimed at a test market were released in late 2010, with commercial ChromeBooks being launched in mid 2011.
Originally priced quite high, their lack of apps and offline capability made them an expensive alternative to Windows, Apple and even Linux laptops which feature fully fledged operating system. Prices did drop, but it wasn't until 2013 when a huge TV advertising campaign and a major price drop put them at a sweet point.
In the UK, ChromeBooks reached £129 brand new – and this grabbed a lot of attention from the media and general public. Suddenly people were warming to them. One of the rock bottom ChromeBooks released in 2013 was the Samsung Series 3 XE303, and I recently picked one up.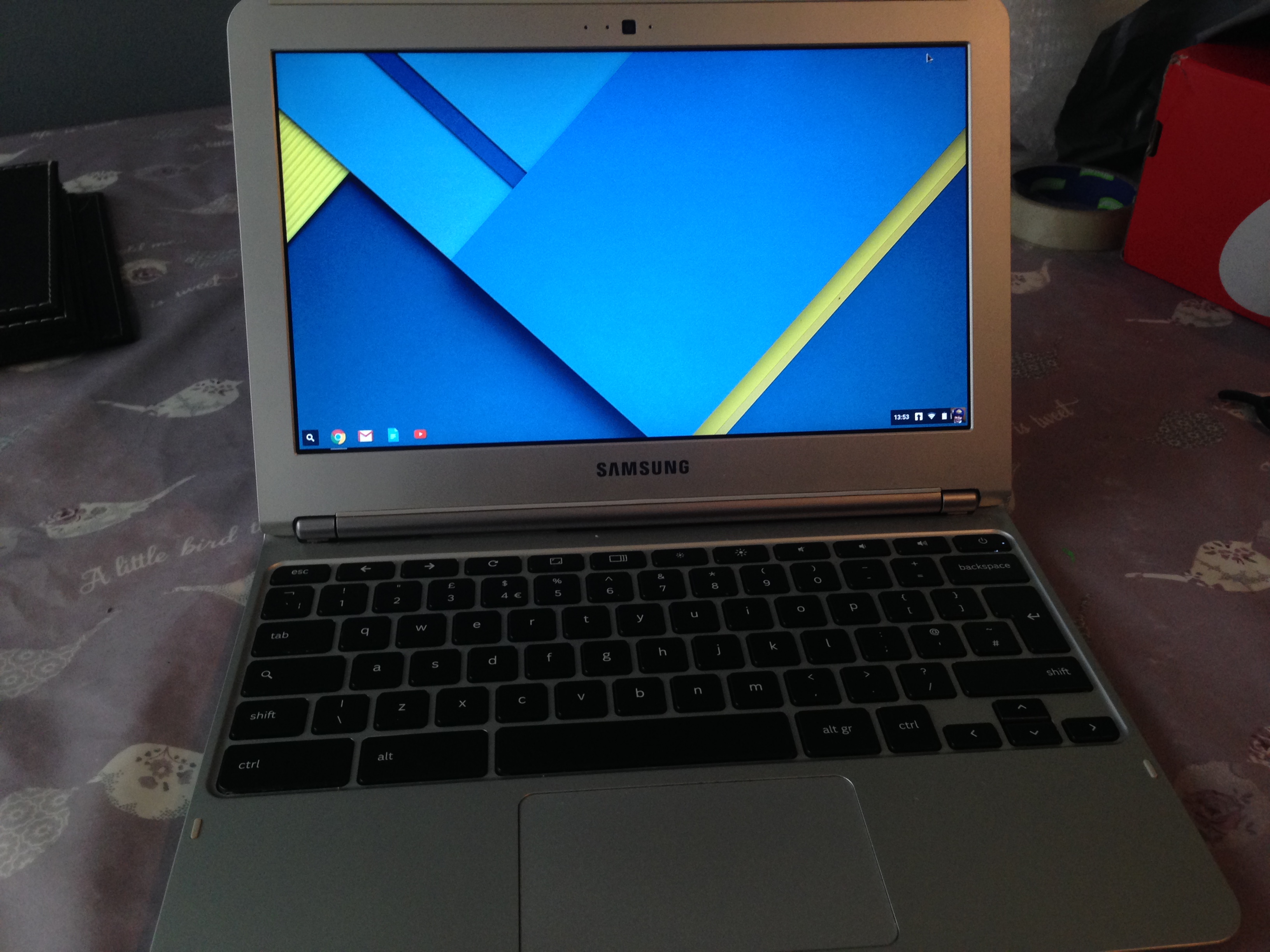 Specs
The XE303 is an 11.6" laptop. It features an Samsung Exynos 5 ARM dual core 1.7Ghz processor, 2GB DDR3 RAM and 16GB internal storage as well as a 1366×768 resolution screen. Those specs might not sound impressive, be we are talking about a budget machine costing a little over £100 and running a slim streamline OS which is basically just a browser.
It also features wireless a/g/n, bluetooth 3 and VGA webcam as well as a USB 3 port, a USB 2 port, HDMI output, card reader and a SIM card slot.
Design & Build
Despite its low price, the build quality feels very sturdy. Its design takes a lot of cues from the MacBook Air. The silver plastic casing gives it the same look and the black chiclet keyboard is almost identical.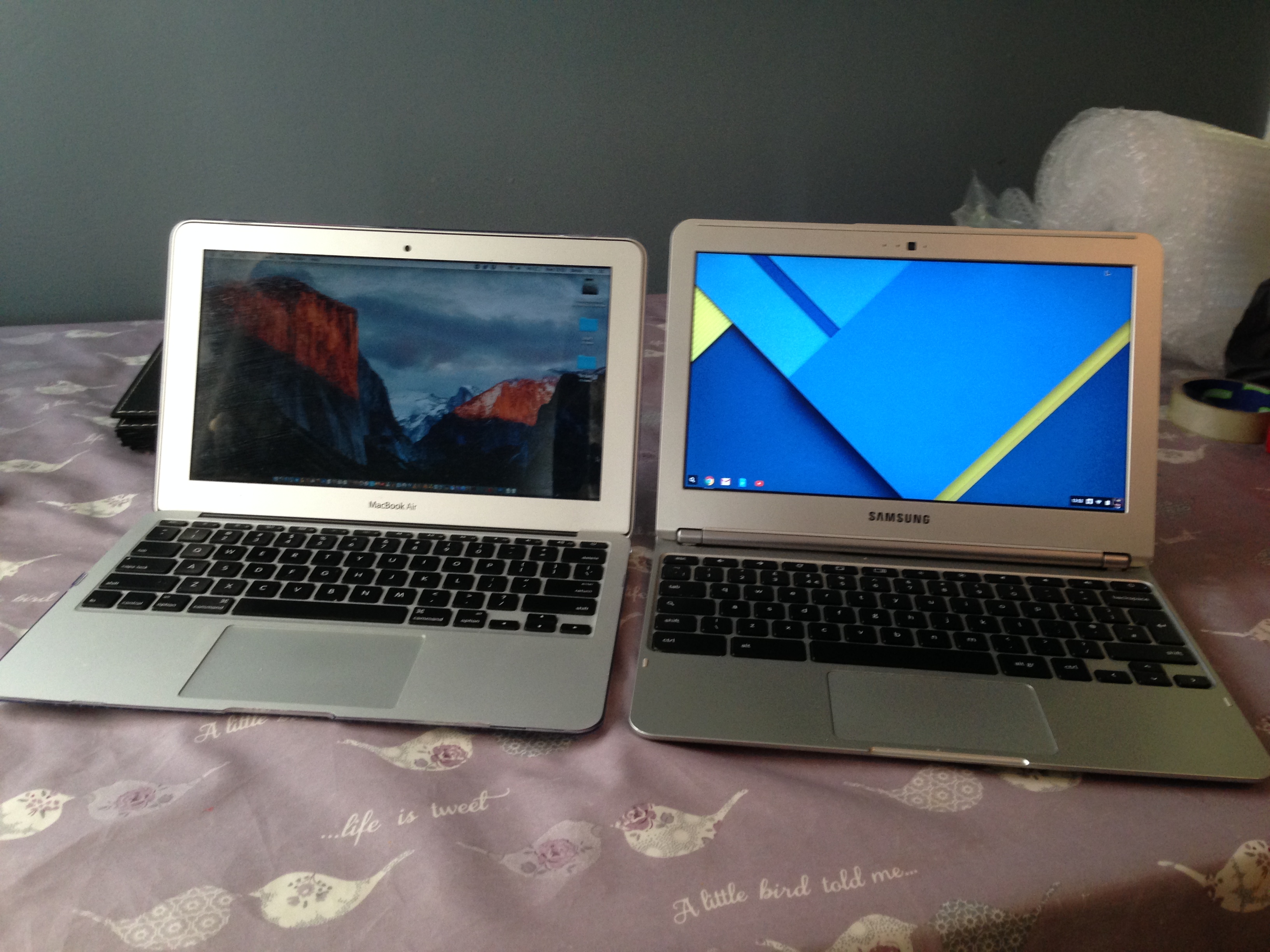 My 2012 11″ MacBook Air next to the Samsung ChromeBook Series 3
It has a good weight to it and the screen hinge is extremely strong. While the MacBook Air has the screen hinge on the back, the Samsung ChromeBook brings the hinge in slightly giving the machine a small hump on the back.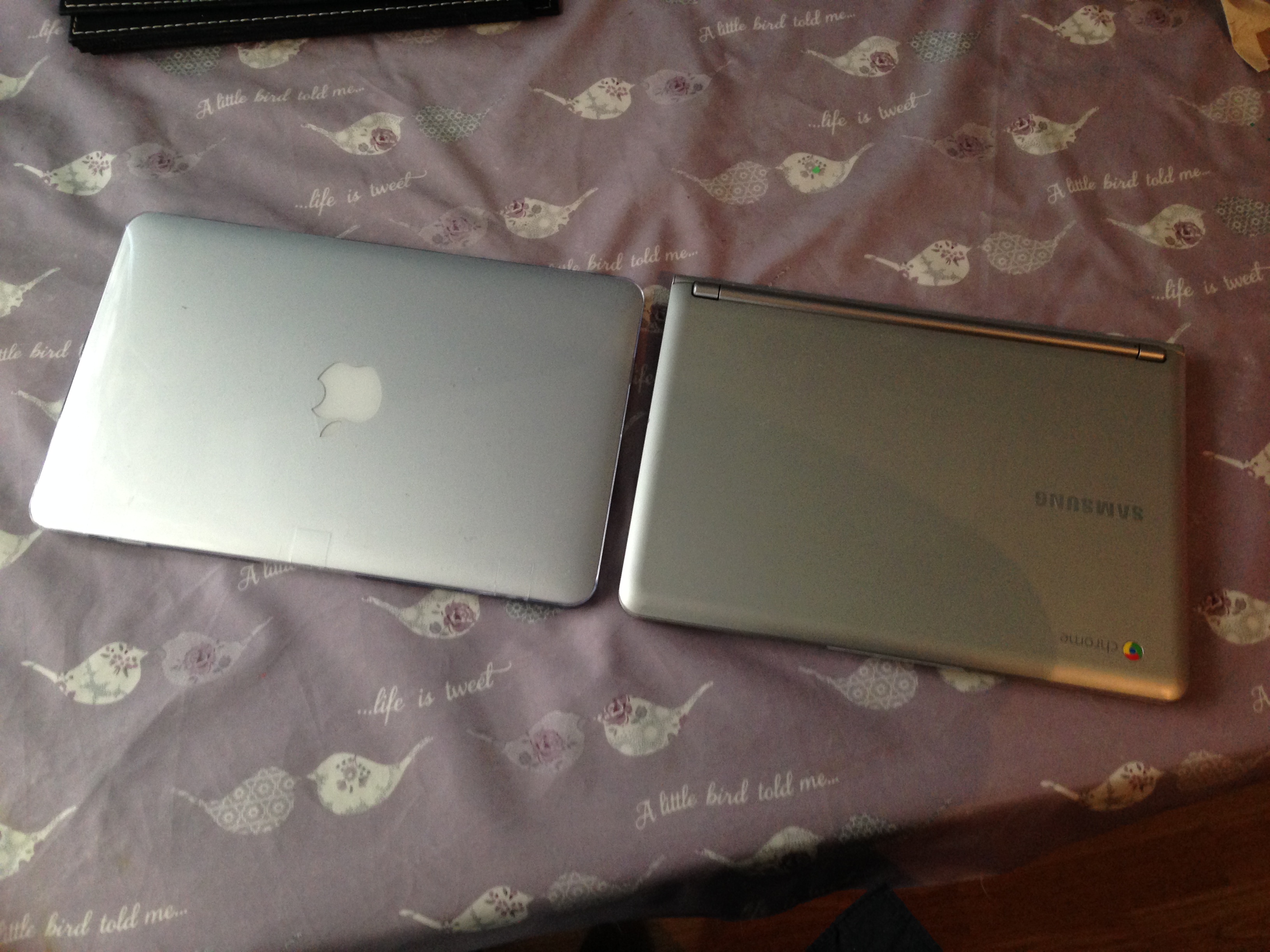 My 2012 11″ MacBook Air next to the Samsung ChromeBook Series 3
Performance
This was bought for my son as a first computer. I spent a whole day checking it out and I forgot I was using a £100 browser based machine. It swung along very quickly from website to website. YouTube videos played very well even in full screen mode and even though in high definition.
I then checked out flash based game sites aimed at kids. My other children like playing these. There was no issue with these either. In all honesty they are terrible sites – even on my Mac, some of these sites run slow, and some have trouble loading altogether. These ran fine on this little ChromeBook.
I wouldn't want to put this machine under too much strain – but for simple browsing and online flash games this is a good little machine.
It is sitting next to my MacBook Air and it is hard not to compare the two, but it's not going to match up to a machine that is 6 times the price.
Keyboard
ChromeBooks come with custom keyboards. The function keys you find on a normal keyboard are replaced with Chrome shortcuts such as power, brightness, volume and browser controls. The keyboard on the Samsung Series 3 feels just as good as my MacBook Air, but without the backlight and the keys are all in lower case.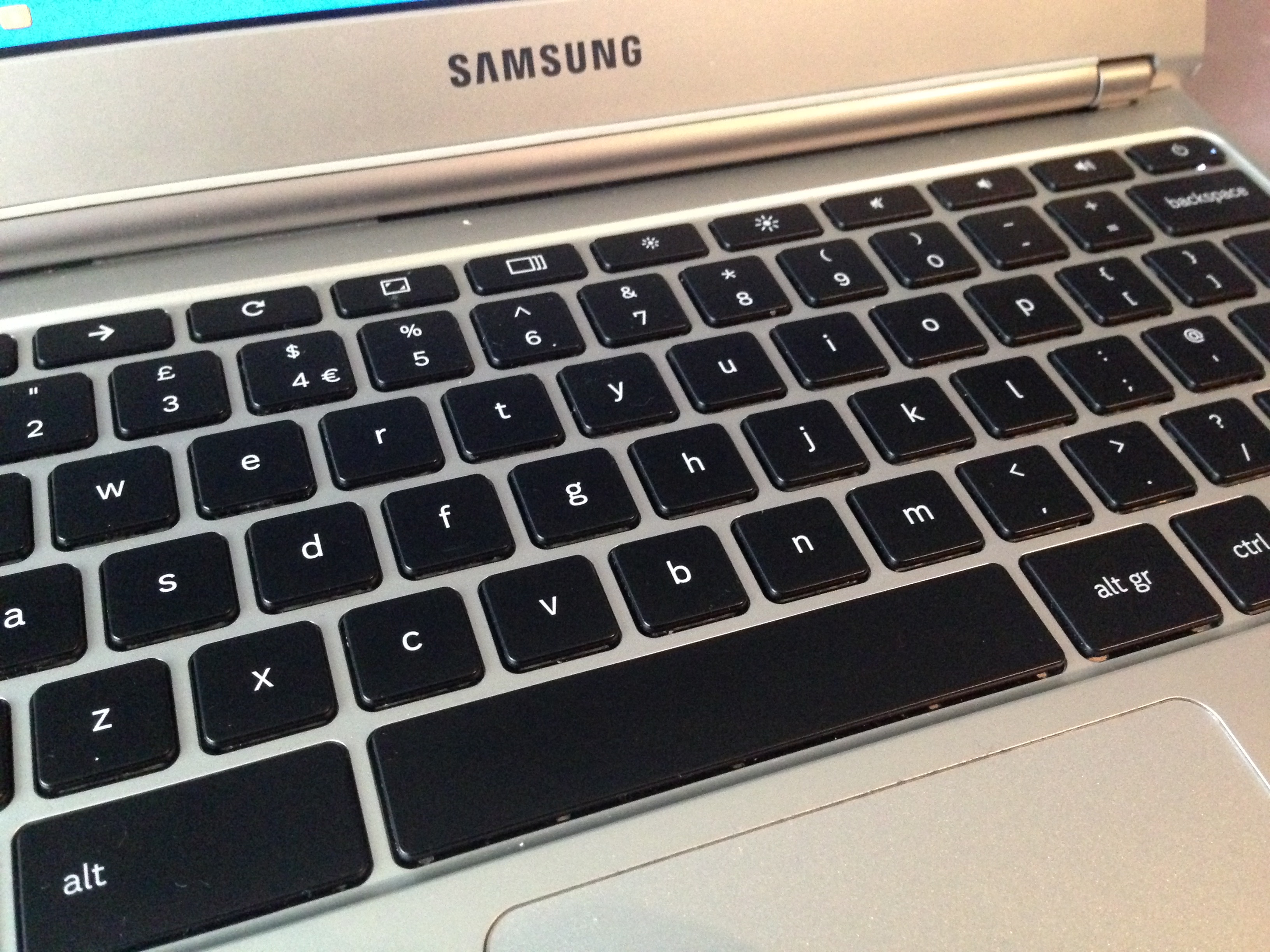 The keyboard of the Samsung ChromeBook Series 3.
Trackpad
Gone are the days of tiny laptops having tiny trackpads, probably due to multi finger swiping and gestures. The trackpad on this Samsung takes up a third of the width of the machine offering great responsiveness.
Screen
The 11.6" 1366×768 resolution screen is clear and crisp and offers great viewing angles and brightness, but scrolling can reveal a little blurring – but nothing that detracts from using the laptop.
Audio
The volume of audio was very loud and as good a quality you expect out of a laptop. In terms of volume it put my MacBook Air to shame, producing very loud output.
Battery
According to Samsung the battery should last around 6 hours. This unit is used, but the battery indicator estimates over 5 hours – so it seems not only does it meet Samsung estimates but also hold their charge very well.
The OS
This wouldn't be a review if we didn't touch on the operating system. Chrome OS is not for everyone, but in all honesty it probably would suit more people than you think. It is not a fully fledged OS in the traditional sense. It is essentially a browser with some add ons. This gives it a lightweight feel and a maintenance free existence. There is no need for virus protection and system updates are handled automatically.
You simply connect to a wireless network and sign in with your Google account and away you go. Everything is handled via Google services – Chrome, Mail, Maps and even Documents plus lots more.
The addition of Documents means this is more than just a browsing machine – it can be used for creating and reading Office documents too – essentially a homework machine.
While it has small local storage, everything is backed up in the cloud. This means if your ChromeBook breaks, you can simply log in via your Google account to another ChromeBook and carry on with access to all your info and documents. You get 15GB free with an Google account, but this can be upped for a fee.
The bottom of the screen has a task bar similar to Windows. The left has your apps and open windows giving you access to the Chrome browser. The right has your wifi and battery status and pops up your settings window. There is a system settings option in Chrome OS but it is small and limited.
Newer ChromeBooks will also have the ability to install Android apps in the near future.
ChromiumOS
There is an open source version of Chrome OS which can be installed on non-ChromeBook hardware called ChromiumOS. I reviewed it back in 2015 on a small netbook.
Conclusion About The OS
The OS is not a Windows or Mac competitor and should be judged on its own merits. It does what it intends to do very well and if you think it covers everything you would need then you will not be disappointed.
Conclusion About The Samsung Series 3
The hardware is cheap but decent. Its non Intel processor and 2GB RAM are where its drawbacks are, hindering its performance compared to others. Newer ones have 4GB and 8GB RAM and performance vastly improved. That said, their price also reflects that too.
The Samsung Series 3 is a great first/basic laptop which is lightweight, portable, has a superb battery life and is a joy to use. I have had to pull myself away from 'testing' it any more.
Finally
I've have had an interest in ChromeBooks for a while and I have not been disappointed with my first dip in to their world. I am extremely impressed with both the Samsung Series 3 and the Chrome OS. Maintenance free cheap laptops, which are better than tablets and come without the hassle of a Windows – to a lesser point – Mac computer.
Thanks
I would like to give a big thanks to Carl Draper for looking over and proof reading this article before publishing.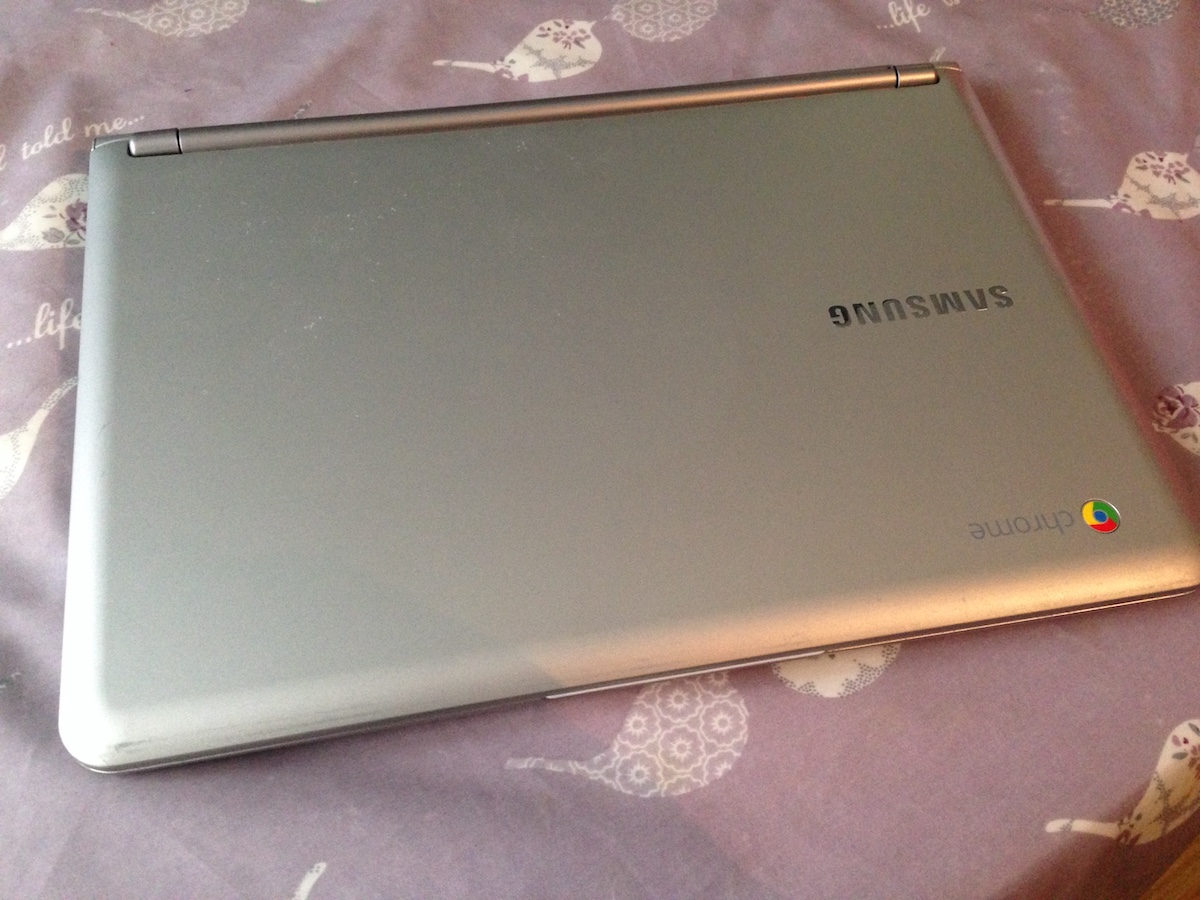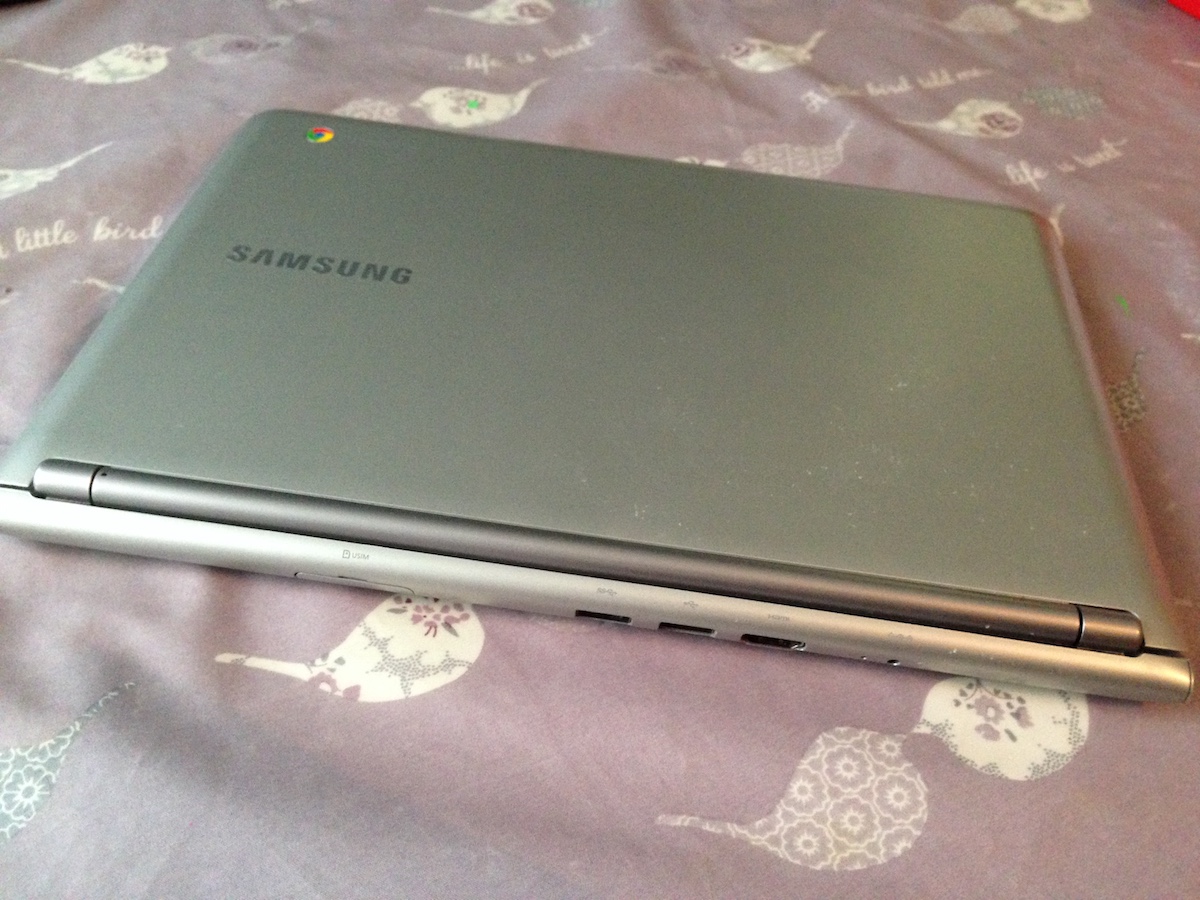 The top and back of the Samsung ChromeBook Series 3.
---
Follow Simon Royal on Twitter or send him an Email.
Like what you have read? Send Simon a donation via Tip Jar.
---
keywords: #samsung #chromebook #chromeos #lightweight #fast #XE303C12 #techspectrum #simonroyal
short link: http://goo.gl/eoWZVK
searchword: samsung-chromebook