Supporting the exchange of information about the DayStar Turbo 601 PowerPC upgrade card manufactured by DayStar Digital. This page has not been updated since January 1999 and is published here as a useful historical resource.
Latest News (below)
About This Web Site (below)
About the Turbo 601 (below)
The Turbo 601: A Personal View by Willi Murray (below)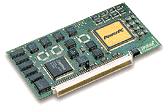 The Unofficial Turbo 601 Site was conceived by Bronson Trevor in October 1996. It was maintained by Willi Murray and Bronson Trevor and is now hosted on the Low End Mac website.
If you have a DayStar PowerPro 601 upgraded Mac, check out The Unofficial PowerPro Homepage.
Latest News
News entries are listed going from the most recent to older ones.
Last Update 10 January 1999 @ 15:30 GMT
Some very interesting news: Sonnet have just announced their Presto PPC product. It is a rebadged re-release of DayStar's PowerPro upgrade for 68040 PDS (Quadra and Centris) Macs. Existing PowerPro owners can purchase the new Mac OS 8.5 Enabler for just $49.95.
Let's just hope that Sonnet will do the same for the Turbo 601.
I, for one, would gladly play only $50 for full Mac OS 8.5 compatibility with my Turbo 601. I'm going to email Sonnet and tell them so. If you'd like to do the same you can email them at this address.
27 November 1998: Mac OS 8.5 – How To
Here is Bronson's description of how to get Mac OS 8.5 installed and running on a Turbo 601 upgraded Mac:
Here is how to get Mac OS 8.5 working on the Turbo 601. This info was provided by HustonB@aol.com, who was probably the first person in the world to get 8.5 working on his IIci.

Install 8.5 on either a) a secondary machine and then copy the system folder over to the Turbo 601 system, or b) use Wish I Were… or some other similar utility to fool the Turbo 601 machine into thinking it has a different gestalt ID number and install 8.5 on a secondary HD on the T601 machine.

Open the 8.5 system file with ResEdit. Open the gusd resource, id 1. Look for 001F 001C. Change the 001F to 0068.

0068 in hex == 104 in dec. 104 is the machineID that a IIci/Turbo 601 system is given. I am not sure if a IIsi/IIvx/IIvi/etc. upgraded system will give the same ID number – if they give a different number then just use its machine ID (in hex) instead of the 0068.
Some notes from me:
I haven't tried this personally. I need to run some old accounting software on my IIvi/Turbo 601 that requires the "System Wide Platinum Appearance" setting in the appearance Control Panel to be disabled. You can't do this in Mac OS 8.5, so I will not be upgrading the Turbo 601/IIvi. We're running 8.5 on our G3/333 and it's great – but it's not for the Turbo 601 at the moment.
I'd be interested to hear from anyone who attempts this and has NuBus cards in their Mac.
18 November 1998
Just to let you all know that Bronson has had success installing Mac OS 8.5 on his IIci/Turbo 601. I've also had conformation that Mac OS 8.5 seems to work quite well on Turbo 601 upgraded Macs. I'll post full details tomorrow or Friday. Sorry for the delay – but everything's a bit mental at the moment.
25 October 1998
We've had a number of enquiries wondering why (a) the site has been so quiet since February and (b) whether or not Mac OS 8.5 will work on Turbo 601-upgraded Macs.
The answer to (a) is fairly straightforward – there's been nothing new to report! The only thing really worth mentioning would be that the time since February has confirmed the early reports about Mac OS 8.1 – i.e. that it runs very well on Turbo 601-upgraded Macs and it has proven to be a very stable and worthwhile upgrade.
The answer to (b) is rather unclear at the moment. I am sure you will all be aware that with the release of Mac OS 8.5 Apple has dropped support for all 68k Macs upgraded with a PowerPC card. This even includes 68k machines upgraded with Apple's own-brand PPC upgrades. Unfortunately there is no way to install Mac OS 8.5 on a Turbo 601-upgraded machine "out-of-the-box". Any attempt to do so will result in the installer failing with a "this system does not support this machine" message.
I even tried doing a generic install of Mac OS 8.5 on a spare partition on our new 333 MHz G3, then moving the system across to the IIvi/Turbo 601. When I tried to boot the IIvi/Turbo 601, it failed with the same error message I got when I tried to run the installer.
Interestingly enough, however, MacNN recently had a report from someone who had managed to hack Mac OS 8.5 to work on 68k PPC-upgraded PowerBook. Bronson is going to try repeating the hack this guy used on his Turbo 601-upgraded IIci to see if it will work. We'll report back when we know more.
2 February 1998
The information about Gary Dailey Technology Services has been moved onto a new Support Page.
We've got a good report about Mac OS 8.1 from Glenn Gardiner. It's the first item on our new Mac OS 8.1 Readers' Report Page.
Thomas Hauber has reported that the new version of the Apple CD-ROM extension (v 5.4.2) supplied with the 8.1 update is causing his Turbo 601-upgraded IIci freeze when the extension is loading. Thomas has an external 4x Apple CD-ROM player.
I've corrected the link to Joshua Schwarz's Unofficial PowerPro Homepage
I've had an absolutely hellish last three days. Absolutely bloody hellish! I think I've unearthed a serious low-level problem with Mac OS 8.0 on my Turbo 601 upgraded IIvi. I've posted the details on a separate Printing Problem page so as not to clutter up this page. If anyone can be bothered to read about my problem, I'd appreciate any comments or advice.
28 January 1998: Good News
I've been meaning to post the following updates for over a week. Sorry for the delay.
Gary Dailey is former VP of Marketing and Business Development at DayStar. I am sure many of you will have seen Gary mentioned in regard to the DayStar MP and Millennium clones that are now being handled by MacWorks.
Gary is currently the authorised repair centre and independent technology representative for DayStar, and he has set up a new business called Gary Dailey Technology Services. I am extremely pleased to report that Gary Dailey Technology Services can offer repair services for Turbo 601 owners. Turbo 601 repairs are provided on a per incident flat rate of $100 for in-warranty boards and $150 for out-of-warranty boards.
Gary Dailey Technology Services can be contacted at:
Gary Dailey Technology Services
2380 Buford Drive
MS 106-102
Lawrenceville
GA 30043Tel: 770-614-0070

Fax: 770-614-0500

email: gdailey@mindspring.com
This is good news for Turbo 601 owners. Many of us (myself included) still rely on Turbo 601-upgraded Macs for "mission-critical" use, and it's good to know that there's support out there should anything go wrong.
Gary was kind enough to clarify a few issues which go some way to explaining why the Turbo 601 works so well with Mac OS 8.0. The two most interesting points to arise from our discussion were:
Gary states that Turbo 601s (and PowerPros) work best with Mac OS 8.0. Apparently this is because Apple have incorporated fixes into Mac OS 8.0 for Turbo 601-related problems that occurred with earlier versions of the system software.
This also helps to explain why the Turbo 601 doesn't need the Turbo 601 System Enabler to function correctly with Mac OS 8.0. FWIW, I've had my Turbo 601 System Enabler disabled ever since I installed Mac OS 8.0 in October without any ill effects whatsoever.
Other News
I have heard from some other industry sources, who must remain anonymous, that the DayStar/Sonnet deal is still under negotiation. Previously (see Dec 17 posting), I had indicated that I thought this deal must be dead – but apparently I was wrong. If it does eventually go through, this deal could be extremely significant for owners of 030 Macs and Turbo 601s. It could mean that Turbo 601s go back into production, with the benefit of full factory support for Mac OS 8.0 (and later) system software releases.
If you own an 030-based Mac and are looking to get a PowerPC upgrade, why not email Apple directly to let them know about it. Please copy your email to Henry Norr. Making Apple aware of the demand for PowerPC upgrades for 030 Macs may well help to expedite the Sonnet/DayStar deal.
17 December 1997
Hello everyone! It's been rather quiet on the Turbo 601 front for the past few weeks and as a result there's been nothing worth reporting. At long last however, there are few things worth mentioning.
To start with:
We received the following information from someone who was able to try out the Mac OS 8.1 update on his Turbo 601 upgraded Mac:
I was checking out your site today (yet again) and saw that a few readers were commenting about the slow updates to folder lists. I too had this problem in my Mac IIci with a 100 MHz DayStar PPC card and Mac OS 8.0

However, I just installed 8.1b5 last night and my Mac has had a new boot in speed. Folder updates are only a few seconds for large lists. Speed feels a little quicker on multi-tasking sessions and the copy procedure has been much improved.

The best feature was that I saved approximately 600 MB on a 2 gig drive holding around 15,000 files! This is fantastic. I can hardly wait until Apple get the full release out soon.
We'll post any further news we get about Mac OS 8.1 as soon as we receive it.
That's the good news. Now for the bad news:
As I'm sure you're all aware, there have been a lot of changes at DayStar recently – the essence of what's happened appears to be that DayStar no longer manufacture or support any hardware. Just exactly what their status is and what they're planning to do in the future is rather unclear at the moment. DayStar's commitment to their MP clone business during the last two years or so has meant that they've lost the accelerator market to younger and more aggressive companies such as Newer Tech, who are currently producing some stunning 750-based upgrade cards for various PCI-based Power Macs.
As a result, DayStar have been off-loading unsold inventory (like the Genesis range of MP workstations to MacWorks) and arranging alternative sources of support for their products. Unfortunately, as a result of all this, DayStar no longer offer any support whatsoever to owners of their upgrade cards, and at the time of writing they have been unable to set up alternative arrangements.
Unless DayStar manage to arrange alternative support arrangements for their upgrade card owners (and I reckon that this is becoming increasingly unlikely bearing in mind the time that has elapsed since DayStar started talking to potential suppliers) then all that we are going to be able to do if our Turbo 601 breaks is either (a) try to find a replacement on the secondhand market or (b) buy a new Mac. Sort of sad really. Further information is available on DayStar's website.
And finally, to cheer you up, some more good news to finish with:
I've been running Mac OS 8 on my Turbo 601 upgraded IIvi for nearly three months now, and I am still mightily impressed. Everything is absolutely rock-solid, and it is amazing that this 'unsupported' upgrade is 100% compatible with my Radius Thunder/24 GT graphics card, JackHammer SCSI card, and Sonic Systems Ethernet card.
Once a week I have to switch back to System 7.5.1 for half an hour or so while I update my business accounts (I use a four-year-old package called Ritz Starter that doesn't run properly under Mac OS 8) and it is now quite an unpleasant experience – I really miss the 'sticky' menus and 'spring-loaded' folders among many other Mac OS 8 improvements for example. Last week I spent some time doing some work in PageMaker and OmniPage Pro with 7.5.1, and suffered an alarming amount of crashes. I wouldn't be doing that again!
So – Mac OS 8 – Wonderful!!!!!
Roll on Mac OS 8.1, especially if it alleviates the sometimes painfully slow drawing of Finder windows.
Old news is archived here.
About this Web Site
This website is intended as a resource for users of the DayStar Digital Turbo 601 accelerator card. It is meant to supplement the technical support information already posted by DayStar on their website.
The Turbo 601 is an extremely well-engineered product, and for the vast majority of people it works well. With any 'add-on' of this nature, however, problems can occur and quite often these problems and any appropriate fixes are not documented on DayStar's web site. It is our intention to collate bug reports, problems and fixes reported by users and to get this information into the public domain. We will also post any general advice and useful tips that are contributed.
It is our hope that we will ultimately be able to help users who experience problems and find it difficult to get help by other means.
So, if you use a DayStar Digital Turbo 601 we would like to hear from you. Any information you have to tell us about your experiences with the Turbo 601 however good, bad, or indifferent is always welcome.
Please remember that it is important to email or FAX reports of any problems you experience to DayStar. Appropriate contact information can be found on their website.
About the Turbo 601
The Turbo 601 is a PowerPC 601 accelerator card for older Apple Macintosh computers (IIci, IIsi, IIvi, IIvx, and Performa 600) that can provide a less-expensive alternative to buying a new Power Mac. It began shipping in January 1995 and was originally available in a 66 MHz version for the IIci only. A 100 MHz version for the IIci was released shortly after.
A few months later 100 MHz and 66 MHz versions became available for the IIsi, IIvi, IIvx, and Performa 600.
Early in 1996, the Turbo 601 for the IIvi, IIvx, and Performa 600 was discontinued (both 100 and 66 MHz versions). John Carson got this note from DayStar on the subject:
We have discontinued our Turbo 601 for the IIvx, IIvi, and Performa 600 because it does not support thousands of colours (you'd be limited to 256 colours); nor does it support stereo or microphone.
The 66 MHz versions for the IIci and IIsi are also out of production now (the last production run was in August, 1996).
Update (21 Jan)
All versions of the Turbo 601 have been discontinued. When Andy Baird sent email to DayStar to query why the price of the Turbo 601 has never reduced he got the following two replies:
Thanks for your comment re pricing. Let me make two comments in return:

We agree totally that the upgrades are too expensive. However, I can only assure you that we have trimmed the price of upgrades extremely close to cost already. We are not getting any further breaks on the PowerPC 601 chip cost – it has been bottomed out for a while. Plus the 15ns SRAM we use is very expensive since it is a specialized use. Additionally, in order to get higher speeds without "pushing" the motherboard, we use an armload of high-speed (high speed = high price) components. And the board itself. an 8-layer, dual-sided, high-density, dual-populated surface-mount construction, did not reduce in cost either.

This said, I now need to inform you that the product has just recently been discontinued, since the 601 processor chip is no longer available at all. We have no remaining stock left, nor do the mail order companies that were carrying it, nor does Ingram, our distributor that sells to all the "little guys".

Sorry we cannot comply with your wishes re price, but I felt an explanation might better help your perception of the matter !

Sorry for the confusion over our pricing. 1st of all the 66 MHz versions were dropped to $499 in June of last year and we discontinued them as a product line in October of last year. 2nd, the 100 MHz version is now a discontinued product for the same reason the pricing never dropped – no one makes the 601 processor anymore – not Motorola or IBM.

That you are able to buy 604 upgrades cheaply reflects the fact that the manufacturers are ending the life cycle on those designs and are now working on a new design at the higher 225 MHz+ speeds we will be moving to with our Genesis line.

In fact, the only products we now manufacture are 2- and 4-processor Multi-proccessing machines and the 2-processor upgrade cards (604e 400+) for the 7500, 8500, and 9500 series.
Strangely enough, MicroMac have recently announced a range of PowerPC upgrades for 68040-based Macs using the 601 and 604 chips. Looks like they must have bought stocks of the 601 before it became unobtainable.
We have heard that DayStar collaborated with Apple during the design of the card (curiously, the Turbo 601 System Enabler is ©1992-4 Apple Computer, not DayStar). We have found it extremely difficult to find information on this particular subject, so if anyone out there has anything enlightening to add, please send us a note.
Keywords: #daystarturbo601 #turbo601
Short link: http://goo.gl/ckVZhh