Way back when Apple made fruit flavored iMacs and round, one-button mice, Contour Design introduced a multi-button USB mouse colored to match the fruit-flavored colors of Revision C and D iMacs.

Low End Mac reviewed the Contour USB UniMouse in 1999, declaring it a winner – especially compared to the widely-despised Apple hockey puck mouse.
In October, Contour introduced the 4th version of the Unimouse, and it comes in a nice black. The version Contour sent is wireless, but not Bluetooth, using a USB dongle as its receiver for faster response. There is also a wired USB version. The new Unimouse is a fully modern mouse with 3 buttons, a scroll wheel, and even forward and back buttons on the side.
The wireless Unimouse has built-in batteries and charges via USB using an included cable.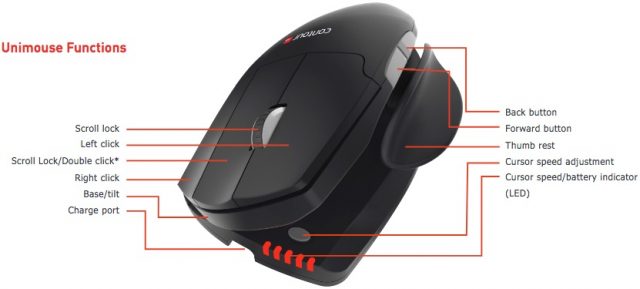 But what really sets the new Unimouse apart from the pack is its ergonomics, something that has always been important to Contour. This is a large mouse, and it looks kind of weird with space between its base and angled top (the angle is adjustable between 35° and 70°), as well as a thumb rest. I've never seen anything quite like it.
After fiddling around with the angle, the thumb rest, and the tracking rate (10 speeds ranging from 800 to 2800 DPI, set on the mouse and not dependent on software), it feels better than any mouse I've ever worked with. My hand just naturally falls into place once I've found the best angle and the best setting for the thumb rest.
If you're looking for a mouse you can customize to fit your hand as though it was designed for you, the latest Contour Unimouse is the first mouse you should look at.
Speaking of software, you can download Contour's macOS 10.9 (and later) and Windows 10 drivers from the company website. You will need this, because the buttons may not work as expected until you set them up in the Contour Mouse system preference. At least that's the case on my Macs running OS X 10.11 El Capitan. These are common assignments for mouse keys:
Left: click
Middle: double-click
Right: Ctrl-click, opens contextual menus
Forward: Cmd-]
Back: Cmd-[
Scroll wheel: click or click-lock
The wired Unimouse retails for $89.95, and the wireless version for $109.95. This is not a budget mouse. It's an investment in productivity for the next decade or more.
Keywords: #unimouse #contourunimouse #ergonomics
Short link: https://goo.gl/cdhtVQ