2008 saw Apple cement itself further in the mobile market with a new iPhone model and a new version of its mobile operating system. Hello, iPhone OS 2.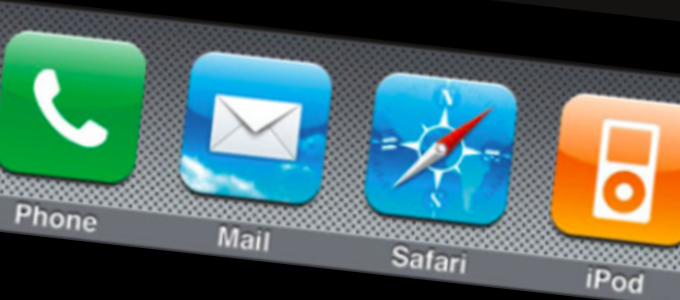 Just a year after the launch of the original iPhone and iPhone OS, Apple released the iPhone 3G and iPhone OS 2.
The iPhone 3G featured almost identical hardware as its predecessor. It had the same 412 MHz processor and 128 MB RAM, so in terms of performance it works just as before. New additions included 3G connectivity and assisted GPS (aGPS). It also featured a slightly modified design, losing the metal back in favour for a domed plastic back.
One smart change was making the headphone socket flush rather than recessed, making the 3G compatible with more third party headphones.
Released: July 11th 2008
Final Version: 2.2.1
Devices: iPhone and iPhone 3G; iPod touch 1st and 2nd generation
Requirements: iTunes 7.7 or later and Mac OX 10.4 Tiger or Windows XP SP2 or later
iPhone OS 2.0 was a major step for Apple and set a precedent for the future. It showed that Apple would support their phones with updates, which would turn out to prove a major selling point for iPhone owners.
The 3G came preinstalled with iPhone OS 2, but it was also available for free to owners of the original iPhone. However, iPod touch owners had to pay $10 to get it.
iPhone OS 2.0 brought a major overhaul over version 1.1.5. It's biggest addition was the inclusion of the App Store, which on launch offered 500 apps, that number quickly growing.
Other changes over iPhone OS 1 included an update to the Calendar app, the camera now offered geolocation – part of the new aGPS function – and the ability to take screen shots was a welcome addition. Maps was updated too, and once again the aGPS addition to the iPhone 3G made location finding very easy and can even track your journey.
The Calculator app was updated, featuring a new look – and a scientific version when rotated. Contacts now have their own icon rather than being accessed via the Phone app. Mail added 'push' ability.
For the second release of a new OS, iPhone OS 2.0 was a good effort, but it was plagued with stability issues. So bar a few subpoint updates in between, 2.1 was a welcome update hoping to resolve the large list of bugs.
iPhone OS 2.1 brought a revised look to the iPod app and added the Genius playlist option; it was also packed with bug and stability fixes. Version 2.1.1 shipped with the 2nd generation iPod touch.
iPhone OS 2.2 was the second major update to iPhone OS 2, bringing overhauls to the Maps and Mail apps, improving performance in Safari, improved call stability, and including even more stability fixes.
The iPod touch didn't receive all the features of the 2.2 update, oddly lacking some of the Map improvements.
The final update, version 2.2.1, was pushed a mere six months after the initial release of iPhone OS 2. However, it would be another five months before we would see iPhone OS 3.
---
Check out the next release, iPhone OS 3: Three Is the Magic Number or read the previous, iPhone OS 1: The Beginning of an Era
---
Follow Simon Royal on Twitter or send him an Email.
Like what you have read? Send Simon a donation via Tip Jar.
---
keywords: #iphoneos #iphone3g #iphoneos2 #ipodtouch #techspectrum #simonroyal
short link: https://goo.gl/sJMfZU
searchwords: iphoneos2