Portable speakers are the latest technology trend. I take a look at the Platinum, mini bluetooth speaker from Jam.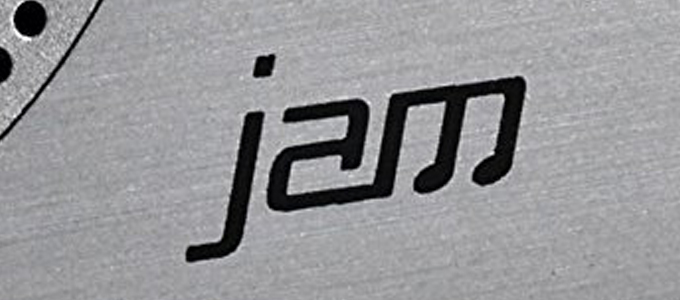 Mobile phones might be able to hold all your music collection, but playing it through it built in speakers are terrible, no matter how much dynamic range, bass injection system or optimum clarity it is suppose to have.
Portable audio is the new buzz. Large 'old fashioned' hi-fi system aren't on everyones list of home tech. I wrote recently asking if the hi-fi system has had it's day.
Bluetooth speakers are becoming very common place. Portable. Small. Wireless. They can range from cheap kit that really doesn't sound much better than your phone to very expensive booming bass bars that gives a pimped out Ford Escort a run for its money.
A while back I bought my wife a cheap non-name speaker from my local supermarket and was surprisingly impressed with it, but it had a few limitations. Her next one needed longer battery life, better sound and controls for audio playback such as volume and track select.
I didn't want to buy a new one blind, but finding a place to test them was difficult. My local HMV store had a huge selection and most of which were out on display with a cable so I could plug my iPhone in and test the actual output.
I wasn't looking to spend a fortune, but I wanted something compact with good sound. The Jam Platinum was a mid priced device about £70 – with a pre-Christmas discount, making it a tempting choice. Plugging in my phone I soon had early 90s rave blasting out in the shop and I liked the sound to pound ratio.
Design
The Jam Platinum is an all metal product, making it quite unique compared to others and reasonably compact at 5" x 1.25". It has two large speakers on the front and on the back two resonators that push the bass out and increase the sound.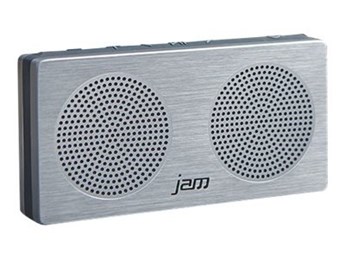 The top features rubberised control buttons for volume and track handling and power. Controls were an important requirement. The bottom has some rubber feet to aid grip and the side has a MicroUSB socket for charging and a 3.5mm audio socket for a connecting a cable to non bluetooth devices.
First Impressions
Jam make some good kit and this is no exception. Its compact without being too small and has a great weight to it and being metal gives it a cold feel. It has a great premium build quality to it.
Pairing was easy. Switching it on, it looks for devices – if a device has previously paired then it should auto re-connect. To pair a new device simply load the bluetooth menu on your device and click 'Jam Platinum' in the list. Job done.
Now the fun part. Listening to some music. I am a big fan of late 80s and early 90s dance music – acid house / rave era – enough to test any speaker with its low beats, rumbling bass and high pitch synths and vocals. Nothing gets a speaker going like a bit of 'LFO – LFO' or 'Acen – Trip To The Moon Part 2'.
The speaker offered a good range of sounds. I was impressed by the bass although it could have been a little heavier, but it was an even mix. I like bass but it can overpower music if they just crank it up. Given the price and design of the Jam it performed well. Sound output was very clear and even at high volume it was a joy to listen to. The volume reached extremely high levels although the sound did wobble a little at full volume.
I listen to MP3s on my phone through it, and I noticed a significant sound improvement when using higher bitrate MP3 – clearer sound and far better quality.
The controls on the top are great. I quite often have it sitting next to me whilst working with my phone sitting on charge on the side. It means I can skip tracks or alter the volume without reaching for my phone.
Battery
The Jam comes pre-charged so it is ready to use out of the box. A full charge should give 8 hours of music playback. I have had it a few weeks and used it lightly and only had to charge it once.
Other Features
It has audio prompts, telling you things such as 'maximum volume' and 'ready for pairing' a cool idea, but can become a little annoying and is also capable of hands free calling via bluetooth.
Conclusion
The Jam is a solid well built device, offering a good sound for its price bracket and a long battery life. Check out my video of the Platinum in action.
https://www.youtube.com/watch?v=8H-5mfXeUPg
---
Follow Simon Royal on Twitter or send him an Email.
Like what you have read? Send Simon a donation via Tip Jar.
---
keywords: #jam #platinum #bluetooth #speaker #review #hmv #acidhouse #techspectrum #simonroyal
short link: https://goo.gl/04wCvt
searchwords: jamplatinum