Low End Mac began 20 years ago as a way to share my knowledge of the earliest useful Macs with other Mac users. At that point I considered the Mac Plus – the first Mac with SCSI for adding a hard drive and expandable memory – to be the oldest practical Mac. Interesting thing is, I still do.
Practical Technology
Low End Mac is about practical technology, and a Mac Plus with System 7.x and ClarisWorks or Microsoft Word 5.1a makes a very nice writing machine even at 8 MHz. You need 2.5 MB or 4 MB of system memory to run System 7.x, and a 16 MHz upgrade makes the Mac Plus much snappier, but for a task like writing, it suffices.
In fact, without the Internet and with its small screen, it lets you focus on one task at a time. And System 6.0.x is even smoother, runs MS Word 5.x, but doesn't support ClarisWorks, which is simply the best integrated office suite ever made.
Not Low End But…
There's a common comment in our Facebook group that begins way too many postings: Not low end but – followed by whatever the question. It's like a runaway train the way this meme keeps showing up day after day. Problem is, there is no hard and fast definition of low end. It's a vague term, deliberately so.
For some, it means you can't run the latest version of macOS. For others, it means the latest version of macOS may run on the Mac but it isn't supported by Apple. For others, it's a machine that can't run OS X 10.8 Mountain Lion or later. For some, it's anything with a Core 2 Duo or lesser CPU – or perhaps the earlier 32-bit-only Core Duo – or maybe any PowerPC-based Mac.
The core concept isn't a hardware specification, what operating system version is supported, or even whether the user can upgrade memory and/or the hard drive. The core concept behind Low End Mac is practicality. If the computer does the job, does it comfortably, and doesn't prevent you from doing things, it's low end, practical, and good enough.
If I were launching the site today, I would probably call it Practical Technology, because that is the true focus of the site. In my not-so-humble opinion, Macs are the pinnacle of practical technology because of their longevity and ease of use. And until recent years, upgradability was another reason, although Apple has made hardware upgrades increasingly difficult if not impossible.
Good Enough
I don't consider Windows good enough. Historically there have been to many ways to compromise a Windows-based computer, and new techniques keep showing up with alarming regularity. Some people love Windows and know how to protect themselves from malware. And some people don't know anything but Windows, wondering how anyone can be happy with macOS, let alone Linux.
There is no fixed definition of good enough. For one person, it's a Mac Plus in a trailer in Michigan's Upper Peninsula, a writing machine and nothing more. No distractions. For another, it has to play modern first-person shooters well or process video with alacrity. What is good enough depends completely on what you want to do.
For instance, if you work a couple miles from home, a bicycle or pair of shoes may be all you need to get to work, but to transport anything larger than a backpack, you probably want a motorcycle or a car. If you have to transport more people, a larger car, minivan, or van will do the job. To haul heavy loads, a full sized pickup. To move a lot of people, a bus. You decide what is necessary and what is practical based on your own needs.
That's the practical solution. That's the low end. That's good enough.
For Instance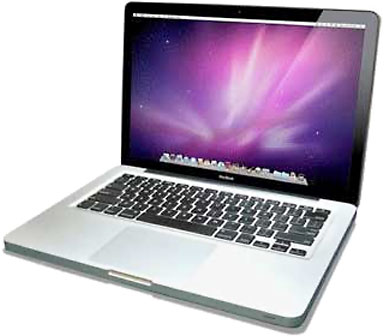 I am writing this on my newest computer, a Late 2008 Aluminum MacBook running OS X 10.11 El Capitan comfortably with 4 GB of system memory and an SSD. I have an external keyboard, a USB mouse, and 20″ Apple Cinema Display, the aluminum one with HDMI plus 2 FireWire and 2 USB 2.0 ports on the back. It looks nice, cost me nothing but gas to pick it up, and works nicely with its 1680 x 1050 pixel screen. I usually work with the laptop closed, because I don't need two displays at the same time.
In the field or around the house, I can unplug everything and take the MacBook with me. The 13″ 1280 x 800 pixel screen is a bit restrictive compared to the 20-incher, but it's adequate. I would prefer a 15″ or 17″ MacBook, but this is what I have.
I ran OS X 10.6 Snow Leopard – from 2008 – on this computer for years, the same version installed on my Mid 2007 Mac mini (my second-newest Mac), which has also been upgraded with an SSD and has its maximum 3 GB of memory installed. That was my main production machine for years, until I decided it was time to check out later versions of macOS – free ones that the Mac mini doesn't support.
I have OS X 10.9 Mavericks (2013) installed on one partition, and I really like Mavericks. It doesn't have that modern flat appearance of El Capitan, which I have on another partition.
Practical Macs
I am admittedly old school, as are many of our long-time fans. We love Macs that can be upgraded, because it gives them a much longer useful life. Replacing a hard drive with an SSD is an amazing performance upgrade, and increasing system memory, especially with Mac OS X, also boosts overall performance. Higher-end users look for things like being able to replace the video card or add a second video card.
For better or worse, Apple has moved away from user upgrades. You can't upgrade your iPhone, iPod, or iPad. You can't upgrade most Macs introduced in recent year – and if you can, it's generally not easy to do. But new Macs are also the only way to have built-in USB C, USB 3.1, Thunderbolt 3, etc.
All peripheral expansion is now via Thunderbolt 3 and the USB C connector. You probably need some sort of hub or expansion box to use FireWire, old USB, HDMI, and other types of peripherals to a modern Mac, especially if you are a longtime Mac user. That's frustrating for those of us who used to celebrate how long Apple held on to technologies.
The 21.5″ iMac
For my purposes, a 21.5″ iMac would be awesome. Going from 2.0 GHz Core 2 Duo and a 1680 x 1050 display to the 1.6 GHz Late 2015 iMac with its Intel i5 CPU would be a huge step forward. The CPU has a multi-core Geekbench score of 5623. That's compared to 2708 for my MacBook and 2604 for my Mac mini, both 2.0 GHz Core 2 Duo machines. And the quad-core model iMac doubles the performance of the base Late 2015 model to 11267 – about 4x what my current Macs offer.
The 1920 x 1080 pixel display is a significant step forward from the 1680 x 1050 on my Cinema Display, and for expansion it has 4 USB 3 ports, 2 Thunderbolt ports, ethernet, Bluetooth, and 802.11ac WiFi. Even the lowly 256 GB SSD would be big enough for me, and even the 8 GB base model would give me twice what I have installed in my Late 2008 Aluminum MacBook. For the price, the Late 2015 iMac is a great value and would be a huge step forward from my seven-year-older MacBook.
The 13″ MacBook Pro
I can't get too excited about the 2016 13″ MacBook Pro with 2 Thunderbolt ports. It has a Retina Display, but its 2560 x 1600 pixel display shows no more than my current MacBook's 1280 x 800 display. It's beautiful, but it really doesn't increase the available workspace. Not quite smoke and mirrors, but not what you would get with a true 2560 x 1600 display. The model with 4 Thunderbolt ports is a bit more powerful but does nothing to increase screen space.
For my purposes, which is mostly used with an external keyboard, mouse, and monitor, I would benefit from a lot more processing power, but not enough of a benefit to justify the expense. If I were to buy a current Mac, I would look for a bigger display and quad-core CPU.
The 15″ MacBook Pro
The 2016 15″ MacBook Pro starts out with a quad-core 2.6 GHz i7 CPU and a multi-core Geekbench score of 12117 – 5x that of my current newest Macs. The 2880 x 1800 pixel display works like the 1440 x 900 pixel display of pre-Retina 15″ MacBook Pro models, which is a nice step up from the 13″ screen. The drawback is the $2,399 and up price tag!
The 17″ MacBook Pro
Yes, Apple introduced the last 17″ MacBook Pro in October 2011 and phased it out five years ago in June 2012. But that 1920 x 1200 pixel display would make it the ultimate field machine. It also user-upgradable to 16 GB of system memory, and its 9240 Geekbench score would be very nice indeed compared to my vintage 2007 and 2008 Macs. You even have a built-in DVD drive and can replace the hard drive with an SSD.
This was the last Mac with the ExpressCard/34 expansion slot, making it possible to add USB 3 or whatever. (It has 3 USB 2.0 ports, 1 FireWire 800 port, and 1 Thunderbolt 1 port, giving it more built-in expandability than any current MacBook model. In fact, it's such a desirable model that it currently sells for around $800 used.
This would be my dream field computer and also a great desktop replacement connected to my monitor, keyboard, and mouse.
The 12″ MacBook
I have a real love-hate thing going with the 12″ MacBook. I love the size, but its 2304 x 1440 pixel Retina Display would show even less than the 1280 x 800 screen on my 2008 MacBook. It has twice the power of my MacBook, which is a real plus, but the frustration of only a single USB C port for expansion means having to buy an extra piece of hardware to connect to my printer, keyboard, mouse, and external display at home.
For me, there is nothing compelling about this model. For one-third less money, a used 17″ MacBook Pro would give me so much more in the field and be so much easier to connect to peripherals.
The Mac mini
When it comes to expansion options and ease of connectivity, it's hard to beat the Late 2014 Mac mini. Prices start at $499 with a 1.4 GHz dual-core i5 CPU. Performance is double my current rig. As a desktop model, it has 4 USB 3.0 ports, 2 Thunderbolt ports, and 1 HDMI port, so hooking it up to my display, keyboard, mouse, and printer would be a breeze.
I would skip right past the 4 GB model, as that is barely adequate for current versions of macOS. It's usable, but 8 GB makes everything so much better. It's a $100 option on the base model, standard on the upgrade model. I would replace the hard drive with a 256 GB or 512 GB SSD, or add one using the PCIe SSD connection.
This would be an ideal desktop for my purposes.
The Mac Pro
There's no way I would buy the current Mac Pro unless it was sub-$500. I don't need that level of performance, and if I spend money on a pro computer, I expect expansion slots, built-in drive bays, and so on. Any Mac Pro with 4 or more cores capable of running macOS 10.2 Sierra would make me happy. At least 6-8 GB of memory and an SSD would make it a dream machine for me, and prices for used ones can be very attractive.
Not that I have money for any of these. Pipe dreams. When I win the lottery (which I don't play), I'll still buy frugally.
The Top Choices
From a practicality standpoint, the top choice would be that last generation 2011 17″ MacBook Pro, giving me a big leap forward in screen space, power, and expandability over my Late 2008 13″ Aluminum MacBook that doesn't even has FireWire.
For desktop us, a quad-core Mac mini would be sweet, but they tend to command a premium, and the current entry-level Mini would be a big enough step forward to keep me happy for most of the coming decade. The same probably goes for a used Mac Pro, although which models will not be able to run macOS 10.14 and later remains to be seen. Used Mac Pros are so reasonably priced that they are a real alternative to spending $600 for a new Mac mini.
The key is buying something that is going to be practical for the years ahead, not simply good enough for now. That's what Low End Mac is all about. That' practical computing.
short link: https://goo.gl/YPYCVu
keywords: #lowend #lowendmac #practicalcomputing
searchword: practicalcomputing