I was shocked to learn that Apple has introduced an update to its full-sized 9.7″ iPad line, giving it an A10 processor running at 2.34 GHz (vs. an A9 clocked at 1.84 GHz in the 2017 model) – and offering it at a retail price of just $329!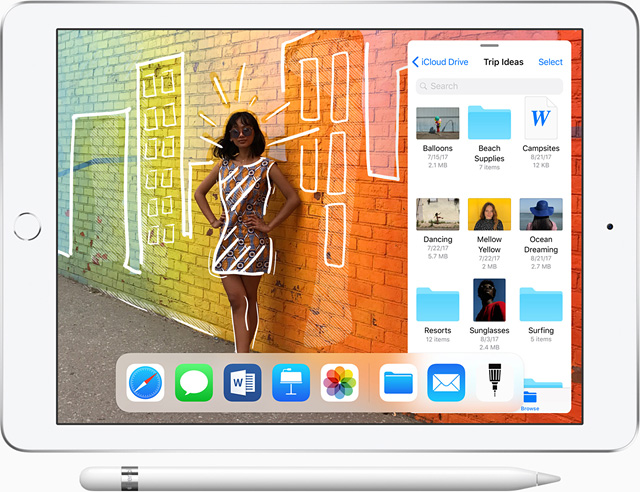 Discuss the iPad in our iPhone & iOS group on Facebook.
At first glance, the 6th generation 2018 iPad looks like the 2017 iPad, so all of the same cases and accessories will work with it – plus the new model adds support for the $99 Apple Pencil. This is the first time the 9.7″ iPad has had such a user-friendly price, making it more affordable than the iPad mini 4 ($399, but with 128 GB of storage). Now that was completely unexpected.
Apple is especially targeting this model at schools, which can buy it for $299. Chromebooks are running rampant in the education market, and this gives Apple a better chance of retaining its presence in education – something that goes back to the Apple II era.
Because Apple hasn't made it thin-and-light, it still has a headphone jack, the last iOS device with one. That's not just great for wired headphones but also for powered speakers that plug into the headphone jack.
The iPad doesn't have an awesome, high-end camera. The rear camera is a very competent 8 MP unit that Apple has been using since the iPhone 5S was introduced in 2013. That's plenty of resolution for printing photos poster size. We used to do that all the time with images from 6 MP DSLRs when I worked in a camera store, making good looking 20″ x 30″ posters.
The selfie cam sounds like a bit of a disappointment at just 1.2 MP, but that's still enough for making a good looking 4″ x 6″ print should you want to. It's more than good enough for FaceTime and other video chat applications, despite what Forbes says. In fact, Apple uses the same FaceTime camera in the current iPhone SE and was used on the iPhone 6.
Yes, the Retina Display has over 3 million pixels, but the whole point of the Retina Display is that the individual pixels are so small that you can't distinguish them at normal viewing distance. It's utterly trivial for the A10 processor to upscale a 1.2 MP image to a 3 MP screen. In fact, iPads have been doing it for years. Sorry, Forbes, you're just inventing a problem that doesn't exist for a fixed-focus camera designed for selfies and video chat, not high-quality photography.
For the record, the iPhone 6s introduced a 5 MP FaceTime camera, and if you feel you need that level of quality from the front-facing camera, Apple offers more expensive iOS devices that will give it to you. You'll also get HDR images and Live Photo from that FaceTime camera. (Macworld does a great comparison of the 1.2 MP and 5 MP cameras.)
There's nothing bleeding edge about the 2018 iPad, which is how Apple is able to offer such a competent device as such an attractive price.
Finally, there is one feature new to the full-sized iPad: It supports a faster version of 4G LTE.
The 2018 iPad Value Equation
The 2017 iPad is available on close-out at $280-290 while the inventory of the 32 GB model lasts. Is it worth it to save $40-50 by choosing last year's model?
If you want to use Apple Pencil, it's not even a question. If you want to use the fastest 4G cellular data, it's not a question either. That's not a feature of the 2017 iPad.
If those things don't matter to you, the only other factor is processing power. The 2018 iPad offers up to 40% more processing power and 50% more graphics power, but whether that's something that will really benefit you is a judgment call.
Looking down the road, I suspect that the 2017 iPad will depreciate faster because it lacks Apple Pencil support, so if you plan to sell your iPad some years down the road and upgrade to a new device, you may well recoup the entire $40-50 price difference.
Either device should make you happy, but in this case, I would lean toward the 2018 iPad.
keywords: #2018ipad #ipad
short link: https://goo.gl/M61CKY