Most of my computers were older when I got them – and much older when I moved on to something newer. I got my first Mac, a Mac Plus, in early 1990, over 4 years after Apple had introduced it. I earned enough Apple points during the holiday sales promotion to get it and a genuine Apple carrying case for free. Best deal ever!
Older computers has kind of been a recurring theme for me.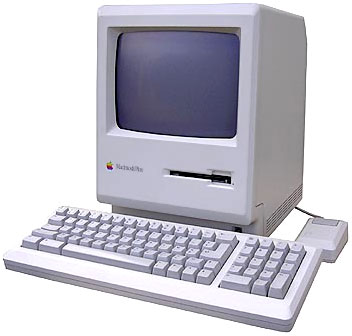 I had been an Apple II Plus user, a Commodore VIC-20 and 64 owner, and a Zenith DOS PC user until that point. The Mac Plus quickly turned me into a Mac convert, and some months later I swapped the Zenith PC for a 44 MB SyQuest drive with 3 data cartridges. Over time I upgraded system memory from 1 MB to 2.5 MB and then to 4 MB. I added a 40 MB SCSI hard drive, and I sent the logic board to Brainstorm to have them install a 16 MHz 68000 processor, doubling performance and making System 7.x run much more smoothly.
I went back to school in 1993, bought a 20 MHz 68040-based Centris 610 and color display with my student discount that May or June, and I sold the Mac Plus to pay for about half the cost of the new system. Over time I upgraded system memory, video memory, and the hard drive. This was the first Mac that I bought while it was still considered a new model.
This was the computer that I used when I began Low End Mac in April 1997.
My third "Mac" was a Umax SuperMac J700 with a 180 MHz 604 CPU. It had lots of PCI expansion slots. That was 1998, five years after I had bought the Centris. The SuperMacs were being blown out at fire sale prices after Apple ended cloning. With many upgrades – more memory, a better video card, a G3 processor upgrade, and more – it served me well until January 2001 when I bought my next Mac – and for several years beyond that.
My Brand New Mac
The only Mac I ever bought brand spanking new was the original 15″ titanium PowerBook G4. After seeing it announced at Macworld Expo 2001 in San Francisco, I knew it was the laptop that I had been waiting for. I got the first one to reach my dealer, the "low end" 400 MHz version, and I got a lot of use out of it, eventually upgrading to 1 GB of system memory and a faster, higher capacity hard drive. That was the machine I used to play around with early versions of Mac OS X until version 10.2 Jaguar came out, finally giving us a version of OS X suitable for everyday use.
With a 17″ (and later 19″) monitor, extended keyboard, and multi-button mouse, I used that PowerBook for years. I got 5-1/2 years out of it before my son accidentally dropped it and it broke beyond repair. Then I parted it out.
For a brief period in late 2003 I had a Power Mac G4 Cube, acquired second-hand and used while the TiBook was in for a screen replacement under AppleCare. I was not a huge fan of the Cube, especially the heat-sensitive power button on top that was too easy to activate, but it kept me productive for two weeks while Apple installed a new display and shipped it back to me. (The Cube's next home was with Charles W Moore in Nova Scotia, Canada.)
My Three eMacs
The 400 MHz PowerBook G4, such a powerhouse in 2001, grew sluggish running Mac OS X, and in Late 2003 I bought a refurbished, discontinued first-generation 700 MHz eMac as my new production machine. The PowerBook was still a great field machine, but OS X really wanted more power than the TiBook could provide.
Going through my first divorce, we did "bird's nest" parenting, which meant that the kids – just like baby birds – remained in the nest while Mom and Dad traded places every week or two. (If it's an amicable divorce, this is a great way to keep the kids in familiar surroundings, near their friends, and close to their school. On the other hand, after two years of this, I didn't feel like I had a home of my own, so bird's nest custody may be better as a short-term solution instead of going on for years and years.)
I initially used my PowerBook while I was at the 2-bedroom apartment we shared (each of us had a bedroom to call our own when we were there), but I eventually needed more power and a bigger screen. I ended up buying a refurbished USB 2.0 eMac running at 1.25 GHz, using an external FireWire hard drive to backup each eMac in turn and restore it each time I moved between the house and apartment and back again. I eventually added a second USB 2.0 eMac with a SuperDrive, because after using 1.25 GHz, 700 MHz seemed slow.
Used Power Macs
I acquired an inexpensive used Blue and White Power Mac G3 that I never quite got working, and eventually I found a nice used dual 500 MHz Power Mac G4, which was a very nice OS X machine that worked very nicely with the 19″ display I had once used with the PowerBook G4. I eventually worked my way up to a nice used dual 1.25 GHz Mirrored Drive Door Power Mac G4, which I only retired a few years ago.
Going Intel
My first Intel-based Mac was a Mid 2007 Mac mini, which I bought used in early 2011 and still use to this day. It has been upgraded to 3 GB of RAM, Mac OS X 10.6.8 Snow Leopard, and an SSD. It's no speed demon with its 2.0 GHz Core 2 Duo processor, but it's adequate for my needs – and the SSD really gave it a new lease on life. Because I have an older version of Photoshop Elements that does everything I need it to do, and since that version doesn't run in newer versions of macOS, the Mac mini is my Photoshop and AppleWorks machine. (It is possible to install a 2.16 or 2.33 GHz Core 2 Duo CPU in the 2006 and 2007 Mac minis. Someday I may find the time to do it.)
Beyond Snow Leopard
All of my other production Macs are running OS X 10.11 El Capitan, and I also have Mavericks, Yosemite, and High Sierra each installed on one machine should I need them or want to experiment.
My oldest in this category is a 20″ 2.4 GHz Early 2008 iMac acquired from my Windows-using eldest son for $50 and upgraded to 6 GB, the maximum amount of memory it supports. El Capitan runs decently on this machine as long as I don't have too many browsers or browser windows open. Ideally you want 8 GB or more RAM for El Capitan, but in a pinch, this machine keeps me productive. Someday I hope to be able to swap out the optical drive and install an SSD to really speed things up. (This can be upgraded with a 2.66, 2.8, or 3.06 GHz Core 2 Duo CPU. One of the faster two would definitely be worth doing!)
I've had my 2.0 GHz Late 2008 Aluminum MacBook for a lot longer than the iMac. It was donated some years back, and it's been upgraded with a fresh NewerTech battery, 8 GB of RAM, and an SSD. Although this model can run macOS Sierra and High Sierra, it has an incompatible AirPort card, so I stick with El Capitan, the last macOS version to work with the WiFi in this machine.
The newest Mac I use is a 21.5″ 3.06 GHz i3-based Mid 2010 iMac with 12 GB of system memory and its original 500 GB hard drive. I have Snow Leopard, El Capitan, and High Sierra installed on separate partitions, and because it's been running hot and resetting itself when I run El Cap or Hi-C, for the moment it's just a Snow Leopard machine.
This is actually a loaner from another of my sons. I've shared the restart and heat problems in our Facebook group, and the hands-off diagnosis is that it needs a new power supply. Apparently the GPU draws a lot of power, and the aging power supply is no longer able to keep up with demand, so a replacement is on the way. This will be my first time inside a flat-panel iMac, so when I open it up, I plan on blowing out all the dust and replacing the old thermal paste.
This machine is a real speed demon with Snow Leopard and also runs El Cap and Hi-C very nicely. I would like to put in an SSD someday.
My Next Mac
Another site fan from our Facebook group messaged me earlier this week inquiring about donating his old 15″ 2.8 GHz Mid 2009 MacBook Pro, which will be a big step forward from my 2.0 GHz MacBook and its 13.3″ display. It only has 4 GB of memory, so I'll want to boost that to 8 GB, and I may simply transplant the SSD from the MacBook into the MacBook Pro. I am really looking forward to having a 15″ 'Book again.
Forward Into the Past
Using Macs from the 2007-2010 era, I can get excited about a 2.8 GHz MacBook Pro, even though Apple is leaving it behind (it is not officially supported with 10.12 Sierra and 10.13 High Sierra but can be patched to run them, and 10.14 Mojave will probably never run on it). I really don't need to use anything newer than OS X 10.11 El Capitan, so this will be perfect for my needs.
You may have noticed that I haven't mentioned any G5 Macs, and that's because I didn't have any until I was already using Intel-based Macs. I have several 17″ iMac G5 configurations and a nice collection of Power Mac G5 models (including a last generation 2.3 GHz dual-core), but they have not been production machines.
The whole point of Low End Mac is getting the most out of your aging Apple gear. For the most part I have been very productive using older models or low-end versions of existing models, upgrading memory and hard drives to improve performance. Even by adding a Mac from the past, such as a 2009 MacBook Pro or 2010 iMac, I am also moving forward.
One key to all of this is that computer speed is relative to what you are used to. I can comfortably move between my 2.0 GHz Mac mini and 3.06 GHz i3 iMac. Now if I were used to a quad-core i7, all of these machines might seem slow, but that's outside of my experience at this point.
Have you moved forward with Macs from the past? Why not share your story with our Facebook group?
short link: https://wp.me/p51SSp-d73