Adding broadband to Macs used to be a hit-and-miss affair in the 1990s before ethernet and WiFi became standard features during the second Steve Jobs era.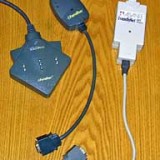 High-end Quadras and Power Macs had a proprietary Apple Attachment Unit Interface (AAUI), which allowed the use of various ethernet dongles, a marked improvement over the old days of PhoneNet and LocalTalk. However, for midrange Performas and Power Macs aimed at the consumer market, there was the curious Apple Communication Slot.
The First Communication Slot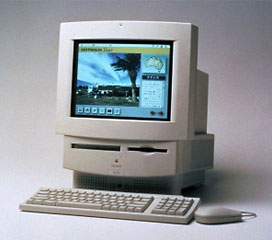 The "Comm Slot" first appeared in the Macintosh LC 575, an all-in-one that directly descended from the popular Macintosh LC. There were lots of upgrade options for the LC product line. However, the early "pizza boxes" only came with one slot, resulting in anguished decisions over whether to choose to put an Apple IIe or DOS compatibility card, a second monitor, an accelerator card, or network connectivity in that single LC PDS (Processor Direct Slot).
With the addition of Apple's proprietary Comm Slot in later models, a modem or ethernet card could be installed while leaving the LC PDS slot free. The Comm Slot resembles a standard notched PCI connector, but it is slightly shallower and has 4 fewer contact pins. However, it interfaced with the system through a 68030-based bus, regardless of the machine's processor.
Comm Slot I supports the following cards:
Apple Macintosh 14.4 Express Fax/Modem CS Card (M2480LL/A)*
Apple 10BASE-T Ethernet CS Twisted-Pair Card (M3065Z/A, 630-0734, 820-0514-A, 820-0607-A)
Apple 10BASE2 Ethernet CS Thin Coax Card (M2708Z/A, 630-0896, 820-0537-A/B)
Apple AUI Ethernet CS AAUI Card (M3066Z/A, 630-0736, 820-0596-A)
Farallon 10BASE-T Ethernet CS Card for Performa (YPN598)
Global Village Teleport Gold IIv 14.4 CSI/II Modem (A808)*
Global Village Teleport Platinum V 28.8 CSI/II Modem (A809)*
Apple/Global Village 56K CSI/II Modem (A810, 630-2612-A)*
The following Macs contain a Comm Slot I:
Communication Slot II
With the advent of PCI-based Power Macs, the faster PCI bus allowed the bandwidth of the slot to be increased. The slot's arrangement, including the small notch, was reversed to prevent a faster Comm Slot II card from being plugged into an older unsupported computer. A few backward-compatible modem cards were double-notched so that they could be used with both types of slots.
The Comm Slot II supports the following cards:
Apple 28.8K Fax/Modem CSII Card (820-0809-A)
Apple 10BASE-T Ethernet CSII Twisted-Pair Card (M4772ZM/A, 630-1873, 820-0784-A)
Apple 10BASE2 Ethernet CSII Thin Coax Card (M4773ZM/A)
Apple AUI Ethernet CSII AAUI Card (M4774ZM/A)
Farallon Fast EtherTX-10/100 CSII Card (YPN998)
Global Village Teleport Gold IIv 14.4 CSI/II Modem (A808)*
Global Village Teleport Platinum V 28.8 CSI/II Modem (A809)*
Apple/Global Village 56K CSI/II Modem (A810, 630-2612-A)*
Sonic Systems 10BASE-T CSII Network Card (P701-001, BD-064)
* Note that adding a modem card to a Comm Slot (either type) will disable the Mini DIN-8 serial port (or Mini DIN-9 GeoPort) marked for an external modem.
The following PowerPC Macs contain a Comm Slot II:
Third-Party Support
The advantage of using cards supplied by Apple is that drivers and support are usually built into subsequent releases of Mac OS system software. The disadvantage is that the selection is limited, with ethernet support topping out at 10Mbps 10Base-T. Farallon produced a 100Mbps 100Base-TX card that took advantage of the faster speed of Comm Slot II, but it suffered from compatibility problems and became unstable when used with G3 processor upgrades (with the exception of Newer Technologies' MAXpowr G3).
Driver software can be found at the following websites:
Alternative Options Today
Because Comm Slots were no longer needed with internet-ready Macs from the G3 era onward, the above cards are becoming increasingly difficult to find. For PCI-based Macs, PCI cards can be an easier option to track down for faster broadband connectivity. In fact, with a PCMCIA-to-PCI adapter, a wide range of WiFi cards normally intended for PowerBooks can also become a viable alternative.
Further Reading
keywords: #commslot #commslotii
short link: https://goo.gl/aseKfC