The Twentieth Anniversary Macintosh (or TAM) was a radical change from existing computers. The slim unit (just 2.5″ deep) uses the same kind of LCD screen usually found in laptops. Stereo speakers surround it, along with a large subwoofer for really solid bass.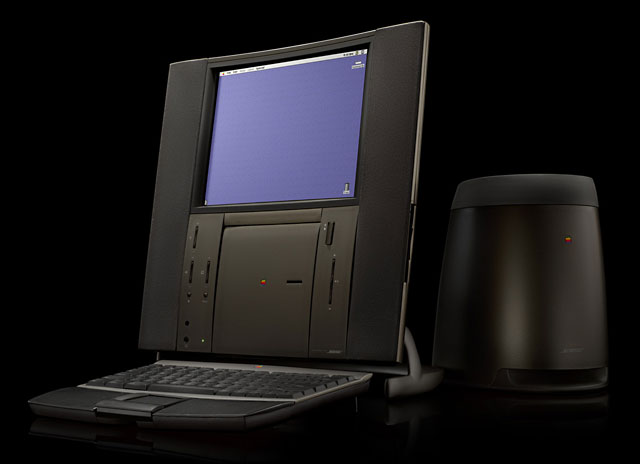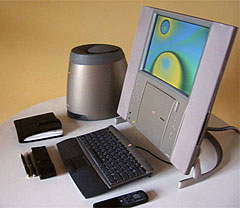 The keyboard is also like that of a PowerBook. It has no numeric keypad, but it does include a trackpad. TAM uses a 2.5″ laptop hard drive, the first desktop Mac to do so. (The second was the first Mac mini, introduced in 2005.)
The logic board is a modified laptop board similar to the one in the PowerBook 3400c. According to MacSpeedZone, installing a 512 KB level 2 (L2) cache boosts performance by 15%, going to 1 MB improves it by 27%.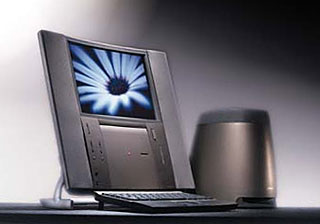 Apple built 12,000 TAMs, making it a bit less rare than Mac TV, which had 10,000 units. Then again, TAM was very expensive, while Mac TV was aimed at consumers, so finding a TAM at a price you like will take some doing.
Although Apple broke the mold after building the TAM, within five years it introduced the second desktop Mac with an LCD monitor, the 15″ iMac G4. But it wasn't until August 2004 that the first thinner, lighter iMac G5 arrived in 17″ and 20″ editions, the true successor to TAM's design – and a design the iMac uses to this day.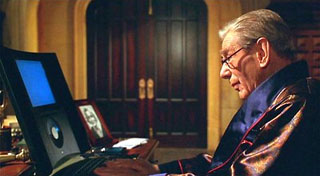 TAM had a small role in Batman.
Several TAM users have reported support for 24-bit video using the ATI January 2002 retail drivers. Especially see the posting by Rudy V. Pancaro on the Twentieth Anniversary Macintosh forum.
Steve Wozniak warned against using a disk partition larger than 4 GB, as it can cause the whole system to hang, but this appears to apply only to bootable volumes.
Details
Code names: Pomona, Spartacus
introduced 1997.03.20 at $7,499, discontinued 1998.03.14
Part no.:
Gestalt ID: 512
upgrade path:
Mac OS
Requires Mac OS 7.6.1 through 9.1 (requires special version of Mac OS 8)
Core System
CPU: 250 MHz PPC 603e
Level 2 cache: 256 KB, expandable to 1 MB
Bus: 50 MHz
ROM: 4 MB
RAM: 32 MB (expandable to 128 MB, accepts two 168-pin 5V 60ns or faster EDO or FPM DIMMs)
Performance
CPU performance: 237, MacBench 4
Graphics
GPU: ATI 3D Rage II
VRAM: 2 MB VRAM
Video: 12.1″ 800 x 600 at 8- or 16-bit. 24-bit video support possible with ATI January 2002 retail drivers noted above, although the display itself only supports 18-bit output (6 bits per color channel).
Drives
floppy drive: 1.4M
Hard drive: 2 GB 2.5″ ATA/EIDE drive, 128 GB maximum, newer drives may requires a different drive bracket or modification of the original bracket.
CD-ROM: 4x
Expansion
ADB ports: 1
SCSI: DB-25 connector on back of computer
serial ports: 2 DIN-8 GeoPorts
PCI slots: 1 6.88″ slot
other expansion slots: 1 Comm Slot II, filled with 33.6kbps GeoPort modem
Physical
dimensions (HxWxD): 17.25″x16.5″x10.0″ (43.8×41.9×25.4 cm)
Weight: 14.9 lbs. (6.8 kg)
Online Resources
Caution
Steve Wozniak notes on Go2Mac.com that, "A volume over 4 GB will not work in a TAM. It causes what appears to be total death in a short time, like when enough of it gets used."
Keywords: #20thanniversarymac #twentiethanniversarymac
Short link:
searchwords: 20thanniversarymac, twentiethanniversarymac