The 2002 iMac is definitely different with its 10.5″ hemispherical base and 15″ flat panel display. Definitely different. Steve Jobs says the design was inspired by a sunflower.
All three versions feature a G4 processor and can burn CDs. The less expensive models have a 700 MHz G4, and the middle of the line has a Combo drive. The top-end iMac runs an 800 MHz G4 and has a SuperDrive so you can burn DVDs.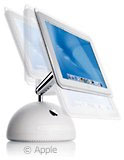 Although Jobs didn't mention it at the January 2002 Macworld Expo, the G4 iMac has a new keyboard with white keys and gray letters, not the old harder-to-read, lower contrast black keys with gray letters.
The new iMac is also about 35% lighter than the old one and draws less power.
These are also the first iMacs with Nvidia graphics – the GeForce2 MX with 2x AGP and 32 MB video RAM is standard across the line.
Beware Apple's specs, which claims the G4 iMac as having 5 USB ports. They get this number by adding the three ports on the iMac to the two on the keyboard, nicely ignoring the fact that the computer itself has only 3 ports and the keyboard ties up a port when it's connected.
Some Leopard users have reported problems with G4 iMacs that have GeForce2 or GeForce4 graphics. When the system wakes from sleep, the screen will be completely white, making the computer unusable. This is fixed by Leopard Graphics Update 1.0, which requires OS X 10.5.2 or later.
Details
Upgrades
Online Resources