There is an earlier article by Dan Knight about CPU upgrades in the 2007 iMac that omits a few possible upgrades. This article is predominantly aimed at helping people get a "Penryn" Core 2 Duo CPU into their Early 2007 iMac, as the chipset does allow several "newer" CPU upgrades.
The primary purpose the newer "Penryn" chips serve is not only an increase in performance, but also the added ability to run macOS 10.13 High Sierra. High Sierra requires a newer Mac by default, but it also requires SSE 4.2, which is not present in 2007 iMacs by default.
However, with the right CPU upgrades, High Sierra can be installed.
Original CPUs from 2007 iMacs
Newer 'Penryn' CPUs That 2007 iMacs Can Use
T9300 2.5 GHz Core 2 Duo (~$15-20 on eBay at time of article)
T9500 2.6 GHz Core 2 Duo (~$45-60 on eBay at time of article)
Note: These two are literally the same chips that are found in the Early 2008 MacBook Pro. The T8300 (2.4 GHz variant) and other T8xxx chips will not work in your 2007 iMac; only the two listed above, the T9300 and T9500. This is due to the chipset.
How to Install and Use Your New CPU

I will not instruct you on how to take apart the iMac. There are plenty of guides on this, such as this one.
Have your new T9300/T9500 CPU ready.
The Final Result
After reassembling everything, the iMac chimes right away and has no issues booting up. This CPU upgrade should work just fine if you have Mac OS X 10.5.8 Leopard or newer installed (some revisions of Leopard came before the T9300/9500 CPUs were released, so let's not run that risk).
If you're using a T9300, the system will misrepresent it as a 600 MHz CPU, and if it's a T9500 (like mine) it will show up as 700 MHz (the chipset can use the CPU but doesn't properly address it, because the CPUs we installed were made later than the chipset was)
If the CPU "MHz" bothers you, look below, and rest assured. I benched this, and it's legitimately quite a bit faster!
You may also change up the info, by reading these instructions.
All in all, my iMac runs about 25% faster, and now that it has SSE 4.2, I can use Collin Mistr's patcher tool to install macOS 10.12 Sierra and later!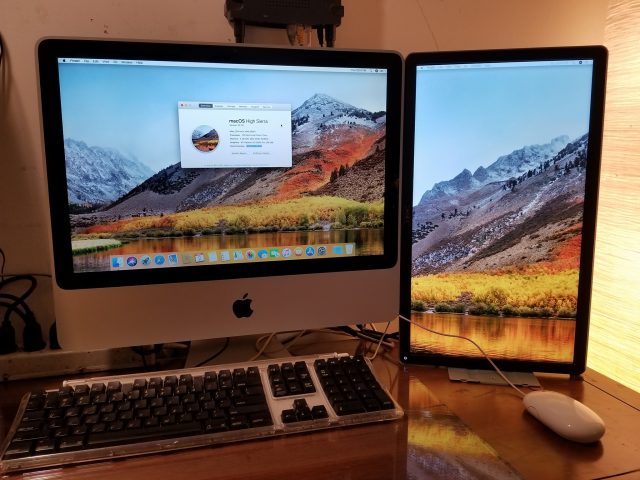 keywords: #highsierra #macoshighsierra
short link: https://goo.gl/o17SZL