Palms were designed to be a digital replacement for a paper planner. There were simple built-in programs with the business customer in mind. And there were people that happily used those built-in programs to keep track of appointments, lists, bits of information, and expenses.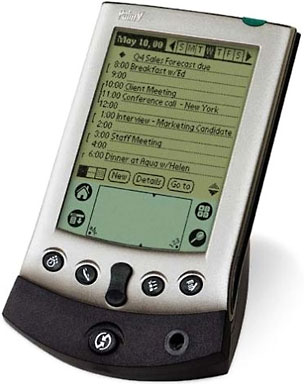 The real nostalgia for Palms comes from the wonderful group of developers, creating programs to go beyond the built-ins, using the limited space in creative ways. I can remember belonging to groups where someone would come up with a new feature they'd like to see. The developer would think it was a great idea and maybe three days later, that idea would be incorporated in a new version of the program. It was exciting to see.
Most of those developers have moved on to new platforms. It is still possible to get useful, licensed software for your Palm. I've going to focus on programs that are still available and can be licensed. It's possible to find programs that can be downloaded, but you would have to run in a trial version. Fortunately, there are some great programs left to choose from.
Anyone over the age of 12 has things that they need to do. Sometimes it's appointments or meetings. It might be a list of things that need to be done sometime, but not tied to a specific date. Or maybe you just have a lot of random information that you need to be able to find. You can take that information with you on your Palm, without the security risks that you'd have storing it in the Cloud. Let's take a look at some of the still available Palm programs, with an eye towards programs that can still be licensed or are free.
Programs That Can Be Licensed
Fortunately, it's still possible to get some useful programs for your Palm. Let's start with one of the must-have programs, Datebk. Several versions are available from Pimlico, depending on the device you are using and the features you want. This is a great addition to the built-in database, giving you additional views. You can also set up a "float", a to-do that will stay on your calendar until you finally check it off. Check out Datebk6 at Pimlico Software.
Teal Point was another popular developer. I still use Teal Script, to be able to write using old school Graffiti. You can train Teal Script to recognize your handwriting style. Teal Auto is useful for tracking gas mileage. Teal Paint is a paint program, and Teal Doc is a full-featured document reader. You can find these programs at tealpoint.com
Splash Data has Splash Money available if you are looking for a personal finance program. There is a desktop program for both Windows and Mac OS. I was able to run it on my G4 iBook, so it's a great choice for Low End Macers. Splash Data still provides support for their programs too. (Agendus, which was acquired by Splash Data, is no longer available for download or purchase.) Check it out at Splash Data.
Free Programs
pedit is sort of an addition to the built-in memo database. It's a replacement that includes its own scripting language and the best search engine of any program out there. It also includes pedit32, which is a doc reader and gives you a way to link memos into a larger-than-4k-document. Check out Laptop Hack as well. These were both programs that were licensed. I contacted the developer, Paul Nevai, to find out about licensing. He will graciously send a free license to anyone who contacts him via email, but he no longer provides support. Details are at Paul's site.
Handy Shopper is another interesting program. Yes, it's your basic shopping list software. It also has the ability to set up a checklist. Back in the day, some folks that were implementing GTD practices used Handy Shopper for everything. I was able to find it at Softonic, which seems to be the site for legacy software.
Plucker is an open source program. You can use it to update and read websites offline or convert documents into ebooks.
Keyring is another Source Forge project. It's a nice password manager.
Bible Plus is a Bible reader from Source Forge.
Status Unknown
Shadow Plan was a great outliner, with desktop applications for Windows, Mac, and Linux computers. I did not get a response from the developer, but it can still be downloaded at codejedi.com.
Redo creates a todo database for repeating todos. They show up in the built-in database as they come due. I thought this was freeware, but some sites say it needs to be licensed.
Isilo is a document book reader. One of the problems with ebooks on the Palm is that you had to have a couple of programs for them because there were so many different ebook formats.
Aportis Doc is another ebook reader. Older versions of Libre Office would save files in Aportis doc format, so it can be useful for creating your own ebooks.
Launcher X was a great launcher that gave you tools that were missing in the basic Palm desktop. It doesn't look like you can license this one.
Z Launcher is another launching program. I am not sure about the status on this one, but it can be downloaded here.
Filez is a file manager for your Palm. I'm not that familiar with it, but it can be downloaded here.
And finally, one of my favorite programs is no more. Life Balance can be downloaded but you cannot purchase a license for it as all development is over. This program was first developed for Newton, then Palm, and finally iPhone. It was a to-do list replacement that would let you set the importance of areas of your life, then adjust the importance of items on the to-do list as a result.
keywords: #palm #palmos #palmsoftware
short link: https://wp.me/p51SSp-dh3