This is a cautionary tale about listening to your gut feeling. I have always preferred the look of a blackbook (black MacBook) and had come across one on a local selling website. It was advertised as a 2008 MacBook in working order, except that the trackpad button didn't click so it required an external mouse. The seller was looking for $60CAD; not a bad deal, but not a great deal. I sent an offer of $40CAD and waited.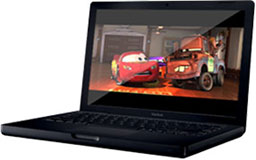 Hours passed and the seller responded that $50CAD was the more reasonable offer and would sell it at that if I took it today. A "today only" offer is generally a big red flag, so I told him I would think about it and told myself that if it sold it wouldn't be the last one I would find.
The next day, the seller responded that he would honour the original deal. Before I make a purchase, I like to make sure I know what the computer's issues are. I asked the seller if the battery bulged, as this is generally the reason trackpads break on these old machines. He replied that he didn't know much about the computer and reiterated the Mac needed a mouse. That was the second red flag: the owner should know more than this about his/her device.
After a short delay of a few days, which could not be avoided, I once again wrote to the owner, apologized, and asked if the computer was still available. He informed me that yes, it was, and I could get it at the price we'd agreed upon. I asked him to reconfirm that it came with a charger, yet now he claimed that I should pay him an extra $10 as it's worth more with the charger. I relayed the history of our conversation, but he would not budge on his position. This was another red flag: Sellers who alter their prices are generally those whom I avoid. I politely declined to buy the item as he went back on our original agreement.
Some more days passed and I noticed that the Mac was still available. Writing from another email account, I once again asked if the seller would accept $40CAD. He agreed and even included the charger as long as I took it right away. Just as he demanded the first time.
I drove to the seller's home and messaged him once there. He came out with the MacBook in a bag, took the money and shook my hand. We then parted ways, I was ecstatic to own another MacBook, and I think he was delighted to have $40.
On the ride home I inspected the battery. It had definitely expanded. Off to Best Buy I went with it, where they would recycle it. This is about the time I noticed just how dirty the Mac was; it even had an odour of old spices. This was the 4th and final red flag. It was at this point I should have realized things weren't as they seemed.
Once I brought it home, I quickly plugged it in and heard the bong sound. Then came – a blue screen with a cursor. I decided to wipe the machine and try putting in a DVD for the install. It took much effort and the DVD was inserted. I rebooted it and held C to boot from the DVD. The Mac wasn't able to read it. I then attempted to eject the disk. Nothing. The drive must have been damaged as it was stuck.
My last hope was to make an install USB. I had an OS X 10.7 install on my NAS and created a bootable installer. For hours I attempted to install a new OS, but it failed every time with another error message.
Frustrated, I politely texted the former owner and asked if he noticed any issues with the machine. I waited a few hours yet received no response. I messaged again but this time noticed my messages (which were sent via iMessage) were no longer going through. This was about the time the realization came to me: I had been scammed.
The MacBook now sits in my collection as a reminder to always pay attention to the deal at hand and to never let desire overpower instinct in such situations. This is hopefully a lesson I will not need to learn again.
keywords: #onlinethrifter #blackbook #blackmacbook
short link: https://wp.me/p51SSp-d5w