There was a time not too long ago in the past where one could simply open Safari on a PowerPC Mac, and be able to browse YouTube with relative ease. As web standards changed, resources required became more intensive, and the PowerPC platform was depreciated. Adobe Flash player was still in its hey day then, and it looked as though the 2010's was going to firmly leave the PowerPC platform in the proverbial dust, once and for all. The PowerMac7,2 DP 2.0 G5 was de jure depreciated by Apple as soon as Intel Macs were released in 2006. The PowerPC platform is de facto somewhat relevant on an enthusiast level for some computer enthusiasts, and as a result, it's 2023, and we can still stream YouTube in 720p on a PowerPC Mac. 3 years after the v5 release of TenFiveTube, it still works!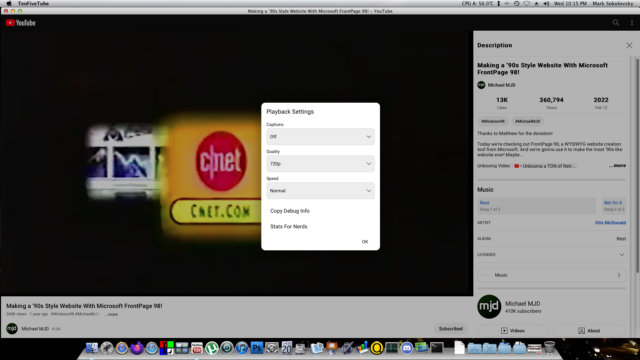 How did we get here?
Back in 2010, YouTube released a highly experimental version of HTML5 support, which required some workarounds to get functioning. As a PowerPC internet user of the time, I could say I remember being able to stream videos faster in safari as a result, between 2010-14. At the time, I'd have to constantly reload the page in HTML5 using special links, and see if it was even available in that format, still. I believe if I recall correctly, not all videos were simultaneously converted to HTML5. Youtube was getting very heavy in Flash on my 1.6 GHz Sawtooth AGP G4 at the time around late 2010, it was getting choked up being less and less able to handle the changes.
Starting January 27th, 2015, YouTube switched to HTML5 by default. Many web browsers started adding features from HTML5 little by little over time, such as adaptive bitrate, which was missing from earlier browsers. According to an excerpt from Wikipedia: "Traditional server-driven adaptive bitrate streaming provides consumers of streaming media with the best-possible experience, since the media server automatically adapts to any changes in each user's network and playback conditions." (See: https://en.wikipedia.org/wiki/Adaptive_bitrate_streaming). At the time of Youtube's decision to switch to this standard, they claimed this allowed videos to start anywhere from 15 all the way up to 80% faster. The entirety of this benefit is translated into the user experience of the platform. All of a sudden, the reality of streaming on a PowerPC machine became a reality again, as a result of reducing the data bandwidth required to process information back and forth for a video stream. Flash was inherently inefficient, and was even more so on the PPC platform, and there were no updates beyond the Official Version 10.2, or unofficial 11.1.102.55 release. But the switch to HTML5 was not only a breath of fresh air for the PowerPC platform, it was also potentially a realization that the inherently inefficient and insecure Adobe Flash platform was resource intensive, but furthermore that the platform would have better outreach if they standardized the "security handshakes" and simply made it less taxing to play videos on any device.
TenFiveTube was a project started in 2018 (if I'm not mistaken) and has been continually updated over the years. Read more about it here: https://forums.macrumors.com/threads/tenfivetube-yet-another-youtube-option-updated-12-20-20.2103937/
Prerequisites/Recommendations
I'd recommend at least an ATI Radeon 9800 Pro or better.
Works either in MacOS X Leopard 10.5.8, or in Sorbet Leopard 10.5.9 only
Download and install Quicktime 7.7 for most effective playback
I'd recommend at least 2GB of RAM and up
Smooth 720p was accomplished with the following config: (DP 2.0 G5, ATI X850XT 256MB, SSD RAID0 Boot drive)
Youtube Premium isn't a must, but it works A-ok in here! No commercials when logged in.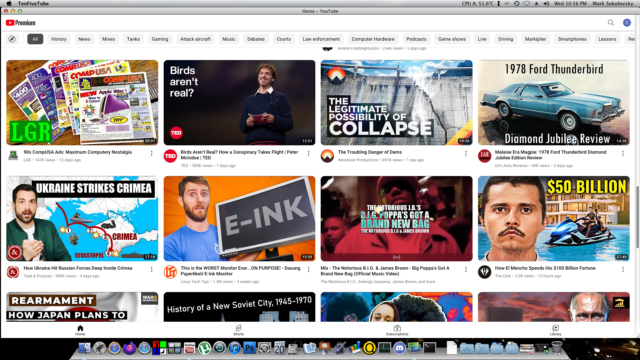 Download Links
Link to Macintosh Repository: https://www.macintoshrepository.org/30382-tenfivetube-powerpc-youtube-browser-and-player
Another place to download it: https://forums.macrumors.com/threads/tenfivetube-yet-another-youtube-option-updated-12-20-20.2103937/