From one configuration to another, 2 processor transitions apart. It's been a month since the 24″ 2006 iMac in my possession has been modified, being turned into a sort of CustoMac. With an external display modified into the Mac itself, along with a newer graphics card, operating system, and all of the smaller components required to make this happen. The idea began as a series of experiments with a different 2006 iMac, reminiscent of upgrades done to Macs in the PowerPC era. While projects like these are spectacular article pieces, the question will inevitably surface, one way or another: why?
Hardware modifications vary in difficulty case by case. As somebody who at least wants to portray the rationality behind these projects, it's sometimes hard to give a clearly defined use case for something so extensive. At the end of the day, things like this are still worth getting into. Perhaps the project itself looks more a reflection of the technology enthusiast in me, but I argue a lot of us have a special place in our hearts for these iMacs. There's just something magical about seeing MacOS Sonoma on a 24″ 2006 iMac.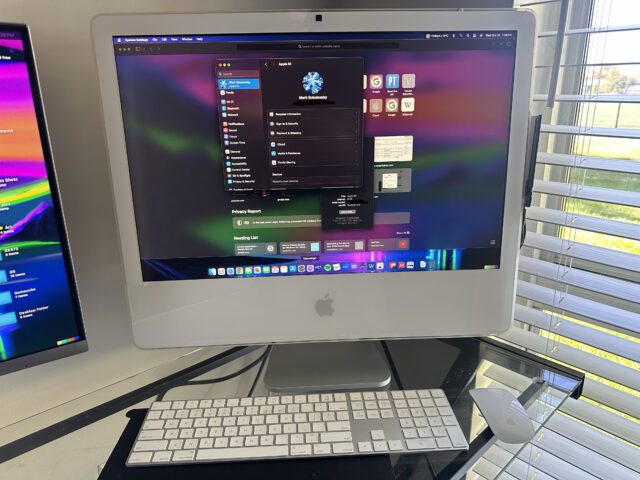 It's an iMac, but it's also an external monitor
As mentioned in a previous article, this is a fully fledged iMac. Most of the original hardware has been retained, it runs Mac OS X Yosemite, and runs well. All the time spent working a newer graphics card into the machine made me forget it now has multiple inputs. Unfortunately, the original thin panel LED backlit monitor's PSU died. I'm not entirely sure how, but it did, and I ended up purchasing yet another 16:10 1920 x 1200 display. Thank goodness, this one stayed intact.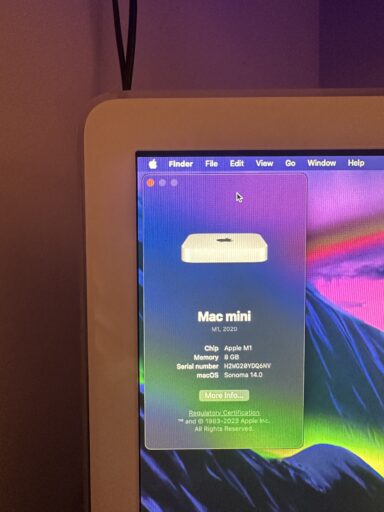 Below: The DVI Input goes to the M1 Mac mini, the VGA input is adapted to the ATI Radeon HD 2600 XT inside the iMac.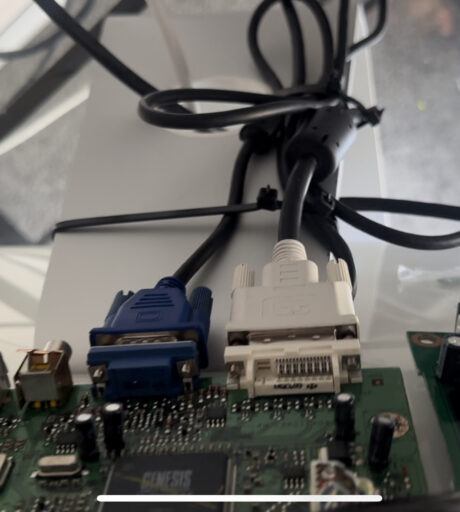 Below: Input switching is done via an the hacked-in monitor's board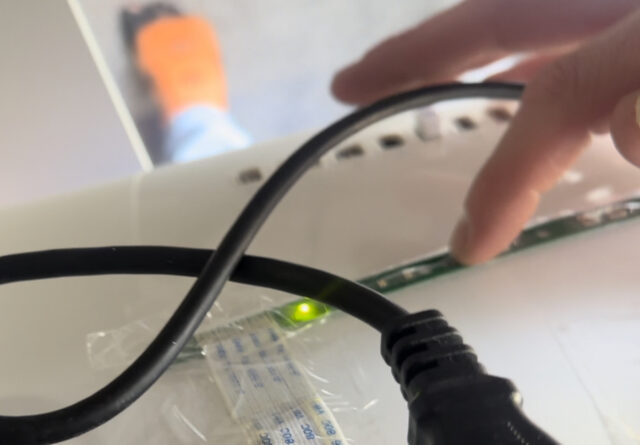 Below: Inside of iMac, where the VGA cable is routed to.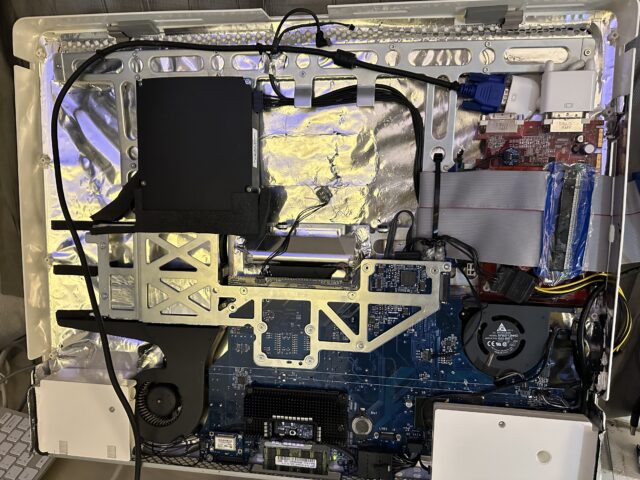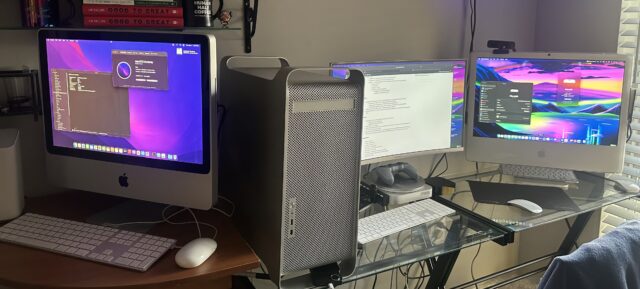 Using it as an iMac
The Mac mini is actually pictured, sitting below the Samsung monitor on the desk. The iMac retains most of its original hardware, minus display hardware, GPU, airport card, RAM, HDD, and ODD. In place of the ODD is the ATI Radeon HD 2600 XT 256MB. The Piker Alpha mod was used to have Yosemite run on here, and there is a thought about running Mac OS X El Capitan on here at some point. For the time being, it's a nice computer as-is. It's definitely getting more use as an external monitor than for the iMac it really is. For what it's worth, it has all the pluses of running a newer OS than OS X Lion, as well as the benefits of having full native graphical hardware acceleration.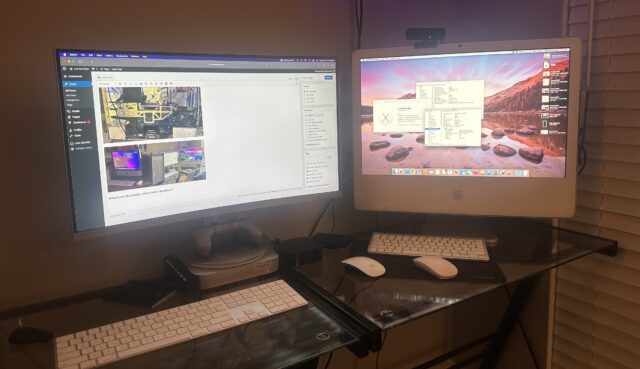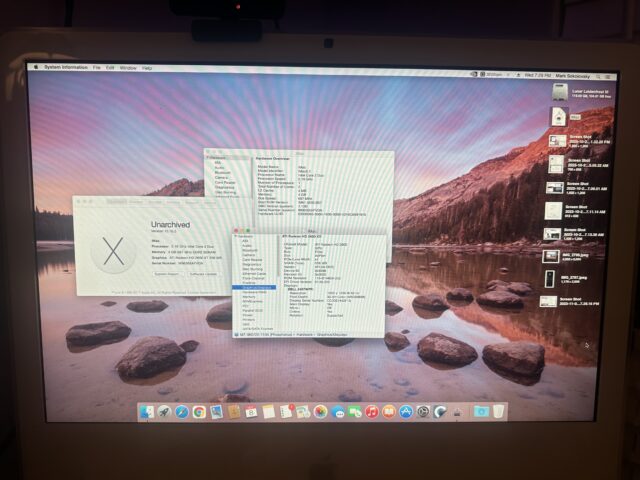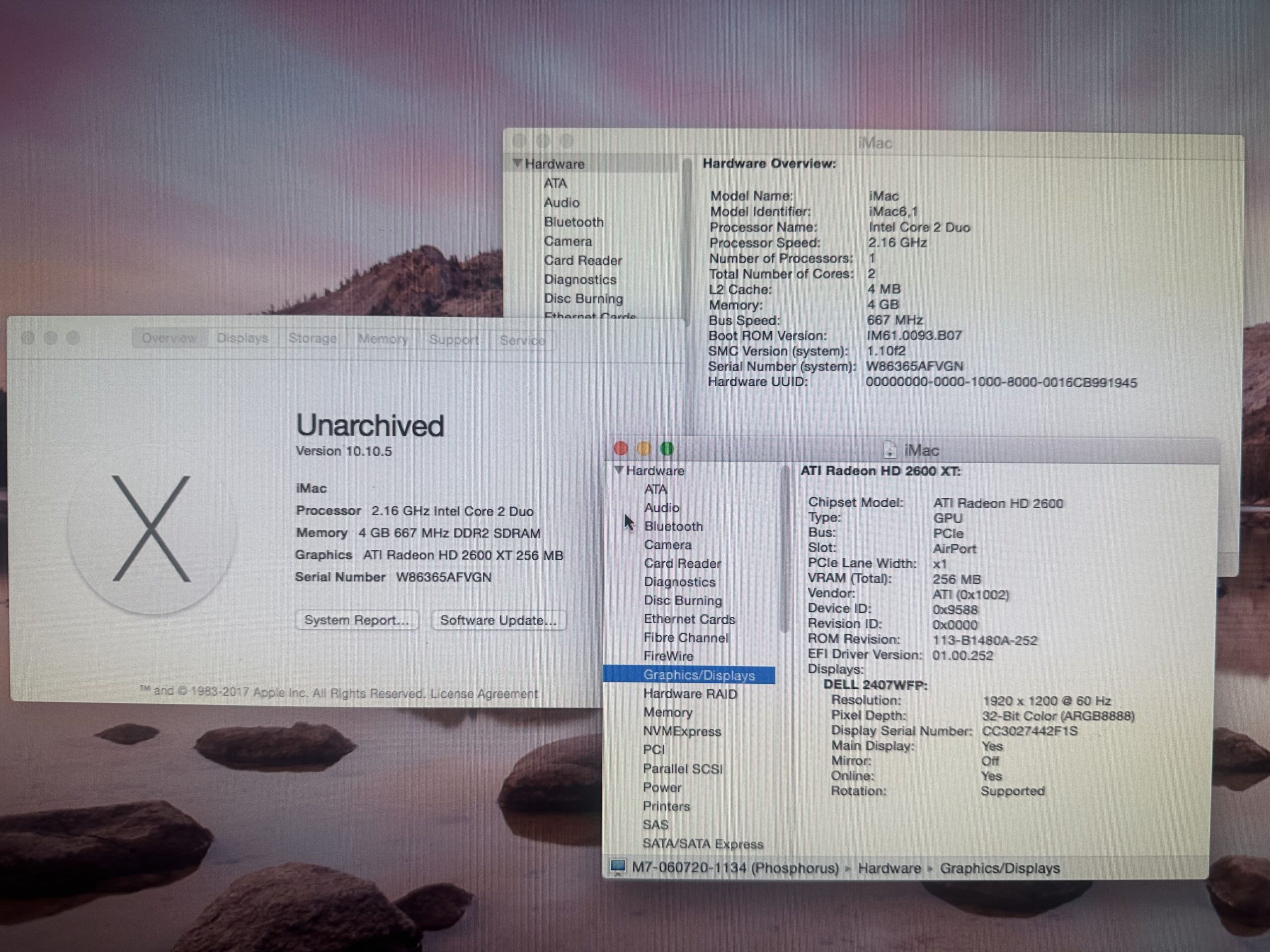 Mac OS X Yosemite gives a slightly extended lease of life on the original hardware, albeit being a far older release of MacOS than desired. This enables "Find My Mac" for this 2006 iMac, allows a much newer version of chrome to be useable, and in turn, the internet is more accessible than it would be on OS X Lion. Granted, with such a machine sitting on this desk next to some Apple Silicon, there's no way I'm going to prioritize using the internet on this version of OS X.. but it does make things much easier. Especially in regard to downloading apps and third party tools.. a process which requires constant workarounds when dealing with PowerPC Macs. It's good enough for light tasks, and then some.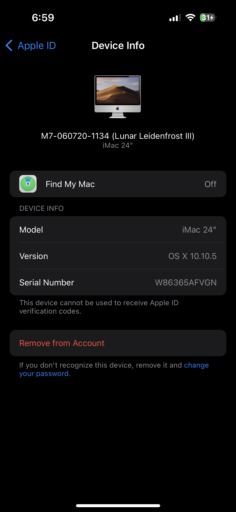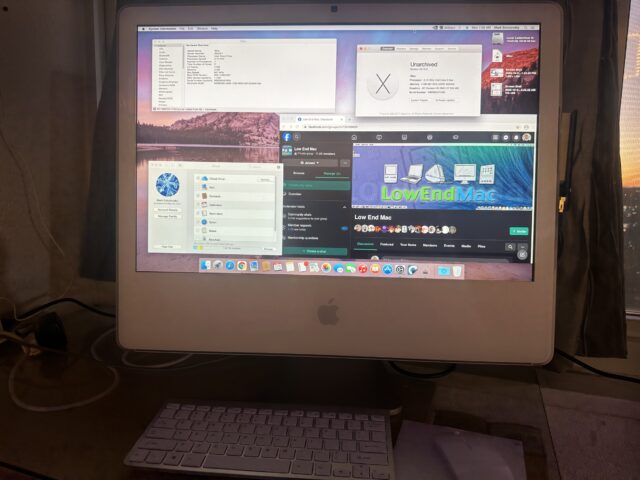 In conclusion
Personally, I like how it looks, how crazy the mods are, and how it has it's own little story.
It's not like in 2006 (or any time, really), we haven't sat back and speculated on all the technological marvels of the future. We're constantly illustrating books, making YouTube videos, writing articles, and making the case for why we should invest our time and energy in creating new things to either improve upon or expand the quality of human existence. The iMac in this article is a reflection of a transitional time in Apple's history, one before the industry transplanted many of the technological innovations from smartphones back over to computers. In the process of modifying this iMac, some meaning has been found in having it repurposed, and thus it was shared.
I find it challenging to make strong claims advocating for or against the current pace of technological progression. On one hand we're seeing miracles previously described as science fiction, on the other hand, we're seeing mounting evidence of the adverse effects humanity has on resource extraction. As a writer of this article and consumer of electronics, it cannot be ignored that I'm subject to the whims of the market, and despite my experiences, there's always something I'm bound to overlook. Perhaps there's a better way of looking at this project and the electronics market as a whole. Instead of "either this or.." why not a balance? What type of progress are we looking to make, and what is the cost of it? When a creation has been made, what is the end game? These are 2 among many considerations behind the products companies make. The bottom line is, while an article like this may not change the underlying preferences of readers and others alike, it may still bring attention to something else. I may have personally done this to my iMac as an individual and shared this with others to read, but Right To Repair Laws affect us all, irrespective of product or company.