The 2007 iMac has been around for a while, falling by the wayside, as it's internal hardware doesn't have many upgrade paths… or does it?
A little known secret is hidden inside every early intel iMac made by Apple prior to their 21.5″/27″ transition.. they all have a Mini-PCIe slot! While many upgrades have been documented/discovered for these iMacs, and GPU upgrades have been attempted as well, few eGPU solutions have been presented as viable, or have been documented. In this article today, the examples we'll be using are my 2007 20″ iMac, as well a 20″ Early 2006 iMac. The '07 iMac had been upgraded to sport an AMD XFX RX 570, with full graphical hardware acceleration, under macOS Monterey! The theme here is promoting the longevity of devices deemed otherwise obsolete. Whether or not a device is obsolete is subjective, and this opinion lies with us. In this case, miraculously, a 2007 iMac can run a modern OS with full graphical hardware acceleration, and be absolutely useable. 2006 Macs can enjoy up to Mac OS El Capitan using the Piker Alpha mod, however, Yosemite is the latest stable OS if you have lesser RAM. 2006 Mac Pros may handle El Capitan as a result of having more RAM. While the same modifications can be performed to run El Cap on '06 iMacs/Mac minis, be prepared to expect kernel Panics if you have 4 GB of RAM or less. Yosemite is completely stable at 10.10.5. Yes, Nvidia web drivers work.
Compatible Macs:
All 2006 Intel Macs
All 2007 Intel Macs
Most 2008 Intel Macs
Some 2009 Intel Macs (2009 Mac mini and Late 2009 iMacs get rid of it for sure, early '09 20/24″ DDR3 iMacs confirmed having this mini PCIe slot)
The journey starts by purchasing the following: An AMD XFX Radeon 570, a PSU, a Mini PCIe to PCIe adapter/riser card, an LCD inverter board, and a 12V 2A power adapter for the LCD inverter board.
The power adapter for the LCD inverter board is because the internal LCD is no longer powered or connected to the logic board, rather, to the XFX 570! This is, if you want to continue using the internal iMac display. I used a bog standard power adapter from a modern dell display. 12v 2A should be fine.
Using the HDMI connection on the inverter board may result in weird colors, I don't recommend it. Just use VGA or DVI.
If you're going to install a Mac EFI GPU from a Mac Pro, please remove the internal MXM GPU. Better yet, remove it altogether if you plan to permanently use an eGPU as your primary GPU.
It is possible to have BOTH the internal GPU and an eGPU, as long as they aren't in conflict. Please refer to later in the article for more details.
OCLP was used to install macOS Monterey on the 2007 iMac
GPU compatibility is more or less congruent to the OS/year computer you're running. For example: If you're running 10.13 High Sierra, install Nvidia web drivers and an Nvidia GeForce GTX 1080, there's a very great chance this will work. If you're running Monterey an RX 580 would be sweet, an X1900XT would be solid for Snow Leopard, and vice versa.
Photos: (Left) Intel Core 2 Duo T9500 upgrade for the 2007 iMac, (Right) LCD inverter board for 20″ 2007 iMac – Model LM201WE3-TLF8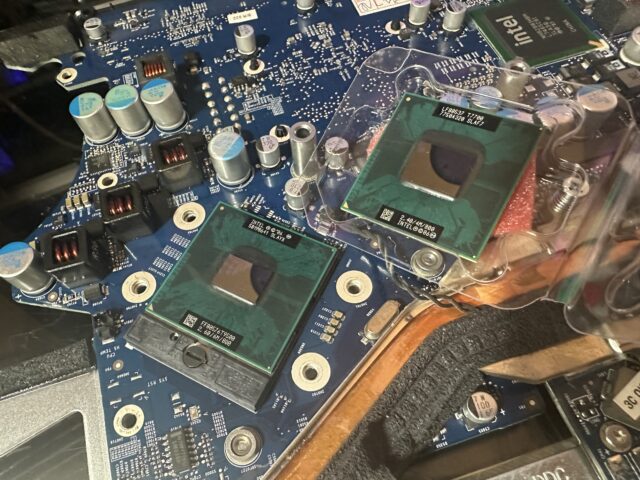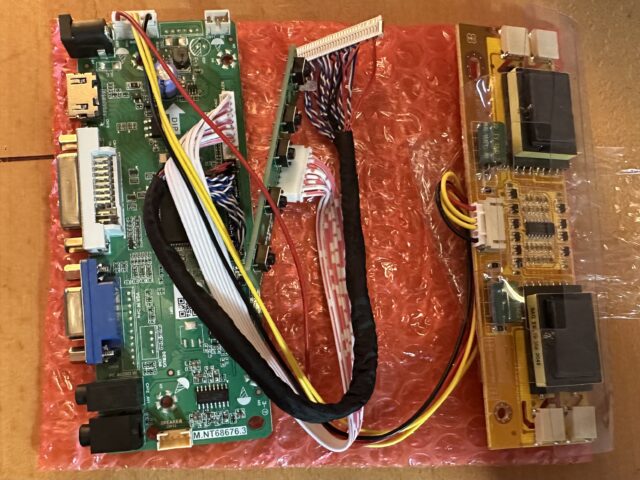 The magic happens simply by removing the original airport card which came with the iMac. This results in being forced to use ethernet for internet connectivity, unless, however, you decided to use a PCIe wifi card instead of modifying with an eGPU in mind. We start by installing the Mini PCIe to PCIe x16 v1.1 x1 lane adapter/riser card. These were mass produced for mining machines and are perfect for using as an eGPU solution for the Macs described in this article. As of September 2023, these mining riser adapters can be purchased for as little as $8, or as much as $20. The LCD inverter board goes for around $30, the T9500 around $35-55, the XFX RX 570 around $65, PSU's around $50-60, and the power supply for the inverter board around $10 or so. If you feel like tossing up an extra $40, you can score a 4 GB DDR2 PC2-5300 667 MHz module to bump your 07-08 iMac to 6 GB of RAM.
Photo: (Left) Mini PCIe to PCIe x16 adapter installed, (Right) Testing with an Nvidia GeForce GT 710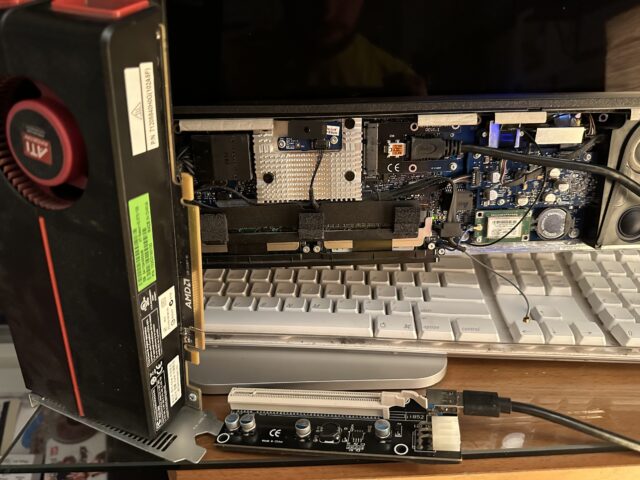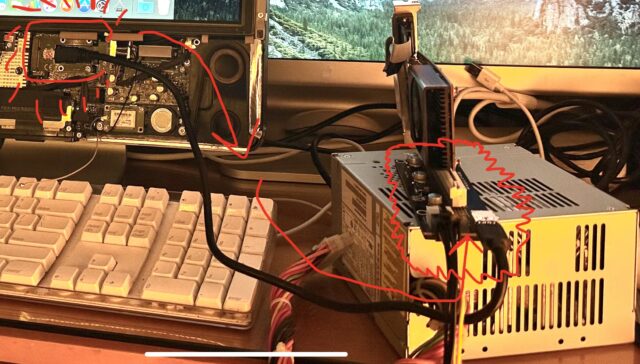 Photo: (Left) First successful test with an XFX RX 570, (Right) LCD inverter board plugged in and ready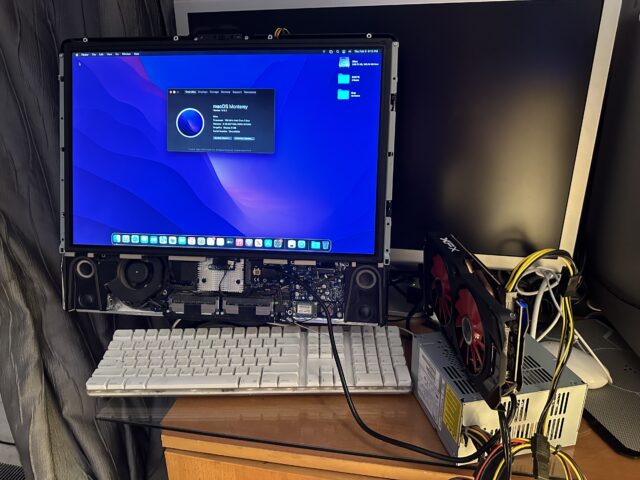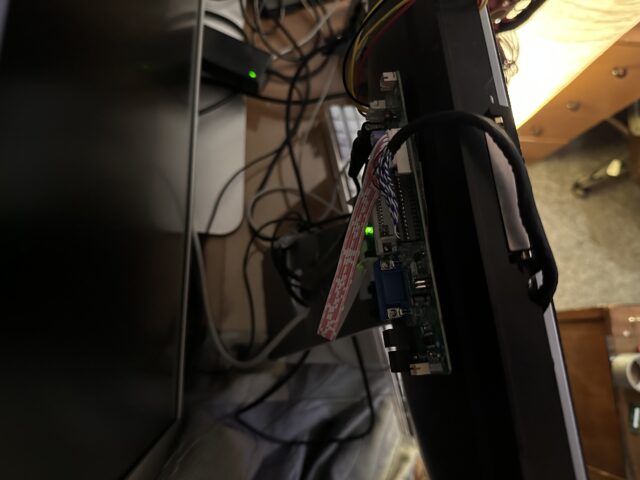 At first, of course, the computer didn't sit there looking pretty. This is a whole entire external graphics card running on an iMac 7,1 20″, entirely out of its original casing. There's an entire computer graphics card and computer power supply to deal with, along with an inverter board and some adapters. There's absolutely no way to fit any of this inside this iMac. It's possible to fit lower profile components into a 24″ iMac, if proper ventilation is given, the ODD is removed, and the HDD is replaced with an SSD for space. The 24″ iMac is the only viable AIO solution for having fully internalized components if that's the ultimately desired result. Keeping everything on the outside is just… easier.
Photo: (Left) fully put together, at first, (Middle) Fully assembled with zip ties and random parts, (Right) PSU at a different angle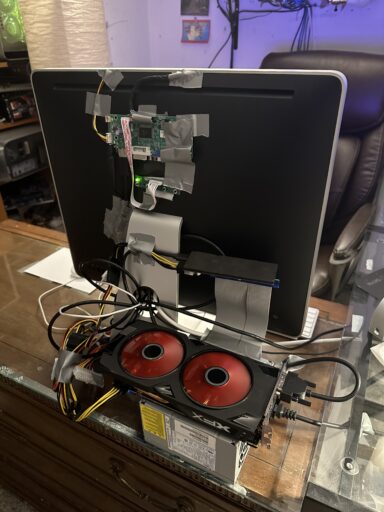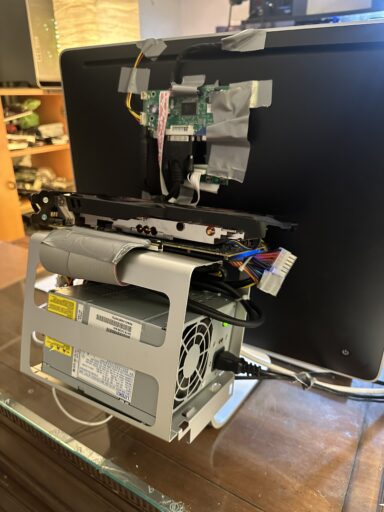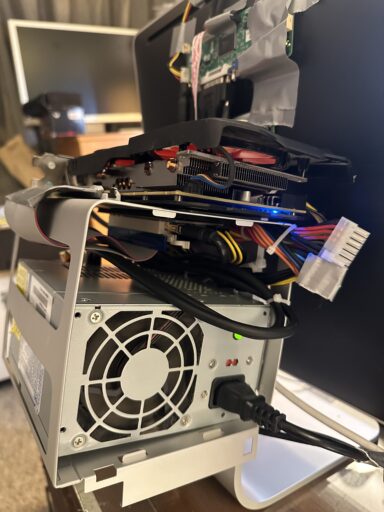 Photo: (Left) iMac 7,1 running macOS Monterey with an XFX RX 570 sporting full graphical hardware acceleration via the airport slot
(Right) iMac sitting on the desktop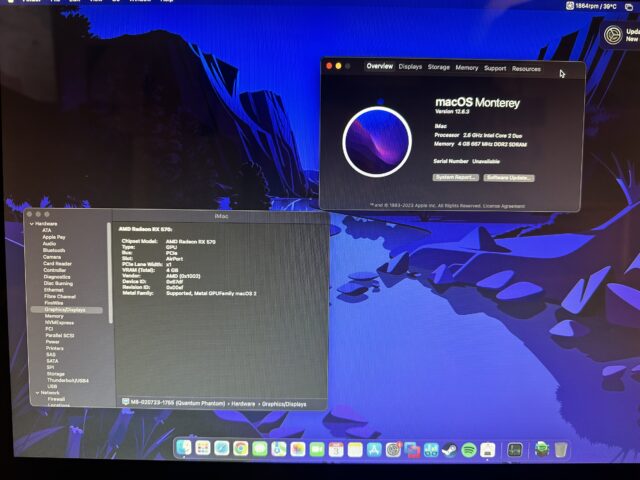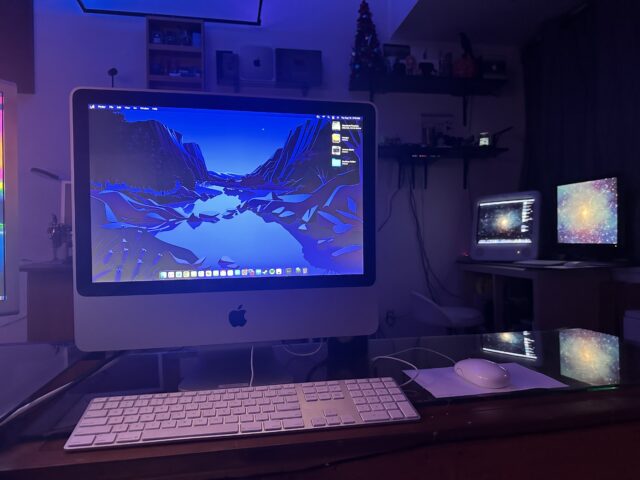 What's it like using the '07 iMac like this?
Here's the reality: when it's booted up, it's fine. It can do light web browsing, some games, Minecraft, and many things on more modern apps which it couldn't do before. There will come a time when this decades old hardware can no longer be stretched across macOS anymore, and will have to start using linux. Either way, however you use it, it's now possible to get even more life out of these iMacs! You're going to be plugging/unplugging the PSU, turning on the LCD switch for the internal LCD, but it works, there's no hiccups or weird patches.
Part 2: Doing the same thing, on a '06 iMac
Photo: (Left) All setup inside the iMac with an AMD Radeon HD 5770, (Right) Dell LCD display zip-tied to iMac frame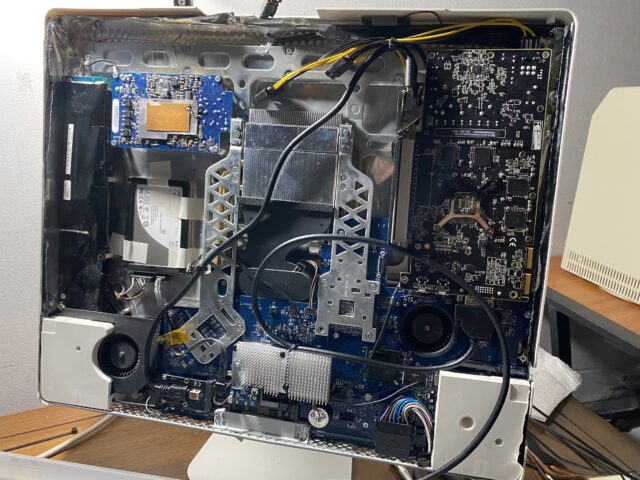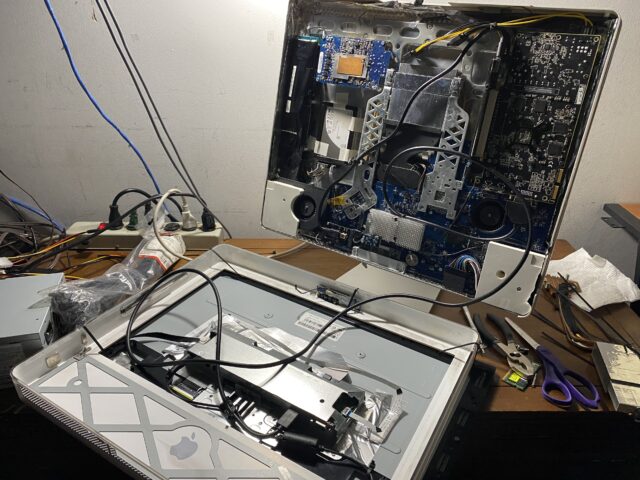 Photo: (Left) PSU behind the iMac, (Right) All booted up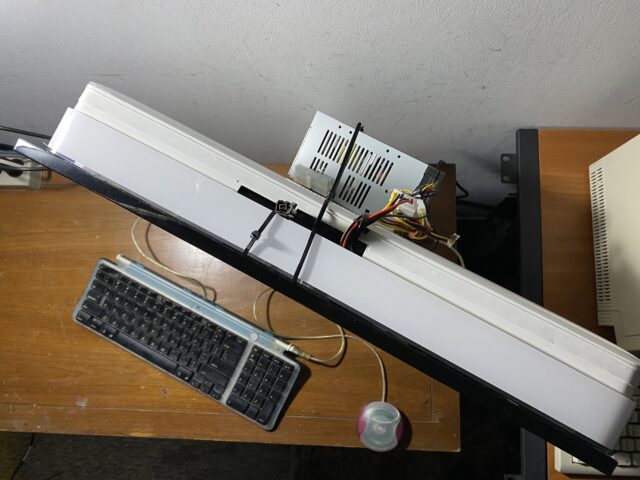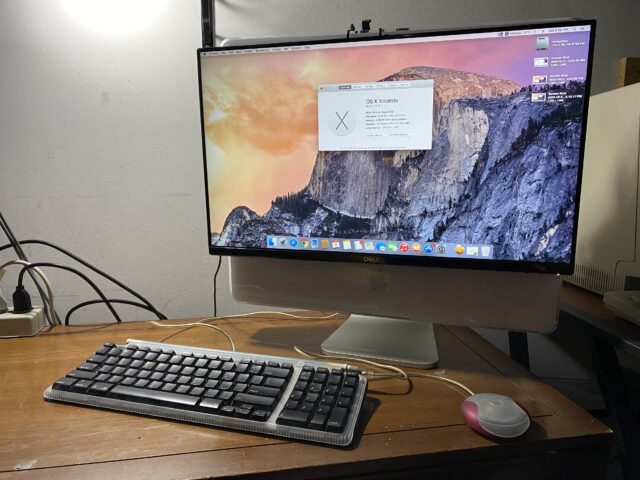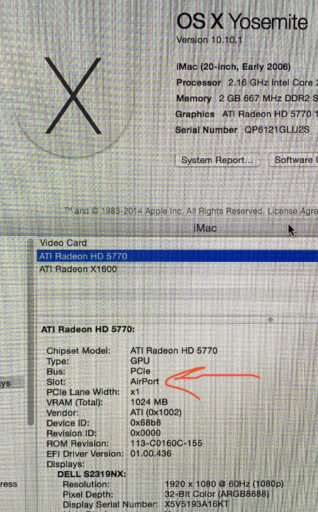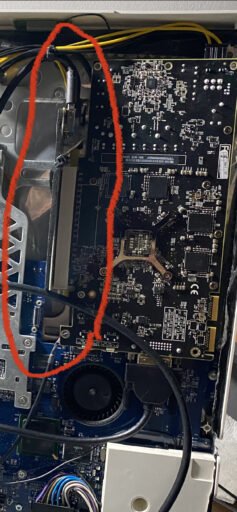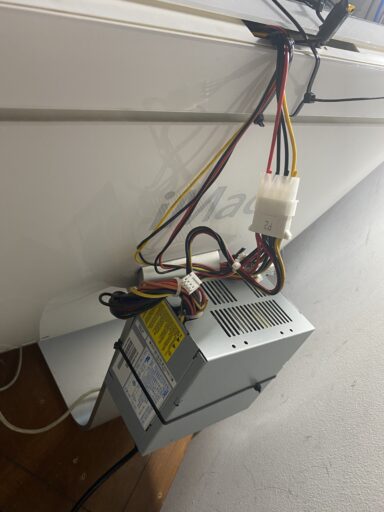 Some caveats about 2006 Macs:
64-Bit Mac EFI GPUs (Such as GT 120, Radeon 5770 HD) must boot into Mavericks/Yosemite and up to not have an issue with the 06 Mac 32 bit EFI.
Your Mac will be able to boot past MacOS Lion 10.7.5 as long as you have an intel Core 2 Duo chip. A 32-bit EFI doesn't necessarily mean you have a 32-Bit CPU. Many Macs with 64-Bit CPUs, such as the Mac Pro 2,1, shipped with a 32-bit EFI. Macs with an Intel Core Duo (not Core 2 Duo) may be upgraded to an intel Core 2 Duo, pending a potential firmware upgrade.
Mac OS El Capitan is unstable on Macs with less RAM, which is why the piker alpha mod is popular for the Mac Pros. They have more ram, and can handle MacOS El Capitan 10.11+ as a result. I would recommend sticking to Yosemite if your Mac cannot address at least 4-6 GB of RAM at the bare minimum. The less RAM, the more likely KP's will happen, even at 4 GB of RAM.
If you have a 32-bit EFI MXM GPU plugged in at the same time as a 64bit EFI PCIe eGPU, the Mac will get very confused and won't do anything. It won't even chime.
Lesser compatibility with PCIe upgrades outside of GPU options due to older OS upgrade options
In short, it's possible to provide yet another type of upgrade path for the early intel Macs which had shipped with a mini PCIe slot. The extended longevity the hardware upgrades provide can keep some more computers out of the landfill, even if the upgrades look ridiculous. As was said earlier, miraculously, a 2007 iMac can run a modern OS with full graphical hardware acceleration, and be absolutely useable! In addition, a 2006 Mac can receive a bump in GPU power, too. If you're cool with taking the nuclear option with your early intel iMac or Mac mini, then this idea just may be for you!