Between 2006 and 2011, many iMacs shipped with a removable internal graphics card known as an MXM GPU. MXM (Mobile PCI EXpress Module) is an interface pioneered by Nvidia around 2004, originally intended for laptops, which had gone through several iterations before slowly phasing out as a platform interface connection standard. As our Macs age, we must contend with the continual cycles of choices we make for apps, operating systems, browsers, upgrades and whatnot. The more options we have available to allow for computing demands to be met, the merrier! In this article, we will be following a project I've done on a 2010 21.5″ iMac, which was upgraded to sport an Nvidia GeForce GTX 770M 2GB, running macOS High Sierra 10.13.
Pictured: (Left) An MXM-based Nvidia GeForce GTX 770M inserted into the MXM 3.0 slot of a 2010 21.5″ iMac logic board.
(Right) An ATI Radeon HD 4670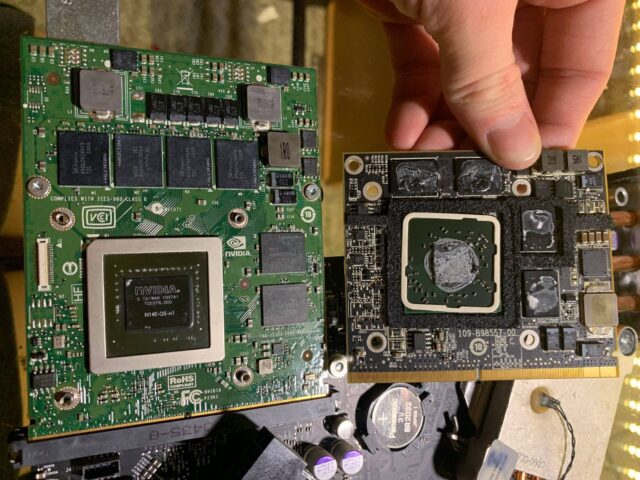 Is it worth it?
As always in the case of a device no longer in circulation, the objectivity of owning such a thing remains with you. Here's my take: As of the time of writing this article in September 2023, Intel Macs are entering their twilight years as Apple Silicon takes over. The question will increasingly likely be a factor of cost versus benefit, i.e; "bang for the buck". A cheap i7 computer with some minor upgrades can still pack a serious punch, however, MXM GPUs don't come cheap. The last iMacs which shipped with an MXM-based GPU were the Late 2011 models. They are perfect contenders for such projects, as they had failing graphics cards, and even the i5's shipped with Quad core chips. That being said, is an upgraded iMac the right thing for you?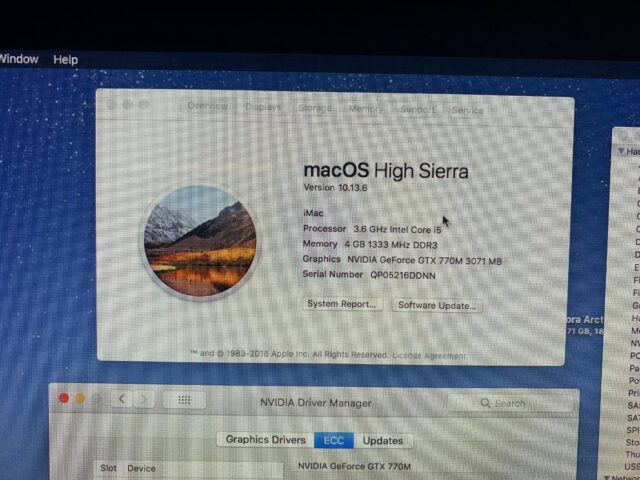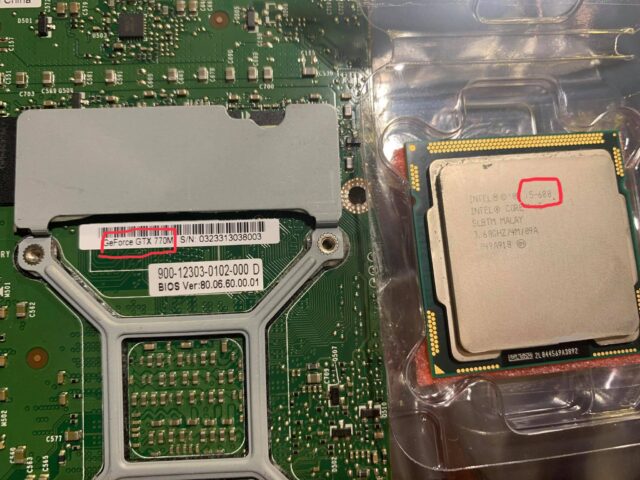 Some notes/specifics about this project
The GTX 770M is a Kepler card, which means it's natively supported by Mac OS up to Big Sur. Monterey Beta 7 breaks Kepler compatibility, OCLP gives full compatibility via patches from Mac OS Monterey onward.
The VRM on the GPU of the GTX 770M is low enough to where the heatsink still gives some room.
The GPU screw cutouts are identical to the R5XXX cards, so it's quite literally plug and play.
The GPU Metal bracket must be removed off the GTX 770M and replaced by the one off the R5XXX card in order to make it compatible with the iMac heatsink
The GTX 770M will protrude into the HDD bay, either an antistatic film or tape is needed to prevent a short if metal contacts touch the HDD on any metal surfaces
Alternatively, an SSD can alleviate this issue of the new GPU removing some HDD bay space
You lose brightness control and a boot screen. There's no way around this, unfortunately, as the card was taken out of an Alienware laptop from 2013/14.
Boot screen functionality is restored with OCLP.
The i5-680 is the best CPU for the 21.5″ iMac. The i7-960 will not work since the TDP limit in this iMac model is 74W, the i7-960 uses 95W.
This is not a difficult process, you simply need to be mindful of the wires and be patient. It is extremely easy to forget the tiny power switch wire after reassembly, giving the FALSE impression that the computer doesn't work, when in reality it does.
I strongly recommend the iMac has an already working installation of Mac OS prior to this upgrade, hence, why this was simply "plug and play". I did not have any boot looping issues.
This project was completed January 19th 2019, so the prices reflect the upgrades purchased then.
If you're using. 21.5″ iMac, MXM-B GPUs must be lower end, not high powered ones. This is because the heatsink doesn't meet properly with the GPU and being unable to upgrade the heatsink. The GTX 770M is pushing it with the thermal envelope and TDP of the iMac as-is. GTX 765M and below are recommended for MXM A heatsinks.

GTX 770M Price: $138

i5-680 Price: $30

iMac Mid-2010 21.5″: $100
This article is about the project I'm working on. For everything you need to know about how to accomplish this project, visit the Mac Rumors forum post right here at: https://forums.macrumors.com/threads/2011-imac-graphics-card-upgrade.1596614
Uninstalling the old card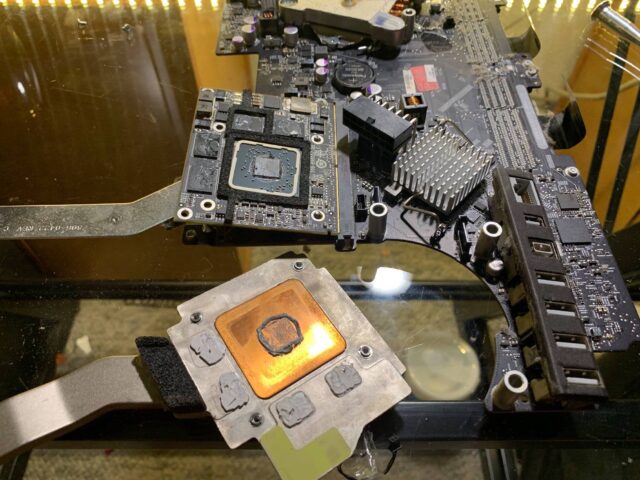 New vs Old CPU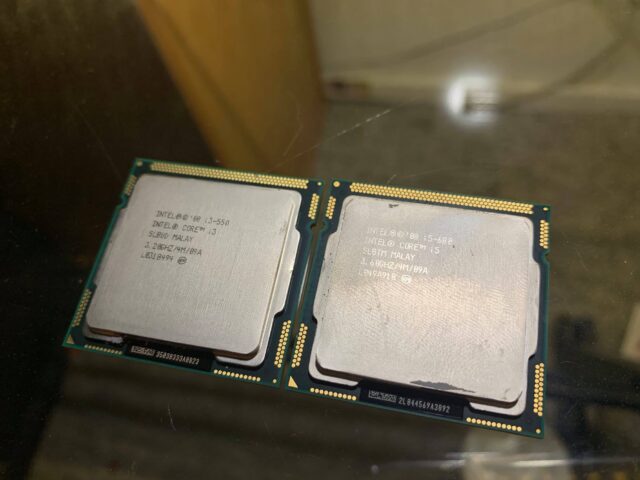 Reusing the Radeon GPU metal bracket for the GTX 770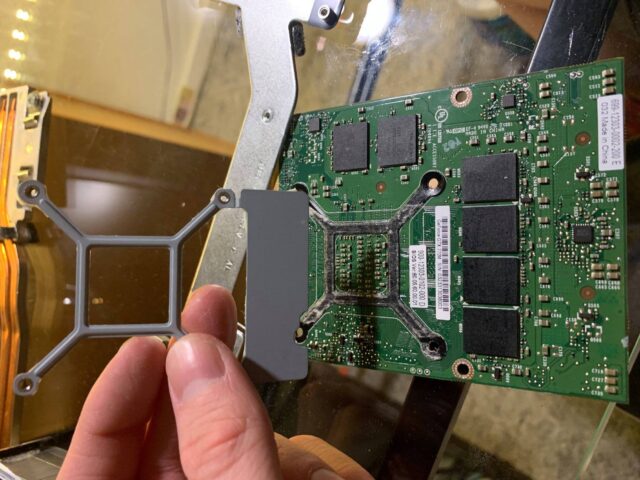 VRM height clearance is good!
Applying new thermal paste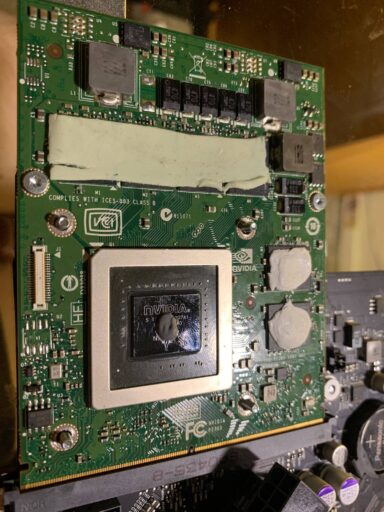 GPU mounted in place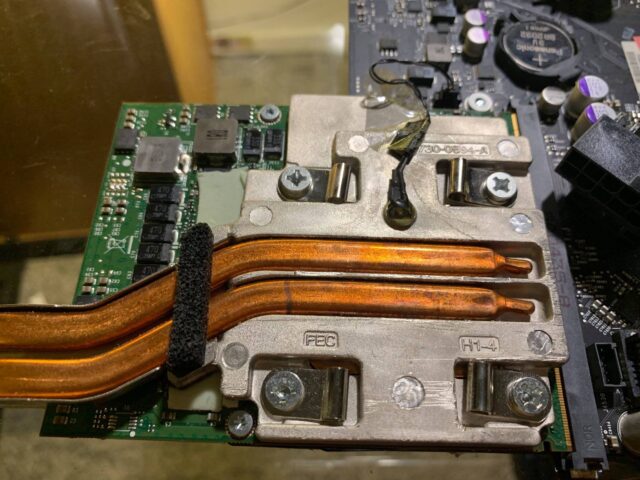 End Result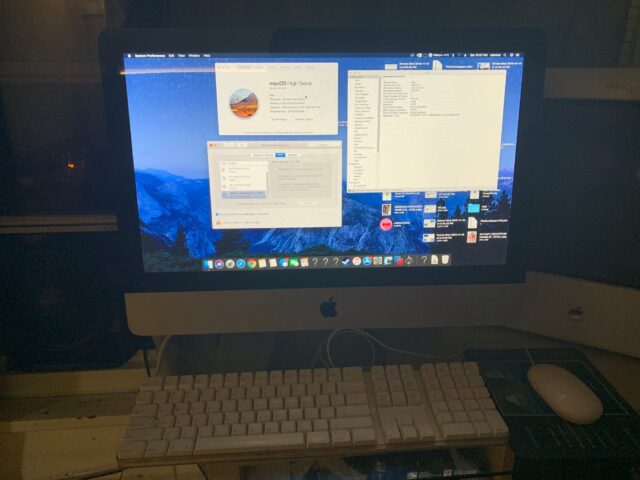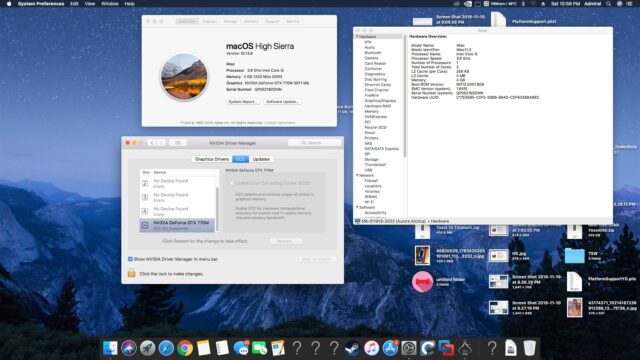 What now?
The machine can game like never before, I downloaded and played Alien: Isolation on this computer to give it a run for its money. It's not buttery smooth, but it handles its own super well! Otherwise, it's more or less a bog standard GPU upgrade for a computer, but in an iMac. Although this project was done at a time when High Sierra was still relevant, there are fewer MXM GPUs as time goes on, and as a result, upgrades are harder to come by. A GTX 770M would be okay up to Big Sur without patches. Using the same card beyond Big Sur requires OCLP. Either way, the computer remains a powerhouse, ready to mow down anything it's destined to do.. it has enough juice for a while.
How to disassemble
Guide to this specific iMac model's teardown: https://www.ifixit.com/Teardown/iMac+Intel+21.5-Inch+EMC+2428+Teardown/5485