Officially, Minecraft 1.5.2 was the last version playable on any PowerPC Mac, as it was the last version playable on Java 5. The release date of 1.5.2 is May 2nd 2013, around the same time retina MacBook Pros just started shipping. Minecraft 1.8.9 was released December 9th 2015, adding several features and new textures over 1.5.2. I had stumbled upon this sometime in 2022, and wanted to give it a shot on my Power Mac G5 DP 2.0. I'm not entirely sure if I saw it the first time on Reddit, or if I Googled it, nor where exactly I had downloaded my copy of Minecraft 1.8.9 for PowerPC, it's been a year or so. There is a different version of Minecraft called "Minecraft PowerPC Edition", which is not reflected in this article, as it uses a different version of Minecraft. Minecraft PowerPC edition is optimized for PowerPC Macs as well, and is worthy of checking out on it's own. In this article, we will instead be discussing version 1.8.9. I'll provide some links to sites I stumbled into, share some screenshots, and briefly discuss my thoughts on my experience running this on my own computers. This is basically a port of Minecraft 1.8.9 to Java 5.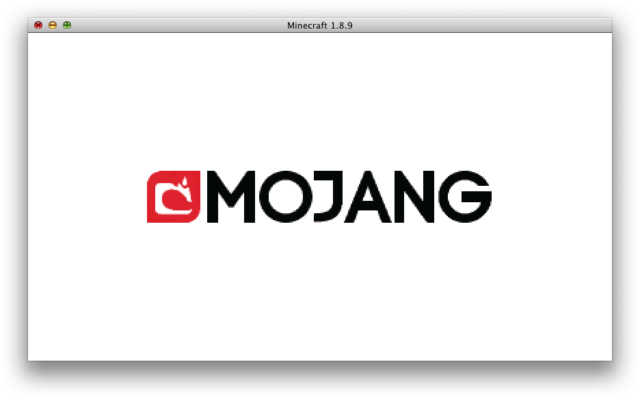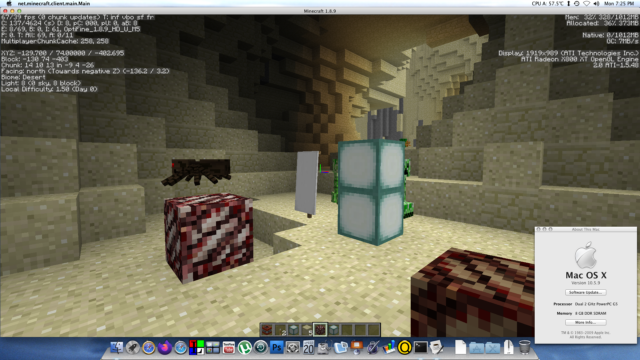 Links
Download Minecraft 1.8.9 for PowerPC: https://www.mediafire.com/file/fykczc56i6onp5v/Minecraft_1.8.9_0.zip/file
Reddit post under r/vintageapple: https://www.reddit.com/r/VintageApple/comments/qlkuxu/minecraft_189_plus_special_powerpc_smp_server/
Recommended Specs
I don't impose on any specific limitations for this version of Minecraft, but it is better to have a stronger PowerPC computer. Below, are the results for various Macs.
My Build:
Power Mac G5 PCI-X DP 2.0
PowerMac7,2 (2003)
2x 2.0 GHz PowerPC G5 (PPC 970, Gen 1)
2 CPUs, 1 Core Per CPU, 2 Cores total
64 Bit, 512k L2 per CPU (1MB total)
Dual 1 GHz System FSB (per CPU)
8 GB (8x 1GB sticks) PC-3200 400 MHz DDR1
893.3 GB (4x 240 GB Sandisk SSD Plus) Boot
Raid0, Striped, 348 MB/s R, 268 MB/s W
ATI Radeon X850 Pro Platinum 256 MB AGP 4x
(ATI Radeon X850 XT Mac edition rom flashed, with repairs and slight overclock)
27" Samsung LC27F591FDNXZA 1080p LED backlit Curved IPS LCD VGA/HDMI 2020 Display
macOS X "Sorbet" Leopard 10.5.9
Both OEM (Apple) Magic Mouse 1 + Wireless KB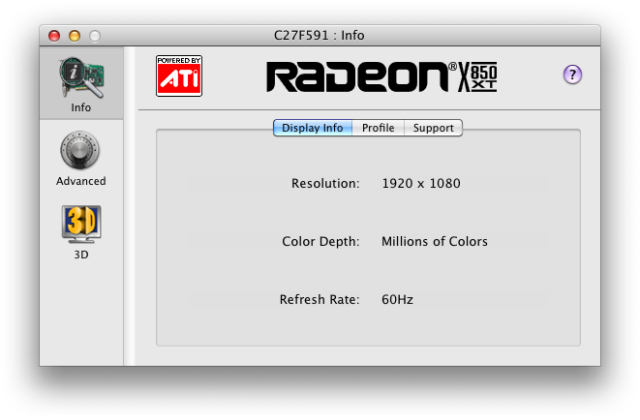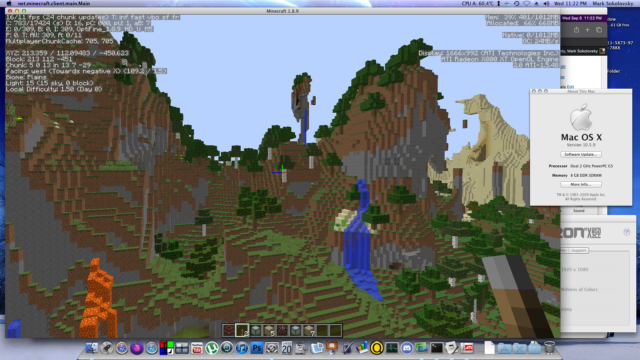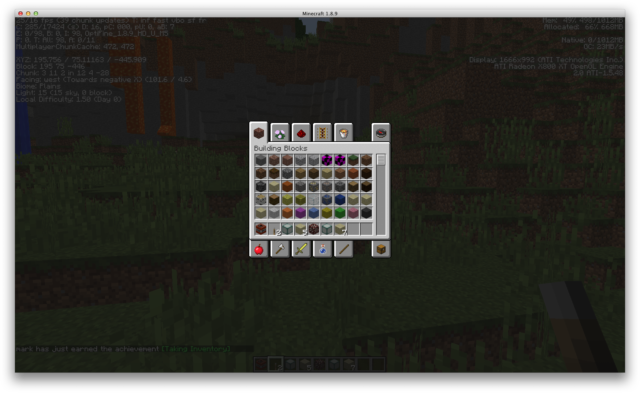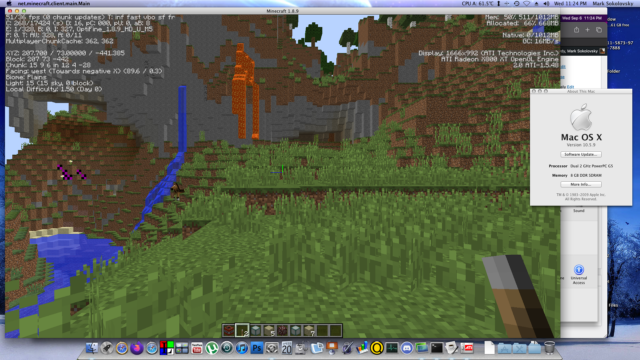 How it runs on a Power Mac G4:
Power Mac G4 Sawtooth (1999)
PowerMac3,1 (AGP Graphics)
1.2 GHz PowerPC G4 7447 of unknown origin
1 CPU, 1 Core
32 Bit, 256KB L2, 2MB L3
100 MHz System FSB
2 GB PC-100 SDRAM (4x 512MB)
240GB Corsair SSD (Boot), 160 GB IDE HDD (Storage), 1 TB Sata HDD (Storage)
ATI Radeon 9800 Pro 128 MB Flashed
Generic ONN Walmart 1080p display
macOS X "Sorbet" Leopard 10.5.9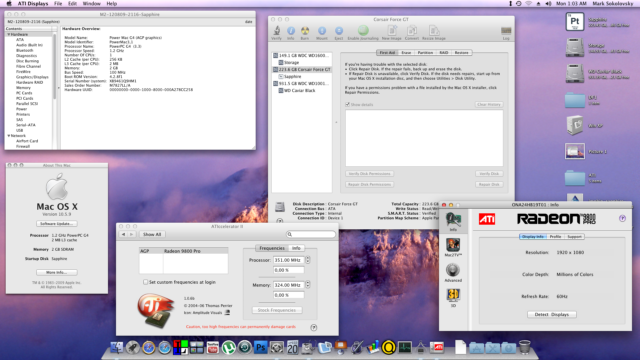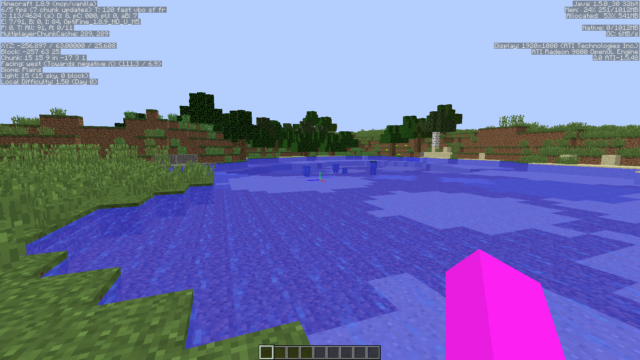 Some notes
Performance gains will be seen mostly with stronger CPUs. With settings turned down, the game can perform better on lower end hardware. Attempting the same settings on the G4 vs the G5 results in a drastic difference between the two machines due to their generational differences. While things are loading, the performance on the Power Mac G4 is sluggish and nearly on playable, despite having better hardware for that specific computer. On the Power Mac G5, the FPS ranged anywhere from the low 20's to the high 50's, depending on where you're at. It peaks to 70/80 once things are loaded, albeit infrequently. It also looks as though optifine is baked right into this PowerPC build! It reminds me of the mods I used to put into my Minecraft worlds when running them on my own Mac Pros. Makes me wonder, are mods at all possible with this? I personally haven't added any, but perhaps Minecraft mods are a great topic for another article.
In Conclusion
It's great to know a more modern release of Minecraft is available for use and play on PowerPC Macs, adding yet another game to the arsenal. While performance can be varied, user input with both the hardware and software can improve the experience. To gift this platform such a gem, is to extend the magic of the creativity within the game itself, thus, adding another avenue to the longevity of our Macs.