There are objective standards to judge technology by, by how well they perform in relation to how much they cost, their longevity, repairability, etc; but how much they impact you are subjective. As a technology enthusiast, I understand this a result of having a few different Macs from various eras. And there's a saying I remember from somewhere too, it goes something to the effect of "what will matter is what we learn, and how we use it".. is the precise knowledge of the nature of the device I use enough to justify owning it, let alone enjoying the subjective art of it's own design? Unwrapping the pristine, space gray slab absolutely obscured the perception for me. In truth, no device's value should be determined this way.
So then, what exactly was the 15" butterfly keyboard MacBook Pro in reality? Consensus shows it's one of Apple's least liked laptops.. so much so there was a $50 million lawsuit settlement approved by a federal court judge in California. I knew exactly how finicky the laptop was, whilst simultaneously gawking at the DDR4 RAM, the 6 core 12 thread CPU, the 4 GB Radeon GPU. At the time there wasn't any lawsuit, however, many claims had been made about keyboard issues. These thoughts never crossed my mind when stepping into Micro Center that day, as I was obsessing over the generational leap the specs represented. I wanted something fast, sleek, space gray, something to help me with my job at that time. This was 2018, it felt like 4-core laptops were out forever by then, and I wanted a new Mac. In this article, I won't at all defend the technical flaws of the "butterfly" MacBook Pro. This is only my own story. It just so happens to be, miraculously so, my own lasted.. but as a technology enthusiast, it took time and effort to keep it clean and dust free.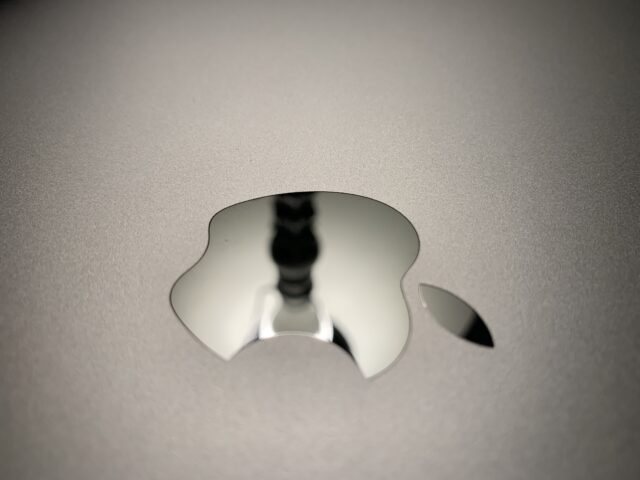 Specs
MacBookPro15,1 (2018) 15″ MacBook Pro
2.2 Ghz Intel Core i7-8750H, 6 Cores, 12 Threads, 14nm Intel Coffee Lake
32k L1 Per Core, 256k L2 Per core, 9 MB L3 system shared not dedicated to cores
16 GB LPDDR4 (PC-19200LP??) 2400 MHz RAM
AMD Radeon 555X 4 GB, 855 MHz, 768 Shaders
256 GB PCIe Soldiered SSD, ~2500 MB/s R/W
Shipped with: macOS High Sierra 10.13
Now has: MacOS Ventura 13.2.1
2880 x 1800 widescreen LED backlit IPS, 220 ppi, 178′ viewing angle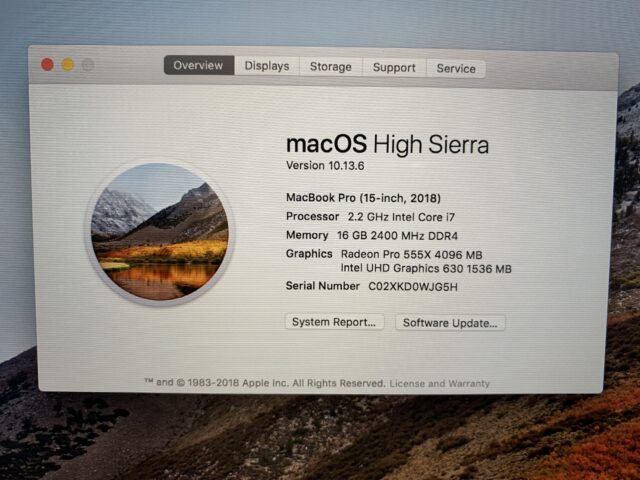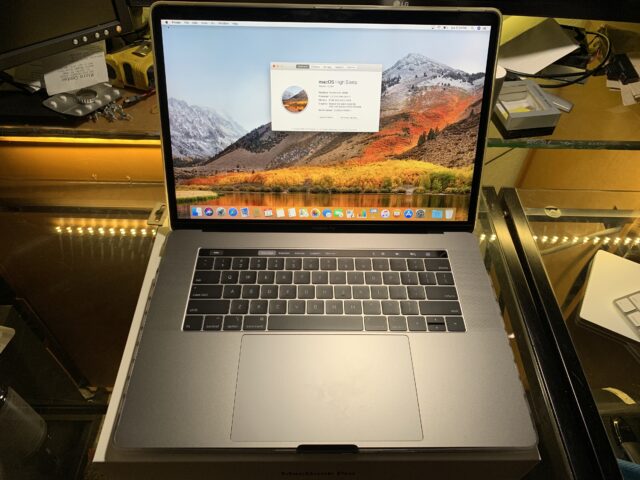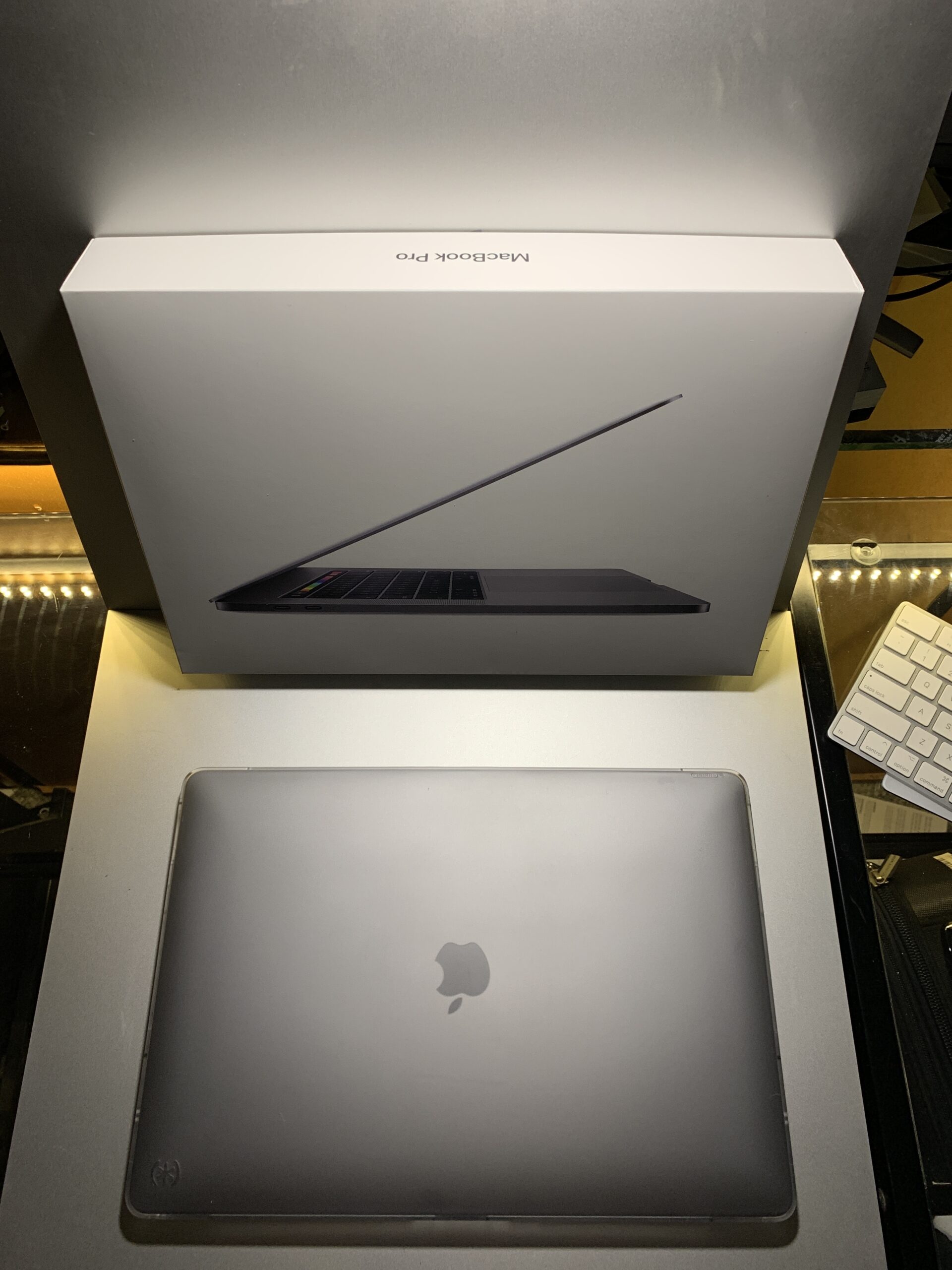 Thoughts, in the beginning
I was ecstatic, of course. What were the possibilities? I wound up with the base model as it felt it provided the best bang for the buck. 256GB of storage is quite limiting, even on a modern device. I know it's fine to use up the storage as needed, but it's the boot volume, and it can't be full. I get uncomfortable as soon as any drive hits 100 GB free space left if it's a critical machine. I managed. I also had my fingers crossed, because I remember a time when I used 2011 MacBook Pros on and off, and was hoping there wouldn't be any repeat of the graphics card issues presented on those models. That being said, I also wanted to really push the limits of this MacBook Pro, too. I'm not quite sure where I heard of Luna Display – but it caught my attention when I stumbled into an ad for it. It was $89, pricey, but it turned my 11″ 2018 iPad Pro into a second display, in Mojave, before even Apple's sidecar in Catalina. Whoa. These are exactly the kinds of whacky possibilities I was thinking about. Photoshop without hiccups, 4K video streaming, safari browser effortlessly handling dozens of tabs and doing my work, and testing games on and off.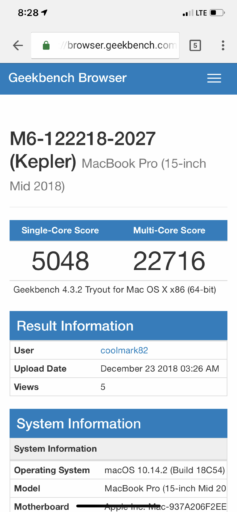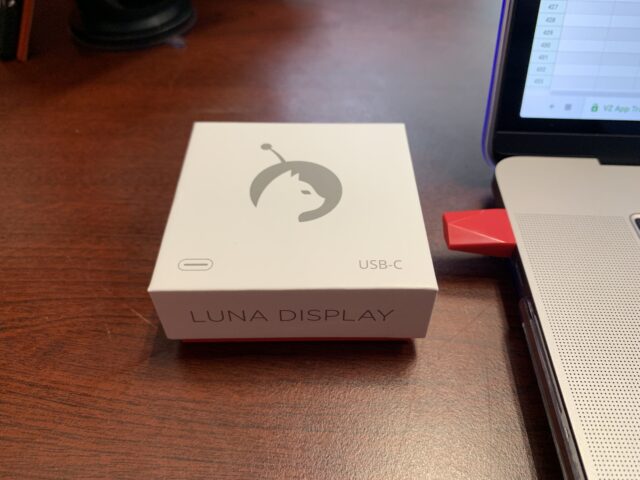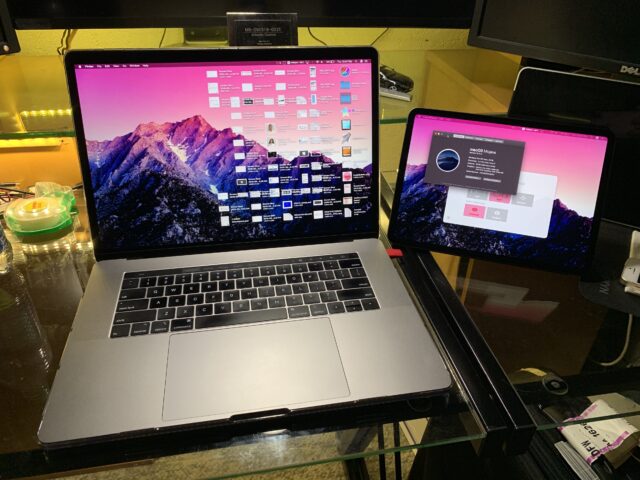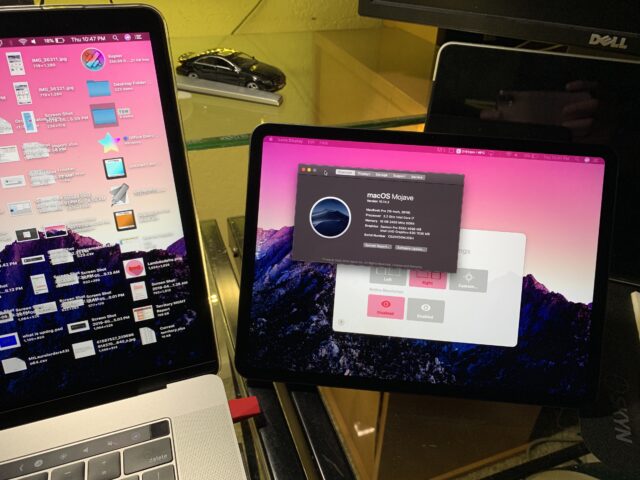 Charging Ports
It never ceased to amaze me I could charge from any one of the 4 ports.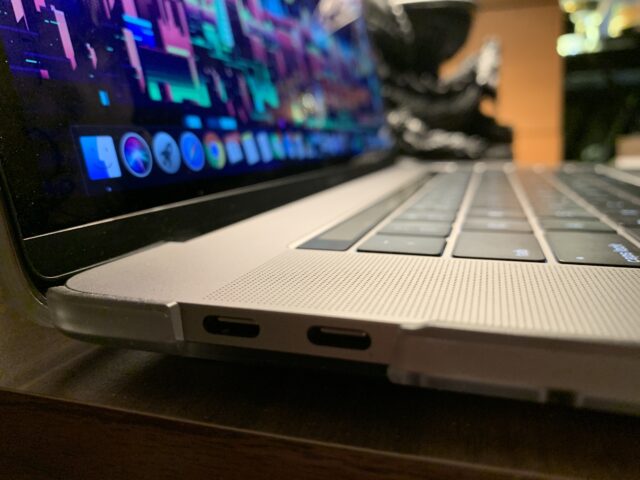 TouchBar and Touch ID
Oh the TouchBar. Did I use it much? Not really, except when I really had to, to interact with system controls. Fortunately mine never really had any issues except glitching out once or twice during a few software updates. Honestly, it looks cool and I like how it lights up. But I guess that's about it? It just looks cool lit up at night, but it's useless. Touch ID on the other hand.. is SUPER clutch! Would never go back to a MacBook Pro without TouchID or FaceID.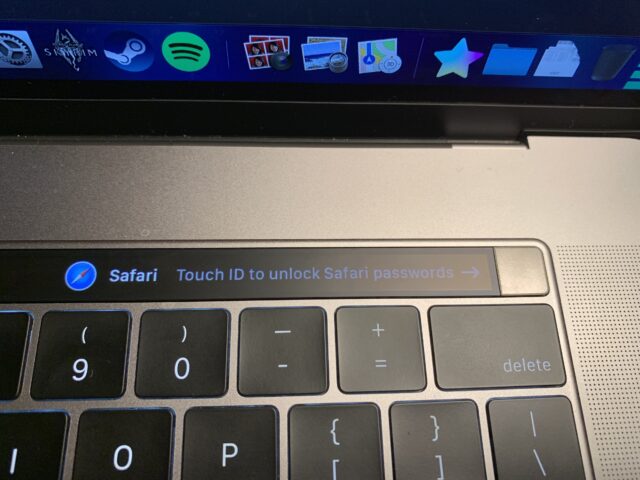 The "MacBook Pro" font printed on the bezel is different, too.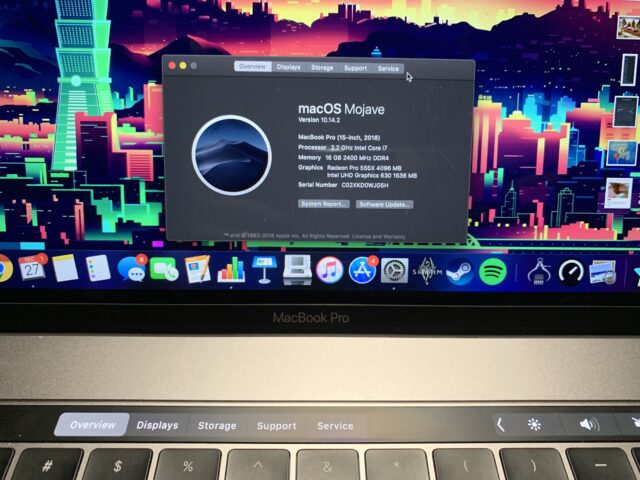 2008 17″ MacBook Pro vs 2018 15″ MacBook Pro.
I miss that 17″ 2008 MacBook Pro, it ran like a charm when it did, not entirely sure why it died. Perhaps the graphics card.. wait a minute, this article is about the other one! Well anyway here they are side by side.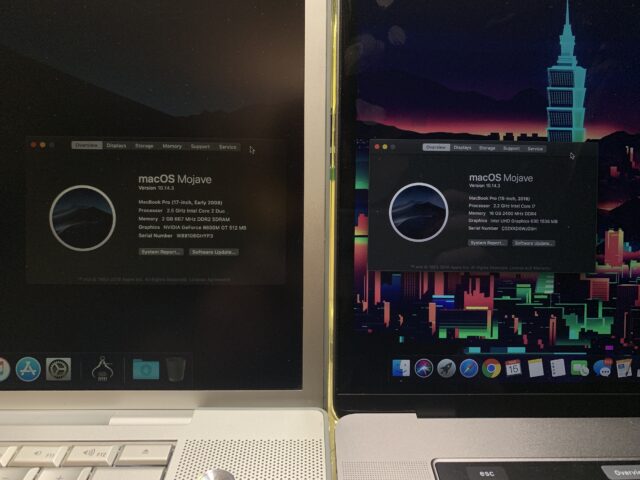 Even more pictures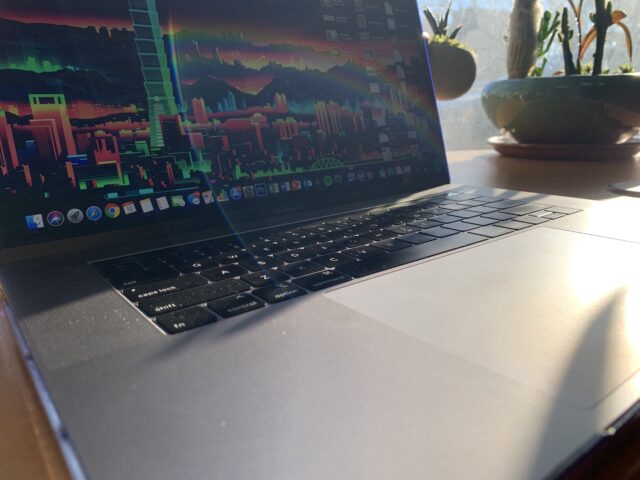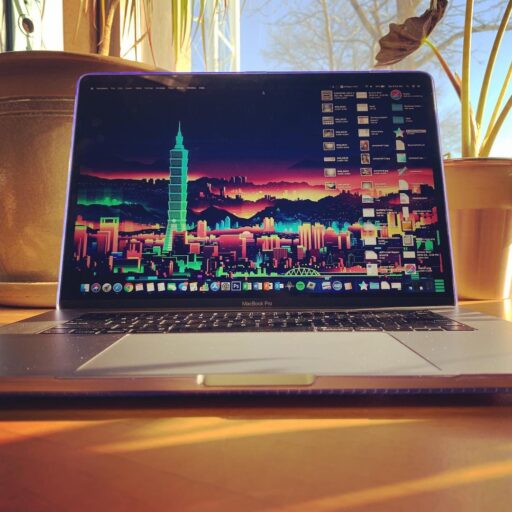 After a year or so
I had an idea of the level of performance the machine had. Unfortunately, Luna display always forced the Radeon 555X on, which made it difficult to manage battery life if I had both the laptop and iPad unplugged with the iPad acting as an external display. Usually I'd leave everything plugged in. I wanted to disassemble the machine and give it new thermal paste after few years, but after watching the video I realized how delicate and intricate this model is, more so than most (if not, any) Mac model(s). I didn't want to overheat the laptop due to old thermal paste, but also didn't wanna damage the tiny components while I needed to use this on a daily basis. It ran quite hot, but it helped to have Macs fan control downloaded and running with the fans kicked up. According to a Linus Tech Tips video I watched, to paraphrase their findings for a similar or later model, they said the MacBook Pro's case is not designed to handle the VRM's needed for the laptop's CPU. They heat up, and the CPU seems to be also inadequately cooled too. Still, miraculously, mine trucked on. I kept it scratch free, dust free, crumb free. It wasn't easy.
After a few years
Was it worth the money? Though it was worth it for myself as it had lasted though the time I worked, it could've cost less. It's hard to recommend something which I view with more aesthetic and technical favoritism than what this machine delivers in practicality. Between the flexgate display issue, to the bezels themselves being brittle, to the random keyboard failures, easily scratched surfaces, overheating, soldiered components preventing upgrades, and USB-C only ports, this laptop has such audacity to be charging consumers as much as it did. My recommendation is to spend no more than $300 acquiring one of these, and if possible, for less. Take my experience as someone who bought one and used it while it was new, . Still, though, what a beautiful laptop.