Bitty Boxen: The Eden Platform
Let's Get Real Small
- 2002.07.08
It sounds like the name of a bad sci-fi novel, but what the Eden Platform (or, more properly, the Eden Embedded Systems Platform) is all about is a low power, compact computing solution. The retail version of the Eden Platform is the EPIA motherboard/CPU bundle.
No, you don't buy your CPU and your motherboard separately . . . it's a package deal.
The motherboard is smaller than even the smallest microATX or flexATX motherboard: 5" x 5" square. However, it fits easily into standard mATX and flexATX cases, and if you go to a case specifically designed for VIA's mini- ITX form factor, you can really cut the size down.

For example, the smallest mini-ITX barebones system that Case Outlet of Fremont, CA, USA is selling is only 11.5" tall by 2.5" thick by 10.75" deep. That's the size of a looseleaf binder or a hardcover book, not the size that you expect when you think of a computer.
The case will accomodate a regular 3.5" hard drive and a notebook-size CD-ROM, DVD-ROM, or CD-RW drive. Rather than use a standard power supply, this little computer takes a page from laptops and uses an external "wall wart" power supply.
If you really want to get geeky and creative, the little motherboard lends itself well to custom projects. The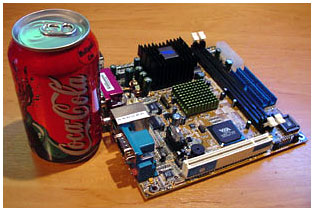 EPIA hasn't been out for more than a few months, yet there have been several documented case mod projects up on the Web, including one done for VIA Technologies to show the little mobo off at the Computex Taiwan show. The site Mini-ITX.com is full of examples of ingenious case mod projects.
How about a wearable computer? This would definitely be a good place to start for such a project.
If you are looking for heavy duty number crunching power, however, perhaps you should look elsewhere. This doesn't play games well; it really requires a decoder board like the Real Magic XCard or the old Real Magic Hollywood Plus to play DVD properly, and basically the 800 MHz version specs out as the rough equivalent of a Celeron 400 according to some reports.
My friend Chad, who looked at the Eden for potential use for rendering digital video projects, said it was not the best choice for such data intensive work, not even in a clustered environment.
However, it is ideal for Web surfing, for office work like word processing and spreadsheets, and so forth. Iit would make a perfect Small Office/Home Office file server, and with the 550 MHz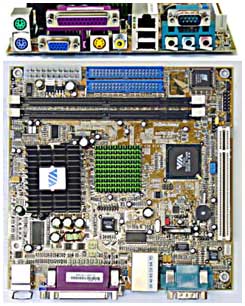 version and a cool-running hard drive (5400 RPM is a good rule of thumb for finding a drive that stays fairly cool) it can be run fanless, making it a good choice for those who want a perfectly silent computer. Hello Steve Jobs... ;-)
The low cost and the compact nature of the platform make it a natural for efforts to bring computing to more and more people who might have not been able to afford a computer for themselves. I could see uses for EPIA-based machines in education, as a computer that students could bring to school; plug into a keyboard, mouse, and monitor at their desk; then take home and plug into a keyboard, monitor, and mouse at home.
If you want all this, can handle something a little bit bigger than a breadbox, and would like to have more power for things like gaming and graphics and number crunching, your best bet is to look at an NVidia NForce or Radeon IGP-based mATX motherboard and a small mATX case. We'll be looking at that solution next time.
A short postscript: I am writing this in Kate, a text editor running under KDE 3 and Red Hat Linux 7.3. I don't know what happened to Dirk Pilat, but running Linux is a real pleasure with this current version of the K Desktop Environment. Red Hat 7.3 installed like a dream, and KDE 3 is more polished and more usable now than it was even one version ago.
Contrary to the evolution of most operating systems, this new version of Linux plus KDE is leaner, meaner, and less of a resource pig.
Folks, if you are afraid of Linux, there's no time like the present to try it. Red Hat installs easily on most systems. And you can't beat the freedom of using software that is under the GNU Public License. Nobody's looking over your shoulder as to whether or not you have the right to use your software, you don't have to worry about losing that little book with a certificate attached to it, you don't have to feel guilty about sharing your software - hey, that's why the GPL exists!
I intend to phase out my personal use of Windows. Linux is just getting better and better, and the reasons for keeping Windows are getting less and less each day.
Try it, you'll like it!

Join us on Facebook, follow us on Twitter or Google+, or subscribe to our RSS news feed
Today's Links
Mac of the Day: Quadra 605 (Performa 475), introduced 1993.10.18. The least expensive Mac until the $799 iMac gave the LC 68040 power.
Recent Content
Custom Search
Follow Low End PC on Twitter
Join Low End PC on Facebook
Favorite Sites
MacWindows
Deal Brothers
DealMac
Affiliates
Amazon.com
The iTunes Store
PC Connection Express
Parallels Desktop for Mac
eBay
Advertise