3 External Drives for Mac mini, iMac G4/1.35 GHz Upgrade, Death of a Hard Drive, and More
Compiled by Charles Moore and edited by Dan Knight - 2005.07.15
This Week's PowerBook, iBook, and Notebook News
General Apple and Mac desktops is covered in The Mac News Review. iPod news is covered in iPod News Review. News about Apple's transition to Intel CPUs and other Intel developments is covered in The Macintel Report.
All prices are in US dollars unless otherwise noted.
News & Opinion
Reviews
Products and Services
Tech Trends
News & Opinion
Buying a New iBook: To Wait or Not to Wait?
billpalmer.net's Bill Palmer says:
I may have once again leaned back the other direction in my ongoing internal iBook-PowerBook debate. I know, this has to be at least the fourth time I've officially changed my mind, and if that doesn't make me Mr. Wishy-Washy, I don't know what does. In defense, though, quite a few of you reading this have been this indecisive about your product purchases - you just haven't been silly enough to do so in public.
"....There's quite a bit of attraction to a product that costs me a thousand dollars less, allows me to not have to carry around three extra inches of screen space that I no longer need, and isn't missing a single feature that I need . . . I almost ordered one.
"And I would have . . . except for the fact that new iBook models are presumably just around the corner....
"I can't seem to make myself pull the trigger. It's not that I don't know anything that you don't. In fact, I don't know anything, beyond the fact that the iBook line almost always gets upgraded every six months, and this time around it's been nine and counting...."
iPod to Dock with Laptop, Serve as Touchpad?
iPod Hacks reports:
"It's hard to guess what Apple will think of next when it comes to extending both the iPod and its Macintosh line of computers. According to a recent report, it seems that tighter integration between the two may be on the horizon.
"A look at Apple's patent application no. 20040224638 reveals a sprawling description of many detailed aspects of a digital music player system that, frankly, makes for fairly dull afternoon reading. A close look, however, reveals the description of a most interesting docking arrangement; it seems that Apple may be planning to produce an iBook or PowerBook laptop computer that allows a future iPod or iPod mini to dock into its surface, with the iPod's touchpad (or future touchscreen?) serving as the laptop's trackpad."
Podcast Your Eyes on the Future of Sound
The Independent's Charles Arthur says:
"You'll have heard by now of blogs. (If not, see me at the end of the column.) You can already get pictures in them, but what if blogs used the other media formats that web pages do, such as audio and video? Why shouldn't people who have a thought to impart record it digitally, so people can download and listen to it in their own time?
"People have been recording content, principally audio, for their blogs since 2001. The phenomenon gathered steam in 2003, once a simple way to contain the audio in the 'RSS feed' of a website (which lets you monitor it without having to visit the site) was worked out.
"Thus was born 'podcasting' - because it was sort of like broadcasting, and because if you had an iPod or another digital music player you could copy the file to that. Lots of people offer podcasts via their blogs. The problem is finding a way to keep up with them."
Reviews
12" PowerBook Thin and Feature Rich
Computerworld's Ken Mingis says:
"The old adage that you can never be too thin or too rich seems like a tailor-made description of what road warriors want in their laptops: thin, lightweight machines that are feature-rich and, of course, inexpensive.
"With its latest generation of PowerBooks, unveiled back in January, Apple Computer Inc. may have had that adage in mind: It incrementally updated its aluminum-clad laptop line with faster processors, faster SuperDrives and hard drives; doubled the memory - and cut prices. The message was simple: You get more for less.
"For the past few weeks, I've been using one of the new 12-in. PowerBooks, loaned out by Apple for review purposes, and I've found it to be almost everything I'd want in a portable computer...."
Products and Services
MCE 8x DVD±R/RW "SuperDrive" Upgrade
PR: Tiger is a roaring success! And now, for a limited time only, get Apple's new Mac OS X 10.4 (Tiger) for only $79 ($50 off the regular price!) when you purchase this drive! The new MCE 8x DVD±R/RW "SuperDrive" upgrade with both Double Layer and Dual Layer support for the PowerBook G4 allows PowerBook users to author professional-quality DVDs as well as create, store, and share their collections of videos, music, and photography. Plus, the fast, highly reliable drives are compatible with most computer and set-top DVD video players and other DVD burners &endash; so video and data DVDs created using these drives can be shared with business associates, friends, and family. Starting at just $199.
MCE Technologies was the first company in the world to engineer and offer a SuperDrive upgrade for the PowerBook G4. We continue this long heritage with the MCE 8x Internal SuperDrive Upgrade with both Double Layer and Dual Layer support... easily the most technically advanced optical drive ever created for the Apple PowerBook. Recording at 8x to both DVD-R and DVD+R media and at 4x to BOTH DVD+R DL (Double Layer) and DVD-R DL (Dual Layer), enabling you to record up to 8.5 GB of data on a single side of either a Double Layer OR Dual Layer DVD, this drive eclipses every other PowerBook optical drive on the market today... even those by Apple. With Tiger (Mac OS 10.4), you can record to 8.5 GB Double Layer discs natively... by dragging and dropping right in the Finder!
The additional storage capacity of the DVD±R Dual/Double Layer discs enables you to record up to 4 hours of DVD-quality video or 16 hours of VHS-quality video, without the need to turn over the disc. You can now archive up to 8.5 GB of computer files on a single disc, which almost doubles the storage capacity compared with the 4.7 GB for the single-layer DVD-recordable discs currently available. In addition, the MCE 8x Internal SuperDrive Upgrade with Dual/Double Layer Support is the ONLY PowerBook Drive available today that supports 8.5 GB Double Layer Recording in Apple's iDVD (v5.0.1 & Tiger required). No other PowerBook optical drive supports this capability... not even Apple's! Also, new, lighter components enable this drive to weigh 20% less than Apple's current optical drives... shaving a tenth of a pound off the overall weight of your PowerBook G4.
The MCE 8x Internal SuperDrive Upgrade is a dual media drive and records to both DVD-R/RW and DVD+R/RW media. It also reads and writes standard CD-R/RW media and is compatible with all of Apple's iApps including iTunes, iDVD, iPhoto, and Finder Burning.
You may install it yourself* or, if you prefer, you may have the MCE 8x SuperDrive upgrade professionally installed into your PowerBook G4 by MCE Technologies' worldwide Authorized Upgrade Centers.
(*) NOTE for 12" PowerBook G4 Owners: MCE highly recommend that your drive be professionally installed. The installation of the optical drive into the 12" PowerBook G4 involves the removal of some 40 plus screws and parts and is not for the faint of heart. Only an experienced technician should attempt this upgrade into the 12" PowerBook G4.
Features
8x DVD-R and 8x DVD+R recorder
6X DVD-RW and 8x DVD+RW recorder
4x DVD+R DL Double Layer recorder
4x DVD-R DL Dual Layer recorder
24x CD-R and 24x CD-RW recorder
Convenient slot-loading mechanism
2 MB Cache Buffer
Buffer underrun protection
Bootable
Compatible with iDVD, DVD Studio Pro, iTunes, iPhoto, Disc Burner and Apple DVD Player
The new MCE 8x Internal SuperDrive Upgrade is compatible with the 12", 15", and 17" Apple PowerBook G4. Whether you have Aluminum or Titanium, this upgrade is compatible with your PowerBook G4.
The Double Layer DVD+R system uses two thin embedded organic dye films for data storage separated by a spacer layer (see figure). Heating with a focused laser beam irreversibly modifies the physical and chemical structure of each layer such that the modified areas have different optical properties to those of their unmodified surroundings. This causes a variation in reflectivity as the disc rotates to provide a read-out signal as with commercially pressed read-only discs. Did you get all that?? It just means that there are two recording layers inside the DVD instead of just one... two layers means twice the recording capacity! Now wasn't that easier?
Not every disc is created equal. The MCE 8x SuperDrive Upgrade for PowerBook G4 implements an onboard liquid crystal tilt/thickness compensator... the first time ever in a portable form factor. This cutting edge technology provides accurate, reliable read and write performance with a variety of disc characteristics, even with irregularly curved or thick / thin media. This technology is also effective in recording DVD+R double layer media.
The MCE 8x Internal SuperDrive Upgrade with Dual/Double Layer support is compatible with all versions of Mac OS X, including Tiger, and is seamlessly compatible with Apple's iApps including iTunes, iDVD, and iPhoto. In addition, it is compatible with Finder Burning and DVD Studio Pro, Apple's professional DVD Authoring software.
Portectorz: Rugged Data Port Protection for Your 'Book
PR: RadTech, makers of iPod and mobile computing accessories and more, announced immediate availability of Portectorz.

RadTech Portectorz provide positive protection for your PowerBook or iBook's data, video, and audio ports. Ports stay clean, dry, and positively protected from foreign objects and debris when fitted with custom-molded Portectorz.
Constructed from the finest high-polymer silicone to eliminate any tackiness, Portectorz are uni-die molded and lightly frosted for a smooth and elegant appearance that beautifully complements your notebook's style.
Portectorz are molded to exacting specifications to ensure a perfectly sealed and secure fit - sensible insurance for potentially costly component damage. Low-profile design ensures compatibility with all sleeves, bags, cases and packs. Use the entire Portectorz panel, or easily custom cut the strip to create protection for any of the ports or combinations you desire - like those you use infrequently. Portectorz provide the protection and flexibility you need to stay productive!
Portectorz start at $19.95, and are available for 12" and 14" iBook and 12" and 15" PowerBook. Portectorz for 17" PowerBook coming soon.
RadTech Updates MacTruck Hard Case, NeoCase Soft Case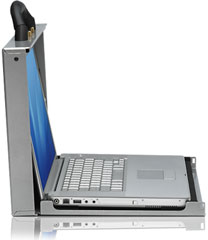 PR: RadTech, makers of iPod and mobile computing accessories and more, today announced immediate availability of the next-generation MacTruckô work-in notebook case.
Building on the success of the first-generation MacTruck, the new MacTruck design features enhanced usability while making it lighter, stronger and more secure than ever.
Constructed from 2.5 mm thick 5052-H32 aluminum alloy the MacTruck acts as an industrial-grade protective enclosure that quickly transforms to an ergonomic workstation at the click of a latch without having to remove the notebook. The open position allows full access to all ports, optical drives and controls, while providing the optimal incline for ergonomic keyboarding. A shoulder strap and D-ring kit option is available for added comfort while on the go.
Popular with creative and entertainment professionals, the MacTruck's work-in feature is ideal for session and location work. And, it is unparalleled in field-use as the most rugged and functional enclosure available for geologic, construction and military applications.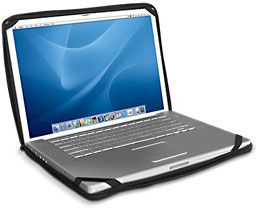 RadTech's NeoCase, constructed from top-grade 3mm Type-W Siliconized Neoprene, offers sleek and stylish protection while providing the speed and convenience of work-in capability. Simply unzip, and it's ready to work anywhere. Durable and water repellent, NeoCase features retractable Nylon handles and top-grade YKK zippers throughout flange protected to ensure non-contact with hardware.
Specifically designed for Apple Notebooks, both the MacTruck and NeoCase come in a range of sizes. NeoCases fit late model 12" and 14" iBooks and 12", 15", and 17" PowerBooks. MacTrucks fit late model 112", 15", and 17" PowerBooks with sizes to fit 12" and 14" iBooks available late July. Only slightly larger than the actual notebook, they are easily stowed in a conventional bag, backpack or suitcase.
Starting at $199, MacTruck for PowerBooks comes in a striking Titanium or Graphite ultra-durable powder coating. Soon to be released, MacTruck for iBooks will be available in a new Sandstone color. NeoCase comes in jet-black Neoprene and is priced at $29.95.
Rebate on surfACE Laptop Stand During Macworld Boston
PR: This offer, on complete surfACE | 1.5 purchases, is available to customers in all the 54 countries surfACE ships to.
surfACE | 1.5 allows for unprecedented mobility for your notebook, allowing you to use it a chair, on a sofa, on a bed or in your lap comfortably. The ability to raise the back off the computer helps with the ergonomics as well as aids in the cooling of the computer, for longer battery life and a quieter work environment by allowing the fan to turn on less often.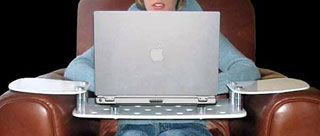 By making it possible to sit, or lay, in a relaxed position for hours at end &endash; without heat or pressure transferred to the legs - this really is the promise of the mobile computer being fulfilled. Now you can concentrate on getting work done instead of trying to find a comfortable position.
Conceived as a piece of fine furniture, surfACE | 1.5 is skillfully designed and crafted out of high quality materials, it looks great in any environment and works with any notebook computer including 17" screen models.
surfACE | 1.5 in short:
The ideal support for your laptop indoor as well as outdoor.
For work, web-surfing, gaming, watching DVDs, and much more.
Great design, high quality materials and fine craftsmanship.
Sturdy, durable, secure, adjustable and expandable.
Supplies convenient surfaces for a mouse, iPod or coffee cup.
Increases comfort, cooling and ergonomics.
Ability to use it on the desktop to raise screen display.
surfACE | 1.5 available in two models:
Clear Acrylic with Aluminum hardware, ($159) now $119
Translucent White Acrylic with Aluminum hardware, ($154) now $115
Link: surfACE | 1.5
iToppers Customized Graphic Mods for the iBook
PR: Now, you can add even more style to the best looking notebook computer out there with iToppers graphic mods designed specifically for your iBook. Easy to install, they not only add more color to your life, but send one more message that you are an individual who expects more out of life.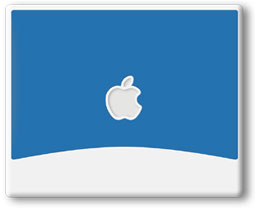 iToppers are customized graphic mods designed for the iBook. Currently, they are available for the 12î and 14" iBook, but mods will soon be available for the new Mac mini.
The mods are custom designed graphics with a pressure sensitive backing that adhere to the cover of the iBook. Our very first custom designed graphic is reminiscent of the original "clamshell" iBooks. Now, owners of the white iBooks can enjoy color too! And the great thing is that they are designed to still show off that glowing Apple logo.
iTopper mods are a great way to hide scratches and protect an iBook. They make the iBook stand out. The mods easily apply to any iBook, plus they can be removed at any time. All this cool customization at a fraction of the cost of many other modification techniques.
Antenna Extends Wireless Range for Less Money
PR: QuickerTek has announced a new antenna for Apple PowerBook Pismo, Titanium and all 15" and 17" aluminum PowerBooks under 1.3 GHz CPU speed. This new antenna features 7dbi of RF power, is omnidirectional and is available for $49.95.
This omnidirectional antenna is ideal for those users who regularly need the ability to work in various wireless network configurations and cannot predict the positioning of the AirPort Base Station or access point. Omnidirectional antennas are designed to offer the best possible all-around utility for highly mobile PowerBook users in AirPort and AirPort Extreme networks.
Unlike other omnidirectional antenna designs, this one offers more power - almost twice as much - providing access to a larger number of wireless networks from a single point. When PowerBook users need a simple, reliable and easy-to-use antenna solution, this new antenna is the answer.
The antenna mounts on the back of the PowerBook screen using a supplied bracket that does not mar the finish of the PowerBook, yet secures the antenna when in use. Once installed, this antenna is available anytime the PowerBook is running. There are no complicated cables to attach and reattach, nor changes to how PowerBook users connect to wireless networks.
Like most QuickerTek products, it's backed with a one-year warranty on parts and labor.
QuickerTek is a recognized leading innovator of antennas and RF products for Apple desktop and portable computers. QuickerTek products can be purchased at Mac dealers such as Small Dog Electronics, TechnoWarehouse, PowerBook Medic, DayStar Technologies, and many others.
Tech Trends
Hitachi Reduces Power Draw in Mobile Drives
CNET news.com's Michael Kanellos reports:
"Hitachi Global Storage Technologies has come out with a new 2.5-inch diameter drive, the Travelstar 4K120 that consumes less power than ordinary drives. As a result, notebooks can get about 20 minutes more life out of a battery charge, said Becky Smith, vice president of marketing.
"The drive cuts power consumption by, among other tricks, slowing down during lull times, similar to what notebook chips from Intel and Advanced Micro Devices do...."
Seagate Preps Built-in Hard Drive Encryption Technology
IDG News Service's Paul Kallender reports:
"Seagate Technology said today it has developed a security technology for some of its hard-disk drives that will make life more difficult for notebook PC thieves to read stolen data, it said Tuesday.
"The technology, called Hardware-Based Full Disc Encryption (FDE), will start shipping next year and automatically encrypts all the data written to the drive, according to Mark Pastor, strategic marketing senior director at Seagate."
Bargain 'Books
Bargain 'Books are used unless otherwise indicated. New and refurbished units have a one-year Apple warranty and are eligible for AppleCare.
There are two different versions of WallStreet running at 233 MHz, the cacheless MainStreet version and the later Series II with a level 2 cache. It's not always possible to determine from the vendor's listing which is being offered, so we've included links within this paragraph to the two models. The same goes for the PowerBook G4/667 (VGA) and G4/667 (DVI), the titanium vs. aluminum 15" PowerBook G4 at 1 GHz, and 1.25 GHz to 1.5 GHz 15" PowerBooks.

12" PowerBook G4/1 GHz, 256/40/ Combo, Mac OS X, $829.99

iBook G3/500, 128/20/CD-ROM, $375
iBook G3/800, 256/30/Combo, $599
PowerBook Pismo G3/400, 192/10/DVD, $399
PowerBook Pismo G3/500, 256/12/DVD, $449

12" PowerBook G4/867 MHz, 256/40/SuperDrive, $929
15" PowerBook G4/800 MHz, 256/40/Combo, AirPort, $1,099
15" PowerBook G4/867 MHz, 256/40/Combo, $1,199
17" PowerBook G4/1 GHz, 512/60/SuperDrive, AirPort, $1,699

12" iBook G3/800, 256/30/Combo, $599.99
15" PowerBook G4/800 MHz, 256/40/Combo, DVI Video Output, $999.99

Special Deals: Apple Certified
refurb 12" iBook G4/1 GHz, 256/30/CD-ROM, $699
refurb 12" iBook G4/1.2 GHz, 256/30/CD-ROM, $799
refurb 12" iBook G4/1.2 GHz, 256/30/Combo/ AirPort Extreme, $849
refurb 15" PowerBook G4/1.5 GHz, 512/80/Combo, AirPort Extreme, Bluetooth 2.0, $1,699
refurb 15" PowerBook G4/1.5 GHz, 512/80/SuperDrive, AirPort Extreme, $1,799
refurb 15" PowerBook G4/1.67 GHz, 512/80/SuperDrive, AirPort Extreme, Bluetooth 2.0, $1,999
refurb 17" PowerBook G4/1.67 GHz, 512/100/SuperDrive, AirPort Extreme, Bluetooth 2.0, $2,299
For more deals on current or recently discontinued models, see our Best PowerBook G4 Deals, Best iBook G4 Deals, Best PowerBook G3 Deals, and Best iBook G3 Deals.

Join us on Facebook, follow us on Twitter or Google+, or subscribe to our RSS news feed
Links for the Day
Mac of the Day: Colour Classic II, introduced 1993.10.31. A big improvement over the original CC, this 33 MHz model was never sold in the States.
Recent Content