The Dual USB iBook had been the subject of great speculation in the weeks before its introduction. Gone were the tangerine orange, key lime green, graphite gray, and indigo blue colors of the past – the new iBook is simply white. Gone are the curves – the new iBook is a white box with rounded edges. Gone are multiple speeds – the new iBook runs flat out at 500 MHz regardless of configuration.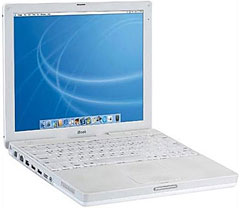 Also gone is a lot of size and weight. The new iBook is 1.8 pounds lighter than the old clamshell models and 3/4″ thinner, the lightest and thinnest notebook in its class. Despite a smaller size, Apple claims the new iBook is twice as durable as the old one.
As with earlier iBooks – and in contrast to the PowerBook G4 and iMacs of its day – the Dual USB iBook uses a tray-loading optical drive, which can be CD-ROM, DVD-ROM, CD-RW, or a Combo drive (CD-RW/DVD).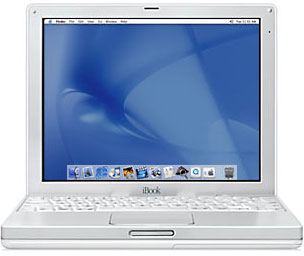 The new iBook has two USB ports, one more than previous models. It supports VGA output with a special adapter (included) and has two speakers for stereo sound. The iceBook was also the first iBook with a built-in microphone and was the first consumer laptop with a 12″ 1024 x 768 display. It also introduced Apple's trademark hinge that opens the lid behind the computer.
Missing: the handle.
In October 2001, Apple increased base RAM to 128 MB on the CD-ROM model and switched to a 15 GB hard drive.
MacInTouch has called the Dual USB G3 iBooks Apple's most unreliable notebooks ever. According to their survey of iBook and PowerBook Reliability:
…by affected percentage of models, the G3 iBooks were the worst by far, with more than half requiring logic board replacements. Apple created a warranty extension program for some versions, but not all. (MacInTouch readers are still reporting newly failed iBook G3s, and the warranty extension program has ended.)
The white 12″ iBook G3 series became much less reliable through its first five revisions, reaching a 73% failure percentage! The last revision dropped to a 49% failure percentage – much improved over the previous model, but still unconscionably high. The problems appear to have been solved, for the most part, in the newer iBook G4 series.
Keep in mind that Apple had an extended replacement program on many iceBook models, so most problematic motherboards have already been replaced.
It can boot Mac OS 9.
Details
Code names: P29, Marble, iceBook
introduced 2001.05.01 at $1,299 and up; base model boosted to 128 MB RAM 2001.10.16; other models replaced by iBook (600 MHz) 2001.10.16; price dropped to $1,199 2002.01.07.
Requires Mac OS 9.1 through OS X 10.4 Tiger
CPU: 500 MHz PPC 750CX (a.k.a. G3e)
Bus: 66 MHz
Performance:
ROM: 4 MB, NewWorld ROM in RAM architecture
RAM: 64 or 128 MB of SDRAM soldered in place, expandable to 576 or 640 MB using one 1.25″ 3.3V PC100 compliant SO-DIMM
Level 2 cache: 256 KB on-chip cache
Video: ATI Rage Mobility 128 with 2x AGP
VRAM: 8 MB
display: 12.1″ 24-bit 1024 x 768 106 ppi color active matrix, resolution scaling for 640 x 480 and 800 x 600 modes
Video out: VGA and composite video
Hard drive: 10 GB UltraATA-66 (20 GB optional)
media drive: choice of 24x CD-ROM, 8x DVD-ROM, 8x4x24 CD-RW, or 4x4x6x24x CD-RW/DVD-ROM Combo drive
floppy drive: external USB only
expansions bays: none
USB: 2 USB 1.1 ports
FireWire: 1 FW400 port
Ethernet: 10/100Base-T
Modem: v.90 56k
WiFi: 802.11b AirPort optional
Microphone: built in
PC Card slots: none
Battery: rated at 5 hours
size: 11.2 x 9.1 x 1.35″ (28.5 x 23.0 x 3.4 cm)
Weight: 4.9 pounds (2.2 kg) with battery
CPU Upgrades
Dual-layer SuperDrive upgrade, MCE Technologies, $99. 6x4x8x DVD, 24x24x24x CD. 2 MB buffer. Must be installed by MCE or MCE authorized upgrade center.
Online Resources
Cautions
Updated iBook Logic Board Repair Extension Program Frequently Asked Questions, Apple.
The Updated iBook Logic Board Repair Extension Program covers iBooks that have a particular component failure on the logic board, resulting in the computer starting up but the built-in and attached external displays exhibiting one or more of the following symptoms:

Scrambled or distorted video
Appearance of unexpected lines on the screen
Intermittent video image
Video freeze
Computer starts up to blank screen

There is a misprint in the manual regarding keyboard removal and replacement that can result in key damage. There is reportedly an extra step in the TIL article iBook (Dual USB): Replacing/Installing the Keyboard that is missing on pages 28 and 30 in the iBook User's Guide that instructs you to turn the small locking screw next to the num lock key.
There is an incompatibility between the Kensington Startup ADB extension (part of Kensington MouseWorks) and the Trackpad control with Mac OS 9.0.4. The trackpad will respond during boot, but not after the extension loads. The solution is to disable the extension. This may apply to other versions of Mac OS 9 on 'Books with USB ports.
Portable Computers: Models Which Do Not Have a Backup Battery notes the iBook has no backup battery to retain time and other settings when the main battery is removed. A small capacitor holds enough energy to maintain PRAM contents for 20 seconds, so switch batteries quickly.
Keywords: #dualusbibook #500mhzibook #12inchibookg3
Short link: http://goo.gl/6zZrZn
searchword: 12inchibookg3500