The Power Mac G5 was introduced on 2003.06.23 – the same day Intel officially unveiled the 3.2 GHz Pentium 4. In terms of increased clock speed, that means Intel had a 6.7% speed bump the same day that Apple announced a 40% improvement in clock speed (from 1.42 GHz to 2.0 GHz), allowing it to call the Power Mac G5 the world's fastest personal computer at the time.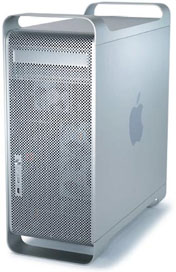 Apple is using the 64-bit PowerPC 970 processor from IBM, since Motorola abandoned its G5 development plans long ago. The PPC 970 is based on the same POWER CPU core as IBM's supercomputers.
Both the Power Mac G5 and the PowerPC 970 CPU were designed from the ground up to support symmetric multiprocessing (using two or more CPUs to run processes in parallel). The PPC 970 uses the same Velocity Engine instructions as the AltiVec engine in Motorola's G4 processor, and it's fully compatible with existing 32-bit software.
The motherboard architecture uses the new HyperTransport technology. System memory is so fast (400 MHz RAM on an 800 MHz to 1.0 GHz bus) that there's no need for a level 3 cache.
New to Apple are Serial ATA (SATA), which supports up to 1.5 GBps bandwidth for internal hard drives, and built-in USB 2.0, which finally gives Mac users full speed access to some of those wonderful USB 2.0 peripherals developed over the previous couple years. The Power Mac G5 also adopts the new twice-as-fast AGP 8x bus for video cards.
One headphone jack, one USB 2.0 port, and one FireWire 400 port are located on the front of the G5 for easy access, something Power Mac users have been dreaming of for years.
The G5 is in a new aluminum enclosure that's vented in the front and back. The case includes four thermal zones and nine fans to handle cooling, each independently controlled for speed. Apple claims the Power Mac G5 is "twice as quiet" as the Power Mac G4. The case is a bit taller and slightly narrower than the Power Mac G4 and just a little deeper. It's also nearly three pounds lighter.
The 1.8 GHz single CPU model was discontinued and replaced by a Late 2003 dual processor model selling for $100 more on 2003.11.18. This model provides 90% of the raw horsepower of the 2.0 GHz model at 87% the price, making it slightly a better value for those who don't need that last 10% of speed.
Note that the 1.6 GHz model is one of Apple's entry-level G5s, which means it uses 33 MHz PCI expansion slots instead of 133 MHz PCI-X slots, has 4 memory slots instead of 8, and uses a 450W power supply (dual processor models have 600W).
You should have the most recent firmware installed in your Power Mac G5. The newest version is Power Mac G5 Uniprocessor Firmware Update 5.1.5f2, which is only for 1.6 GHz G5 Power Macs. Apple recommends removing any third-party RAM before installing this firmware update.
Power Mac G5 Reliability
Reliability ratings are based on statistics compiled by MacInTouch in June 2006, at which time the dual-core Power Mac G5 models had only been on the market for 8 months. Letter grades are based on failure rate: A = 0-6%, B = 7-12%, C = 13-18%, D = 19-24%, and F = 25% or higher. We also note the two components that failed most often.
G5/1.6 single (June 2003), D- (24%, logicboard, hard drive)
G5/1.8 single (June 2003), D+ (19%, logicboard, video card)
G5/2.0 dual (June 2003), F (32%, video card, logicboard)
In each generation, except for the final dual-core one, the fastest model is the least reliable, while the second-fastest is the most reliable. Logicboards are the most expensive component to repair, followed by the power supply. Hard drives, optical drives, video cards, and RAM can be replaced inexpensively using third-party components.
Details
announced 2003.06.23 and shipped 2003.08.18: 1.6 GHz single 256 MB/80 GB at $1,999, reduced to $1,799 on 2003.11.18; 1.8 GHz single 512 MB/160 GB  at $2,399, replaced by 1.8 GHz dual 2003.11.18; 2.0 GHz dual 512 MB/160 GB at $2,999; 1.8 GHz dual 512/160 introduced 2003.11.18 at $2,599; replaced by 2004 Power Mac G5 on  2004.06.09
Supported Mac OS Versions
CPU: 1.6/1.8/2.0 GHz PowerPC 970
Bus: 800 MHz to 1.0 GHz (half CPU speed)
Performance:

Geekbench 2 (Leopard): 1601 (2.0 GHz dual), 1544 (1.8 dual), 1049 (1.8 single), 860 (1.6 single)
Geekbench 2 (Tiger): 1699 (2.0 GHz dual), 1590 (1.8 dual), 1127 (1.8 single), 968 (1.6 single)

L2 cache: 512 KB on-chip L2 cache
L3 cache: none, system memory is as fast as a level 3 cache on other computers
RAM, 1.6 GHz: 256 MB, expandable to 4 GB using pairs of 333 MHz PC2700 DDR RAM, 4 RAM slots
RAM, 1.8 and 2.0 GHz: 512 MB, expandable to 8 GB using pairs of 400 MHz PC3200 DDR RAM, 8 RAM slots
Video: AGP 8x

1.6 and 1.8 GHz: Nvidia GeForce FX5200
2.0 GHz: ATI Radeon 9600 Pro
ATI Radeon 9800 Pro with 128 MB optional

VRAM: 64 MB
Hard drive bus: 1.5 Gbps SATA Rev. 1
Hard drive: 80/160 Serial ATA (SATA) 7200 rpm
Optical drive bus: ATA/100 bus
optical drive: 4x SuperDrive on Ultra ATA/100 bus
3 33 MHz 64-bit PCI slots on 1.6 GHz model
3 64-bit PCI-X slots on faster models (two 100 MHz, one 133 MHz)
Modem: internal 56k v.92
Microphone: standard 3.5mm minijack, compatible with line-level input, not compatible with Apple's PlainTalk microphone
FireWire: 2 FW400 ports (1 on front), 1 FW800 port
USB: 3 USB 2.0 ports (1 on front)
Ethernet: 10/100/gigabit
WiFi: antenna and connector for 802.11g AirPort Extreme card
PRAM battery: 3V CR2032 lithium
power supply: 450W 661-2903 for single CPU models, 600W 661-2904 for duals
size (HxWxD): 20.1″ x 8.1″ x 18.7″ (51.1 x 20.6 x 47.5 cm)
Weight: 39.2 lb. (17.8 kg)
Gestalt ID: n/a
model number: M9020 (1.6 GHz), M9031 (1.8 GHz), M9032 (2.0 GHz)
PRAM battery: 3.6V half-AA
Accelerators & Upgrades
Online Resources
Keywords: #powermacg5
Short link: http://goo.gl/bSYoal
searchword: 2003powermacg5