With the iPhone 5, Apple left behind the 3.5″ display every previous iPhone had used, replacing it with a taller (or wider – in landscape mode) 4″ screen displaying 1136 x 640 pixels, the same 16:9 aspect ratio of HD TV. That's 18.3% more pixels.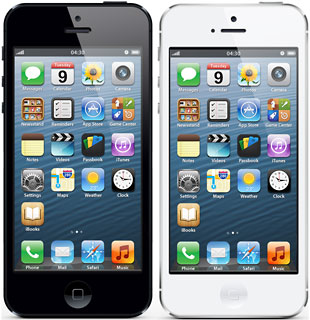 The iPhone 5 runs Apple's more powerful A6 processor, introduced Apple's Lightning USB connector, is 18% thinner than the iPhone 4S, and despite its bigger screen is also 20% lighter than the 4S.
The iPhone 5 has a fully machined aluminum enclosure and shipped in either black and slate or white and silver.
For performance, the A6 chip runs at 1.3 GHz and has 1 GB of system memory, up from the A5 chip clocked at 800 MHz with 512 MB of memory in the iPhone 4S. Geekbench shows the iPhone 5 has over 3x the processing power of the 4S!
Alert: iPhone 5 Battery Replacement Program. Some iPhone 5 devices sold from September 2012 through January 2013 may suddenly experience shorter battery life or need to be recharged more often than usual. This page on Apple's website will let you check the serial number of your iPhone 5 to see if it is covered by the iPhone 5 Battery Replacement Program. If it is, the support page provides full instructions for swapping your iPhone 5 for one without this problem.
The iPhone 5 was the first iPhone with 4G LTE support, which gave many iPhone users a real incentive to upgrade from their older 3G iPhones. The iPhone 5 also has an improved rear camera.
Lightning replaces the 30-pin dock connector with a much smaller plug that can't be plugged in backwards. Lightning was a predecessor to the USB-C connector that would be introduced with the 12″ MacBook in 2015.
There were three different iPhone 5 models for various markets: GSM North America, GSM International, and GSM and CDMA. Only the last of these models works on CDMA networks, and Apple had separate versions for Sprint and Verizon.
Unfortunately, the iPhone 5 was plagued with widely reported bending problems, in part due to their thin design and in part due to the longer screen. Many recommended against carrying an iPhone 5 in your back pocket because of this.
The iPhone 5 was on the market only for a single year, with the iPhone 5S replacing it as the top-end iPhone in September 2013 and the plastic-encased iPhone 5C taking the 5's spot in the iPhone line.
Apple took pre-orders for 2 million units during the first 24 hours accepting orders and sold 5 million within the first three days available.
The iPhone 5S and 5C replaced the iPhone 5 in September 2013, making it the only iPhone with a one-year production run since the original iPhone.
Hardware Overview
Models
Announced: 2012.09.12 at $199 (16 GB), $299 (32 GB), and $399 (64 GB) with a two-year wireless contract. ($649, $749, and $849 respectively without contract.)
Included accessories: earbuds, lightning cable
Code names: N41
Identifier: iPhone5,1 (GSM), iPhone 5,2 (GSM/CDMA)
Model number: A1428 (GSM NA), A1429 (GSM Int'l and GSM/CDMA),
Product numbers

GSM NA: MD634 (16 GB black), MD635 (16 GB white), MD636 (32 GB black), MD637 (32 GB white), MD644 (64 GB black), MD645 (64 GB white)
GSM Int'l:
GSM & CDMA, Sprint: MD656 (16 GB black), MD657 (16 GB white), MD660 (32 GB black), MD661 (32 GB white), MD667 (64 GB black), MD668 (64 GB white)
GSM & CDMA, Verizon: MD654 (16 GB black), MD655 (16 GB white), MD658 (32 GB black), MD659 (32 GB white), MD664 (64 GB black), MD665 (64 GB white)
Technology
CPU: 1.3 GHz dual-core Apple A6
RAM: 1 GB
Architecture: 32-bit
Graphics engine: 3-core PowerVR SGX543MP3
Display: 4.0″ 640 x 1136 pixel 24-bit multitouch screen @ 326 ppi
Cameras

rear: 8.0 MP autofocus with LED flash, 1080p video
front: 1.2 MP FaceTime camera

Sensors: proximity, ambient light, 3-axis gyroscope, accelerometer, assisted GPS, compass, Nike+iPod
Performance
Geekbench, single core: 708
Geekbench, multicore: 1272
Connectivity
I/O port: Lightning
WiFi: 802.11b/g/n (2.4 GHz and 5.0 GHz)
Bluetooth: 4.0
Networks:

GSM NA: UMTS/HSDPA+/CD-HSDPA (850, 900, 1900, 2100 MHz or 850, 900, 1700, 1900, 2100 MHz), GSM/EDGE (850, 900, 1800, 1900 MHz), LTE (Bands 4 and 17)
GSM Int'l: UMTS/HSDPA+/CD-HSDPA (850, 900, 1900, 2100 MHz, GSM/EDGE (850, 900, 1800, 1900 MHz), LTE (Bands 1, 3, and 5)
GSM & CDMA: CDMA EV-DO Rev. A and B (800, 1900, 2100 MHz), UMTS/HSDPA+/CD-HSDPA (850, 900, 1900, 2100 MHz, GSM/EDGE (850, 900, 1800, 1900 MHz), LTE (Bands 1, 3, 5, 13, and 25)

Data:
GPS: Infineon PMB2525 assisted by EDGE, 3G, and WiFi
Power
Battery: 1440 mAh lithium ion
Charge time: about 4 hours (2 hour fast charge to 80% capacity)
Battery life:

Talk: up to 8 hours
Standby: up to 225 hours
Internet: up to 8 hours on 3G, 10 hours on WiFi
Video: up to 10 hours
Audio: up to 40 hours
Compatibility
Original OS: iOS 6
Maximum OS: current
iTunes Versions: iTunes 10.7 and later.
Mac OS Required: OS X 10.6.8 or later
Windows Versions Supported: 7, Vista, XP Home or Professional SP 3 or later
Dimensions and Weight
Dimensions: 4.87″ x 2.31″ x 0.30″ (123.8 x 58.6 x 7.6 mm)
Weight: 3.95 oz. (112 g)
Further Reading
Keywords: #iphone5
Short link: http://goo.gl/LL96np
searchwords: iphone5