Mac Booty Rescued from Davy Jones' Locker
- 2008.08.11
Popularity:





My domain is full of new Intel iMacs - 17" and 20" models.
That means that all the old G4 iMac and eMac computers from my lab are fanning out into the rest of the high school to replace even older computers. And that means that everything else must go in terms of old hardware.
Believe me, there was stuff hidden in some dark corners! My boss gave me dibs on the really old stuff. And now I have to get rid of it all before my wife finds out.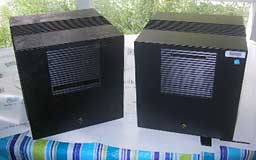 I laid my hands on two old NeXT Cubes that might make excellent end tables for a geeky apartment on the Lower East Side. Right now both are claimed by people who should know better. Me, I'm going to turn mine into a housing for an Intel Mac Mini.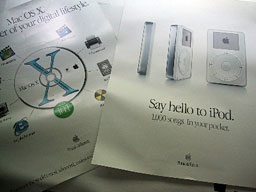 I also took down a lot of old Mac posters (we're talking the first iPod and Puma and Jaguar era) and some old ADB keyboards.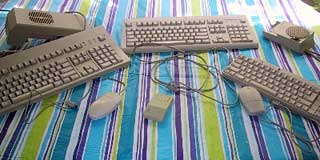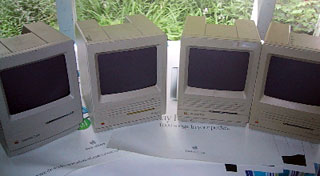 I also recovered a whole bunch of compact Macs. Yep, the ones with System 6 and those tiny 9" black and white monitors. I have yet to test them to see if at least one is ready to become a Macquarium, but I suppose they have mucho historical value.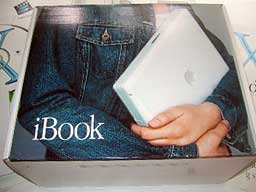 I even found an empty (repeat: empty) 12" iBook box. It even had all of the the original software - unused, I'll betcha. No one has even broken the shrink wrap.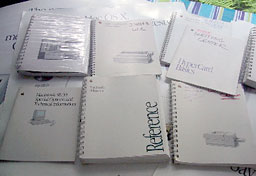 On top of this, I have a bunch of old Apple manuals that are of use to the obscure museum of the semi-useless.
You know, somewhere there should be a sort of Elephant's Graveyard for all this old Mac gear. And I know that my wife feels that it should not be located in her house.

Join us on Facebook, follow us on Twitter, use our Google+ page, or read our RSS news feed
Recent Recycled Computing Columns
Links for the Day
Recent Content on Low End Mac
Recent Deals