PowerBook G3 Press Release
1997.11.10
Apple Canada's Press Release for the Original PowerBook G3
Apple Designs Different: Extends Leadership in Notebooks withPowerBook G3
Apple Introduces World's Fastest Notebook for People Who ThinkCreatively
MARKHAM, Ontario - Nov. 10, 1997 - Targeting the needs of creative"road warriors" who require the most in performance and advancedmultimedia capabilities from a notebook computer, Apple Computer, Inc.today introduced the Macintosh® PowerBook® G3.PowerBook G3 is based on the third generation PowerPC G3 processor, ahigh-performance microprocessor optimized for the Mac® OS.
"The PowerBook G3 combines next generation processor technology withthe latest in Mac OS system software to provide creative professionalswith a new standard in mobile computing," said Phil Schiller, Apple'svice president of Worldwide Product Marketing. "There is more ofeverything for Macintosh customers with the PowerBook G3¬morespeed, more memory, more storage. This is high- end desktop performancein a mobile Macintosh."
The PowerBook G3 builds upon the innovative feature set of the fastPowerBook 3400 series,previously the world's fastest notebook, by adding the high-performancePowerPC G3 processor running at 250 MHz, with a 512K L2 cache and a 50MHz system and memory bus. A host of other innovative features, such asa 5 GB hard disk, 20x CD drive, built-in ethernet/modem, hot swappableexpansion bay modules, Apple® Location Manager and four speakersound system, provide Mac OS customers with the fastest notebook forcreating, presenting, sending and receiving media rich informationanytime, anywhere.
"Apple continues to demonstrate the ability to develop PowerBookswith industry leading performance," said J. Gerry Purdy, Ph.D.,president of Mobile Insights in Mountain View, Calif. "The customer whois using a Macintosh desktop can be assured that the PowerBook G3 willprovide them with true Power Macintosh performance in a portable."
Performance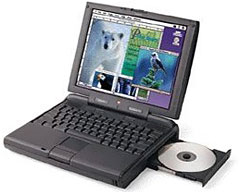 ThePowerBook G3 delivers high-end desktop performance in a mobilesolution. The product is based on the PowerPC G3, the third generationPowerPC G3 processor from Motorola and IBM and the first processorspecifically designed to optimize the Mac OS and associatedapplications. System enhancements include a 50 MHz system bus (25percent faster than previous PowerBook models), 32 MB of EDO RAMexpandable to 160 MB, and a 5 GB ATA IDE hard disk drive. The notebookalso boasts 512K level 2 backside cache and 64K on-chip level 1 cache.The new backside cache design boosts performance significantly byallowing the processor and level 2 cache to communicate at much higherspeeds than previously possible. A 20x CD drive provides fast access toCD-based information.
Although higher-performance components are used in the PowerBook G3,the low-power consumption of the new PowerPC processor combined with ahigher-capacity 47-watt/hour Lithium ion battery enables customers toenjoy two to four hour battery life.
"Apple and Motorola have delivered the fastest processor availableto mobile customers," said Bud Broeker, corporate vice present andgeneral manager of Motorola's Personal Computing Division. "This latestPowerPC design combines performance with minimal power requirements,which eliminates the necessity of choosing either top-end performanceor portability."
Multimedia
The PowerBook G3 is designed for creative professionals and authorsin all markets who demand desktop performance yet need mobility.Enhanced multimedia features include 2 MB of VRAM which supports24-bit video out, enabling millions of colors on an external monitor;16-bit color is supported on the notebook's 12.1" (diagonal)active-matrix SVGA color display. The PowerBook G3 also provides anenhanced Chips and Technology 65554 PCI video controller that supportshardware acceleration for faster graphics.
The PowerBook G3 has a unique four speaker sound system, PCI videocontroller with hardware acceleration, industry standard VGA connectorfor 24-bit video out, 16-bit stereo in/out, Zoomed Video support andsoftware-based MPEG-1 decompression. All of these features combinedprovide users with one of the most robust systems available today andthe key elements they need to create and present multimedia richinformation.
"I do everything on the PowerBook G3. It has become an indispensablepiece of equipment in my camera bag that lets me create what I see inmy head, wherever I am, quickly and easily in a manner I had neverdreamed would be possible when I used my first PowerBook," said CarlanTapp of Tapp Studio, based in Seattle, Wash." In the beginning, thethought of doing serious Photoshop work was still limited to thedesktop Macs in the studio, but with the PowerBook G3, Photoshop runsvery quickly and is the total answer to do VR authoring. No morestitching on our current desktop systems. The PowerBook G3 outruns andfinishes on an average VR pano up to six minutes faster than our8500."
Communications
The PowerBook G3 features a number of communications capabilitiesincluding built-in 10 Mbps ethernet and 33.6 Kbps modem, in addition toan RJ-45 connector that can accept either ethernet or telephone cable.Other communications capabilities include built-in 1 MB industrystandard IrDA for transferring information wirelessly to other infraredcapable devices. In addition, PowerBook users will have access throughthe serial port to GeoPort technology for ISDN and analog modems.
Expansion
A flexible expansion bay on the PowerBook G3 accepts a variety ofmodules including a floppy drive, CD-ROM drive, additional hard drive,magneto-optical drive, and internal AC adapter; a Zip[TM] drive fromVST Technologies, Inc. is also expected to be available. In addition,expansion bay modules from the PowerBook 3400, 5300, and 190 series canbe used with the PowerBook G3. For more expansion options, two PC Cardslots are provided to support two Type II or one Type III card. ThePowerBook G3 allows users to "hot swap" modules while the system isrunning unlike other notebook systems that require a user to shut downor sleep their system prior to the removal of an expansion baymodule.
Software
The PowerBook G3 comes configured with Mac OS 8 and a variety ofproductivity, communications, and compatibility software applicationsto provide a complete, mobile computing solution right out of the box.Productivity software includes Now Software Inc.'s Now Up-To-Date andNow Contact. Communications software provided includes Internet toolssuch as Mac® OS 8 Internet Assistant, Netscape Navigator 3.0,Microsoft Internet Explorer 3.0 and ForeFront Group's WebWhacker 3.0for browsing the Internet off line.
The PowerBook G3 also ships with Apple Location Manager, a softwareutility which allows users to save system settings that are locationdependent including networking, printer, time zone, file sharing andsound. Once a defined location is set up, a user simply selects thatlocation and the system automatically reconfigures to reflect thechosen environment. Apple® Remote Access is also included foreasily connecting to a desktop or network from a remote location.Compatibility software includes Macintosh PC Exchange for reading andwriting PC-formatted floppy disks, Macintosh Easy Open and MacLinkPlusfrom DataViz for reading and translating PC-formatted files.
Availability, Pricing, and Configuration
The PowerBook G3 is available immediately in the United States withan estimated retail price of $8,199 CDN. Additionally, the PowerBook G3is expected to be available in Europe in late November, and Japan andother countries in December; pricing may vary per region. The PowerBookG3 will be sold in one configuration: 250 MHz PowerPC G3 processor,512K level 2 backside cache, 32 MB EDO RAM, internal 5 GB IDE harddrive module, 12.1" (diagonal) active-matrix SVGA color display,built-in 1.4 MB Apple SuperDrive floppy disk drive, and internal 20xCD-ROM drive module.
Apple Computer, Inc. ignited the personal computer revolution in the1970s with the Apple II, and reinvented the personal computer in the1980s with the Macintosh. Apple is now recommitted to its originalmission - to bring the best personal computing products and support tostudents, educators, designers, scientists, engineers, business personsand consumers in over 140 countries around the world.
Join us on Facebook, follow us on Twitter or Google+, or subscribe to our RSS news feed
Charles Moore has been a freelance journalist since 1987 and began writing for Mac websites in May 1998. His The Road Warrior column was a regular feature on MacOpinion, he is news editor at Applelinks.com and a columnist at MacPrices.net. If you find his articles helpful, please consider making a donation to his tip jar.
Links for the Day
Mac of the Day: PowerBook Duo 230, introduced 1992.10.19. At just over 4 pounds, this 33 MHz model helped launch the Duo line.
Recent Content
Custom Search
Follow Low End Mac on Twitter
Join Low End Mac on Facebook
Favorite Sites
MacSurfer
Cult of Mac
Shrine of Apple
MacInTouch
MyAppleMenu
InfoMac
The Mac Observer
Accelerate Your Mac
RetroMacCast
The Vintage Mac Museum
Deal Brothers
DealMac
Mac2Sell
Mac Driver Museum
JAG's House
System 6 Heaven
System 7 Today
the pickle's Low-End Mac FAQ
Affiliates
Amazon.com
The iTunes Store
PC Connection Express
Macgo Blu-ray Player
Parallels Desktop for Mac
eBay

Advertise