No 12" MacBook Pro, but Dell Has an Intriguing Notebook
Charles Moore - 2009.10.05 - Tip Jar
DPMac's George Mann comments that for three years now, Mac laptop power-users who travel a lot have been pining for Apple to build a MacBook Pro version of the 12" PowerBook G4.
Well, maybe someday they will, but I'm doubtful, being of a mind since last October (yikes! - the Unibody 'Books are almost a year old already) that the original 13" Unibody MacBook, and now even more so the 13" MacBook Pro, are as close as Apple is likely to come to making an an Intel analog of the much-admired 12" PowerBook.
Some folks continue to insist that the 13" Unibody is still just a wee bit too heavy and bulky to be a totally satisfactory substitute, while the MacBook Air is too feature, expansion, and connectivity compromised to take seriously as a power-user's tool.
So Mann asks rhetorically: "When will there be a new power user version of a sub-notebook computer available from Apple?"
Like I said, the 13" Unibody is probably it, although I've seen the odd rumor that there might be a 12" version of the anticipated, slimmed-down, and lightened replacement for the white entry-level MacBook, which seems more plausible than a 12" unibody aluminum jobbie.
That, however, won't be a satisfactory solution for George, who thinks such a machine still wouldn't be the compact road warrior that IT consultants, engineers, musicians, journalists, photographers, and other heavy duty traveling professionals are looking for. He argues (and I agree) that folks who use their 'Books as serious tools need all the processing power, ports, and networking hardware of the MacBook Pro, just in a smaller package, but my expectation remains that the 13" MacBook Pro is as close to that package as we're likely to get - in the near to mid-term anyway - and as a satisfied owner of a Unibody MacBook, I think that's not a bad thing.
With an Apple tablet computer almost certainly coming, and probably a more svelte polycarbonate MacBook as well, plus the existing 13" MacBook Pro and MacBook Air, it's going to get mighty crowded in Apple's smallish notebook orchard, so the odds of them building a 12" MacBook Pro are pretty much slim to nil.
MacBooks for Business?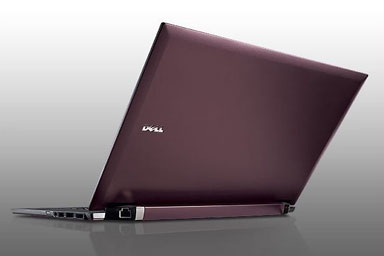 Speaking of professional-grade Mac laptops, Forbes' Brian Caulfield last week posted a screed observing that while Apple makes great laptops, it still lags sadly behind in its penetration of the enterprise market. Caulfield cites Dell's new 16" light and slim Latitude Z business laptop as an example of Dell addressing that market in ways that Apple - which he contends is as clueless about big business as Dell is about digital music players - doesn't even try to.
I think his point is valid.
First, it's pretty hard to argue with Caulfield's contention, since (based on IDC data) Dell enjoys some 32% of the market in computers sold to companies with more than 500 employees, with HP taking another 25% of that market, followed by Lenovo, Acer, and Toshiba, with Apple bringing up the rear. Caulfield notes that the Latitude Z is available with a raft of features and options that make corporate IT departments go all weak in the knees, like an optional fingerprint reader and a contactless smart card reader - bells and whistles that security-oriented business organizations such as financial institutions place a high premium on - and neither available with any MacBook, to say nothing of Dell's FaceAware! Lock-Out feature that automatically locks out other users when the authorized user steps away from the computer.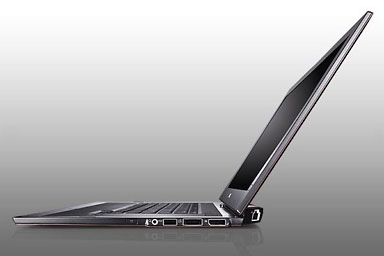 The Dell Latitude Z is undeniably an attractive piece of work, at least on paper, being among many other things the first laptop to be marketed with wireless docking and inductive charging, a topic that would be fodder for an entire column in itself. This is one of those PC machines that, like Acer's Ferrari series laptops, makes me reconsider my total loyalty to the Mac.
Targeted at high-end enterprise and professional users - such as entrepreneurs, lawyers, creative professionals, salespeople and higher education faculty - and priced the same as the middle-model 15.4" MacBook Pro, this 16" laptop (a display size Apple has never used) measures less than an inch thick and weighs in at 4.5 pounds - roughly the same as a 13" MacBook Pro.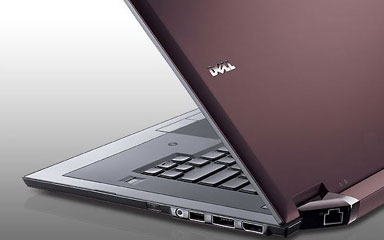 Under the hood, the Latitude Z features Intel Core 2 Duo power, albeit lighter-duty than any MacBook Pro, with either 1.6 GHz and 4 GB RAM or 1.4 GHz with 2 GB RAM. A variety of hard drive and SSD options are offered, along with the sensible solution of an external optical drive with optional external eSATA Slot-load DVD-RW or Blu-ray drives. There are two USB 2.0 ports (one shared with an eSATA port - something else you can't get on any MacBook), DisplayPort video out, an RJ-45 ethernet port, and a headphone/headset connector.
Dell's EdgeTouch feature dips the Latitude Z's proverbial toe in the touchscreen control waters, enabling users to interact with commonly-used applications and media controls through a touch interface on the display screen's bezel, plus there are a multi-touch trackpad and backlit keyboard.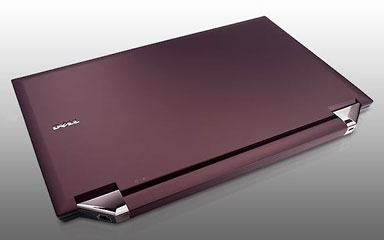 The display itself is a 16" high-definition (1600 x 900) WLED unit, and the Latitude Z also has a 2.0 megapixel webcam featuring Dell's enterprise-friendly Capture technology that allows users to scan and save business cards to Microsoft Outlook contacts and copy documents.
Personally, I think the Black Cherry finish is enormously attractive, being a fancier of burgundy red shades, and I would rate this Latitude Z better looking than any of Apple's laptop offerings - a subjective evaluation, of course, and I'm sure some will disagree. I love the look of my Unibody MacBook, but Apple needs more color variety, and this Dell is one seductively fetching laptop, IMHO.
In addition to the features listed above, the Latitude Z is available with WLAN, Bluetooth, and optional 3G WWAN mobile broadband, plus a feature called Latitude ON, which Dell says represents the convergence of laptop productivity with instant on convenience and multi-day battery life in idle mode.
Latitude ON includes a sub-processor and sub-operating system that delivers instant, interactive access to email, the Web, contacts, attachments, and calendars, allowing users to stay connected with access to IMAP, POP, Novell GroupWise, or Microsoft Exchange 2003 email, Citrix Receiver that allows IT administrators to ensure remote secure access similar to a thin client, strong password requirement, supports for virtual private network (VPN) functionality, and the ability to read .doc, .xls, .ppt and .pdf documents.
I anticipate that Dell is going to sell a ton for these.
The Latitude Z is available now in the US and Canada starting at US$1,999 as well as in select countries in Europe and Asia.
Join us on Facebook, follow us on Twitter or Google+, or subscribe to our RSS news feed
Charles Moore has been a freelance journalist since 1987 and began writing for Mac websites in May 1998. His The Road Warrior column was a regular feature on MacOpinion, he is news editor at Applelinks.com and a columnist at MacPrices.net. If you find his articles helpful, please consider making a donation to his tip jar.
Links for the Day
Mac of the Day: Macintosh 512K Fat Mac, introduced 1984.09.10. The first Mac with enough memory for serious work.
Recent Content
Custom Search
Follow Low End Mac on Twitter
Join Low End Mac on Facebook
Favorite Sites
MacSurfer
Cult of Mac
Shrine of Apple
MacInTouch
MyAppleMenu
InfoMac
The Mac Observer
Accelerate Your Mac
RetroMacCast
The Vintage Mac Museum
Deal Brothers
DealMac
Mac2Sell
Mac Driver Museum
JAG's House
System 6 Heaven
System 7 Today
the pickle's Low-End Mac FAQ
Affiliates
Amazon.com
The iTunes Store
PC Connection Express
Macgo Blu-ray Player
Parallels Desktop for Mac
eBay

Advertise