How iTunes Lets You Share Your Music on a Network
Evan Kleiman - 2004.11.03
You could say that music sharing has been the biggest computing trend of the past few years. A few versions ago, iTunes added the ability to share your personal music library with other users. Initially you could share your library with anyone on the Internet, but now it's limited. We'll get more into that later.
DAAP
iTunes music sharing is built on a technology called DAAP (for Direct Audio Access Protocol). There's not a whole lot of documentation on it from Apple or anyone else, but for useless geek trivia, it's good to know. It uses Rendezvous, Apple's intelligent protocol for discovering networked devices, to find other shared libraries on your network and then stream them to your computer.
How Is This Useful?
Sharing music via iTunes can have many uses. My favorite is being able to share one set of music with all of my computers. I use both an iBook and Blue & White G3 at home. Since I have two computers and one set of MP3s, I can keep all of my MP3s on one computer instead of having two copies. This is also a good feature, considering that the hard drive in the iBook is smaller than the G3's.
There are more computers on my network. Two of them are sub-800 MHz PCs, and one is a 266 iMac, none of which can really handle a large MP3 collection. With sharing, I can keep all my music on one computer.
iTunes' music sharing works cross-platform, so you can also share songs with less fortunate Windows machines on your network.
How Do I Set up Sharing?
By default, sharing your music is not enabled. Thanks to Rendezvous, iTunes can see the shared libraries on your network automatically.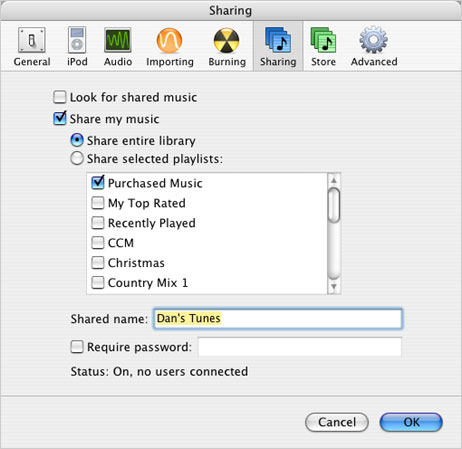 To share your own library, go to iTunes > Preferences > Sharing. Here you can enable it, select which playlists you want to share, and give the library a name. You can also add a password, if you desire.
What about AirTunes?
AirTunes is a feature in the new Airport Express offered by Apple (see AirPort Express: More Versatile Than Your Average Access Point). It allows you to wirelessly stream music from your computer to a set of speakers or a stereo attached by a regular optical or digital hookup. So instead of playing a song on iTunes through your computer speakers, it will stream them to your stereo.
AirPort Express also still works as a wireless 54g router.
The newest version of iTunes (4.7), released early last week, allows you to select from a list of available speakers connected via AirPort Express.
Limitations on Music Sharing
iTunes file sharing has a few limitations. When it was first introduced, you could share your libraries with anyone on the Internet. Realizing that this could lead to piracy, Apple restricted sharing to just your local subnet in the next iTunes update. After all, Apple meant for this to be used to share music with family or friends, not just anyone on the Internet.
Now you can only share music with people on your network. There were a few programs to get around this, such as iCommune 401(ok), but they don't work with newer versions of iTunes.
You're also limited to five users viewing your library at one time. This isn't necessarily a problem for home users, since most home networks contain less than six users at a time. However, with 500 people potentially being able to listen to your music at any given time here in a Temple University dorm, it can get a bit annoying.
Lastly, you can only play music from other users' computers, not save it to your own library. Enabling this would obviously create a legal issue, so the music is only meant to be streamed to other users.
Of course, applications exist to get around this, too, such as ourTunes.

Join us on Facebook, follow us on Twitter or Google+, or subscribe to our RSS news feed
Today's Links
Mac of the Day: Power Mac 8200, introduced 1996.04.22. The minitower version of 7200 was never sold in America.
Recent Content
Custom Search
Follow Low End Mac on Twitter
Join Low End Mac on Facebook
Favorite Sites
MacSurfer
Cult of Mac
Shrine of Apple
MacInTouch
MyAppleMenu
InfoMac
The Mac Observer
Accelerate Your Mac
RetroMacCast
The Vintage Mac Museum
Deal Brothers
DealMac
Mac2Sell
Mac Driver Museum
JAG's House
System 6 Heaven
System 7 Today
the pickle's Low-End Mac FAQ
Affiliates
Amazon.com
The iTunes Store
PC Connection Express
Macgo Blu-ray Player
Parallels Desktop for Mac
eBay

Advertise