The Best Mac to Give or Get for the Holidays
Evan Kleiman - 2004.11.24
The holiday season is approaching, and with the new season comenew Macs. This is a good time to buy Macs, with many sales on newones and people trying to get rid of their older - but stilluseable - machines for shiny new ones.
The question arises: which Mac to buy. Here's my Low End Macholiday shopping guide of sorts.
The Best Low End Mac for a Kid
The iBook: It'swhite, it's sleek, the back lights up, and it comes in a variety ofspeeds and processors for your budget. I'd recommend the 800 MHz G3 version with a Combodrive (CD burner, DVD player) as a minimum. Even with all of that,this iBook can be had for well under US$650. I use an iBook 800 andlove it. It offers just the right amount of portability. Plus,people find the small size of the 12" screen cute, and it's perfectto bring to class.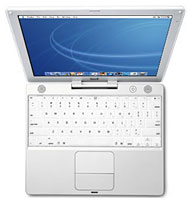 Any high schooler or college kid wouldbe more than happy to see this under the tree. Heck, even thecharger looks cool. Battery life is average, from what I'veexperienced, and an AirPort card is a must.
Any white iBook is a great deal, so the more you can spend thebetter. 1 GHz G4s can be had for under US$1,000. This is themost bang for your buck, since you get a G4 processor and AirPortExtreme capabilities, among other niceties.
For current prices, see thisweek's best iBook G3 deals and this week's best iBook G4 deals.
The DVD player is a nice addition, since it allows your kids towatch movies in the back of the car on the way to Grandma's house -which brings me to my next person to be on your non-denominationalholiday shopping list: Granny.
The Best Low End Mac for Grandma
Classic (CRT)iMac: If you have a grandma like mine - which I'll assumeyou do to avoid a "Best Low End Mac for Grandma who's a Perl Coder"- she only needs a Mac that can do the basics. A CRT iMac isperfect for this. Inexpensively priced, you can snag a 333 MHz model for aroundUS$150.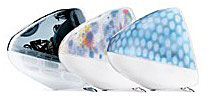 The 38 pound shipping weight can be aconcern for overall pricing, but it'll still come out very cheap toget Grandma typing letters and emails to all. Lexmark, by the way,sells many printers well under US$50 if you know where to look. (Apoint to ponder: Why is replacing the printer itself oftentimescheaper than replacing the ink?)
For current prices, see this week'sbest iMac G3 deals.
Plus you can get her Juno, which is now OS Xcompatible, for US$9.95 per month. While I don't necessarily agreewith their business tactics, you can't beat 10 bucks a year fordialup Internet. This is good if your grandmother (or other grownup computer user) doesn't want to experiment with the Internet.
My grandma has been happily using Juno on her 386 PC since Junowas totally free and a 386 was considered fast. The computer, bythe way, still works remarkably well. Of course, it couldn't hold acandle to my fully functional SE/30 as far as impressive oldcomputers that still work go.
The Best Low End Mac for a Recent PC Convert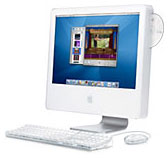 TheiMac G5: The iMac G5 is the ultimate in flexing theMacintosh muscle. It's sleek looks are enough to make any boringblack box user drool.
As I digress, again I'll mention that most boring beige PC boxesof past have migrated to quasi-techno looking boring blackboxes.
But back to the iMac - underneath the nice looks is enough powerto run any application (even the forthcoming Doom 3 for Mac). Plus,the new version of Virtual PC will run with plenty gusto on thisnew computer, giving Windows users no reason to leave their oldprograms behind.
While it's price isn't necessarily the cheapest around, it'sstill low-priced enough to be a good deal and be considered a LowEnd Mac in my book.
For current prices, see this week'sbest iMac G5 deals.
The Best Low End Mac for You
The eMac 1.25: Noholiday shopping trip is complete without a little something foryourself. This little something is the eMac. I use an eMac alongwith my iBook, and I love it.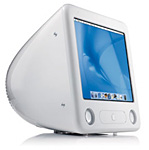 The 1.25 GHz G4 is super powerful, USB2.0 lets me connect my external hard drive and have all theinexpensive storage I'll ever need, and the 17" screen is crisp,clear, and downright awesome. The best part is the price. Availablefor US$800 to start, you can't beat the price.
If you spring for the upgraded model, you can get an 8xSuperDrive (the same one in the PowerMac g5) and a larger harddrive (80 GB instead of 40). Regardless of which one you go for,the eMac is an awesome value. This price for a new, complete Mac isalmost unheard of.
For current pricing, see this week'sbest eMac deals. [Editor's note: We use the 1.25 GHz eMac asour main production machine at Low End Mac. It really is a lot ofcomputer for the price.]
In the end, Macs are almost as diverse as our families, andevery Mac really does have a different use. Going along with that,older Macs are never something to be forgotten, as they oftenbecome the lower part of "low end." (People must agree with mehere, of course, since LEM would have no reader base without thiskey fact.)
One man's outdated computer is another man's mom's emailmachine.

Join us on Facebook, follow us on Twitter or Google+, or subscribe to our RSS news feed
Today's Links
Mac of the Day: Macintosh 128K, introduced 1984.01.24. 1984 wasn't going to be anything like 1984 thanks to the original Macintosh.
Recent Content
Custom Search
Follow Low End Mac on Twitter
Join Low End Mac on Facebook
Favorite Sites
MacSurfer
Cult of Mac
Shrine of Apple
MacInTouch
MyAppleMenu
InfoMac
The Mac Observer
Accelerate Your Mac
RetroMacCast
The Vintage Mac Museum
Deal Brothers
DealMac
Mac2Sell
Mac Driver Museum
JAG's House
System 6 Heaven
System 7 Today
the pickle's Low-End Mac FAQ
Affiliates
Amazon.com
The iTunes Store
PC Connection Express
Macgo Blu-ray Player
Parallels Desktop for Mac
eBay

Advertise